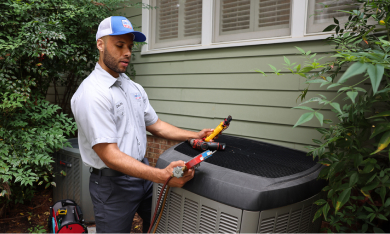 HVAC & Plumbing Services in Owings Mills, MD
The climate in Owings Mills makes a reliable HVAC system a necessity rather than a luxury. The winters are frigid, and the summers can get pretty hot. Your plumbing system is equally important as it provides water for bathing, cleaning, cooking, and more.
Whether you're struggling with a broken AC or burst pipe, you can rely on United Air Temp to restore your comfort. United Air Temp can meet all your HVAC and plumbing needs, including:
Get your HVAC and plumbing needs all in one place with United Air Temp. Contact us online to schedule services in Owings Mills.
Owings Mills AC Services
Owings Mills' summer temperatures are more tolerable than most, but humidity can push real-feel temperatures through the roof. An air conditioner is a necessity, and United Air Temp is the perfect cooling partner.
Our air conditioning services include:
Heating Services in Owings Mills
Your heating system is central to your comfort and health, particularly in Owings Mills, where temperatures drop below 28 degrees. We'll make sure your heating system is up to scratch. Our certified technicians offer:
Indoor Air Quality Services for Your Owings Mills Home
Americans spend 90% of their lives indoors, so household pollution should be kept to a minimum. Air purifiers can eliminate allergens and toxins from your air. We install, repair, and maintain a range of purifying technologies, including:
Since ductwork can significantly affect your home's air quality, we also install and maintain it.
Schedule an indoor air quality service with us today.
Plumbing Services in Owings Mills, MD
You probably don't think about your plumbing often, but it's crucial for your sanitation and health. Like any infrastructure, it can break down or wear out. Clogs, water heater failures, and hard water can be highly disruptive, but you can successfully navigate these homeownership challenges with United Air Temp at your side.
Trust our Owings Mills plumbers for help with: 
If your plumbing isn't working as it should, schedule service with United Air Temp, and we'll be there to resolve the problem.
Why Choose United Air Temp?
Since we first opened our doors in 1930, United Air Temp has become a leader in home comfort. We were once a small, single-branch business, but we've grown into a multi-branch brand employing over 200 technicians. With nearly a century of experience, you can be confident when we're on the job.
We've watched residential technologies evolve through the decades and have learned a thousand lessons about home comfort. If you value honesty, integrity, and fairness, we're the home comfort business for you.
Arrange a service by contacting us online today.

Why Choose Us
Discover the United Difference
Environmental Health & Safety
Environmental Health & Safety
Save on Your Service
Our Goal Is to Keep Your Home Comfortable
FREE

second opinion – HVAC or Plumbing replacement
Expires 11/30/22
$25 OFF

for referrer and friend
Expires 11/30/22
$50

diagnostic for first- time plumbing customer
Expires 11/30/22
What Our Clients Are Saying

The tech was at my home less than 10 minutes and gone within 20 minutes due to having my A/C up and running. I really appreciate his response to my home and working with my son due to me being out of town, but we spoke on the phone.

The technician arrived promptly, wore a mask, was very courteous and professional. I am generally very satisfied with service by United Air Temp. In addition to good service (they repair well), it is easy to speak to a person, and promptly. Thank you.

Great service! I called because I was under the impression the AC was not working upstairs. Someone came on the same day, checked out the system, and ensured everything was working. He was polite, thorough, and friendly.

Tech was very attentive and professional. He went out his way to explain everything to me as he was doing it. I appreciated him keeping me informed.
The service technician was awesome! He spent the extra time necessary to ensure the leak in our system was fixed, the system fully recharged and everything was functioning as it should. He was extremely thorough and very professional. We are extremely pleased with the result!