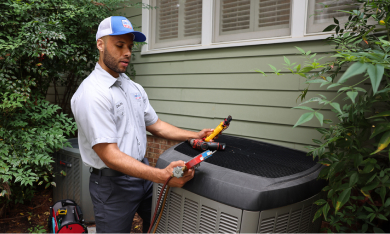 Plumbing Services in Baltimore, MD
You depend on the plumbing systems within your Baltimore home for your comfort, and you can always depend on United Air Temp's team of certified, licensed, and insured plumbers to keep your plumbing systems in exceptional condition.
We provide a comprehensive range of plumbing services and can expertly install new plumbing pipes and equipment and maintain, repair, and replace existing ones.  
Contact United Air Temp online or call (877) 552-8919 to schedule fast and reliable plumbing services in Baltimore, MD.
Signs You Need a Plumber
If you detect any of the following issues, we recommend scheduling a plumbing service appointment without delay:
Discolored water
Diminished water pressure
Odd odors or sounds from pipes
Water damage and other evidence of leaks
Soft spots in landscaping
We Proudly Serve NOVA, DC & BALT Areas
Get started by filling out a service request form.
24/7 Emergency Plumbing in the Baltimore Area
Our certified plumbers are available 24/7 to respond to your plumbing emergencies in Baltimore.
Our plumbers will arrive at your home in a UAT service vehicle that contains all the components and tools required to restore your systems to operational condition.
Some of the most common plumbing emergencies we resolve include:
Overflowing toilets
Clogged drains
Leaky pipes
Broken gas lines
Call (877) 552-8919 to request emergency plumbing repairs without delay!
Full-Service Plumbing in Baltimore County
Our expert plumbers offer a full range of plumbing services to homeowners in Baltimore. We always go above and beyond to deliver superior quality and customer service when we provide:
We Proudly Serve NOVA, DC & BALT Areas
Get started by filling out a service request form.
Water Treatment & Purification in Baltimore & Surrounding Areas
At United Air Temp, our water treatment installation services will remove pollutants from the water that flows through your fixtures.
We offer whole-home water filtration—while point-of-use water filters are attached to individual fixtures, whole-home filtration systems are typically installed beside your main water shut-off valve. They flush contaminants as they enter your home so you can have peace of mind no matter which faucet you use.
We also recommend and install water softeners due to the prevalence of hard water in the region.
Signs you have hard water include:
Limescale on showers and sinks
Sediment buildup on fixtures
A filmy feeling on your skin after washing your hands or showering
Contact United Air Temp online or call (877) 552-8919 to request water treatment services in Baltimore, MD.
Gas Line Replacement & Repair in Baltimore
The team at United Air Temp proudly offers reliable gas line replacement and repair for homeowners in Baltimore, MD.
We adhere to strict safety and quality standards and guarantee our services will comply with all applicable safety codes and building standards.
If you smell rotten eggs or hear a hissing sound from your gas line, evacuate your home and contact us immediately, and we will dispatch a certified gas line plumber to your home without delay!
Call (877) 552-8919 to request emergency gas line repairs in Baltimore, MD!
Why Choose United Air Temp? 
We proudly serve clients in Baltimore and surrounding communities. When you want prompt, effective plumbing services, you can always depend on our team to provide superior quality and exceptional results. We work hard to ensure your plumbing systems deliver reliable performance and efficiency.
At United Air Temp, we guarantee that you will always enjoy the following and more when you entrust your plumbing systems to our teams of certified, licensed, and insured plumbers:
Superior customer service
More than 90 years of industry experience
Expert advice and recommendations
Free estimates
Exceptional workmanship
Reliable systems and solutions for your comfort
Contact United Air Temp online or call (877) 552-8919 to schedule service with our trusted, local plumbers in Baltimore.

Why Choose Us
Discover the United Difference
Environmental Health & Safety
Environmental Health & Safety
Save on Your Service
Our Goal Is to Keep Your Home Comfortable
FREE

second opinion – HVAC or Plumbing replacement
Expires 11/30/22
$25 OFF

for referrer and friend
Expires 11/30/22
$50

diagnostic for first- time plumbing customer
Expires 11/30/22
What Our Clients Are Saying

The tech was at my home less than 10 minutes and gone within 20 minutes due to having my A/C up and running. I really appreciate his response to my home and working with my son due to me being out of town, but we spoke on the phone.

The technician arrived promptly, wore a mask, was very courteous and professional. I am generally very satisfied with service by United Air Temp. In addition to good service (they repair well), it is easy to speak to a person, and promptly. Thank you.

Great service! I called because I was under the impression the AC was not working upstairs. Someone came on the same day, checked out the system, and ensured everything was working. He was polite, thorough, and friendly.

Tech was very attentive and professional. He went out his way to explain everything to me as he was doing it. I appreciated him keeping me informed.
The service technician was awesome! He spent the extra time necessary to ensure the leak in our system was fixed, the system fully recharged and everything was functioning as it should. He was extremely thorough and very professional. We are extremely pleased with the result!