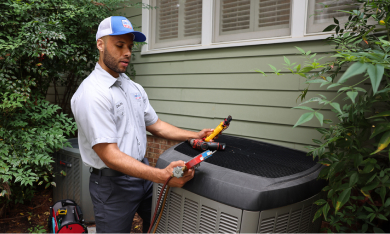 Plumbing Services in Clinton, MD
At United Air Temp, we proudly provide a comprehensive range of plumbing services for homeowners in Clinton, MD.
Our certified, licensed, and insured plumbers are always prepared to provide the replacements and repairs you need to keep your plumbing pipes, appliances, and fixtures in excellent condition.
We adhere to strict quality and safety standards and guarantee that our services will stand the test of time!
Contact United Air Temp online or call (877) 552-8919 to request plumbing service in Clinton today!
Signs You Need a Plumber
Your plumbing will show signs that something isn't right. If you notice any of the following issues, we recommend scheduling service right away:
Plumbing leaks
Water-damaged walls, ceilings, or flooring
Discolored water
Inconsistent water flow
Slow drains
Odd odors and/or strange noises from fixtures or pipes
Sewage backup in sinks, showers, or toilets
Call (877) 552-8919 or contact UAT online to schedule fast and reliable plumbing repairs in Clinton, MD, today!
24/7 Emergency Plumbing Repair for Clinton Homes
Some plumbing issues, like dripping faucets and constantly running toilets, can wait a bit for professional service. However, issues that prevent plumbing use or cause water damage require prompt and immediate attention.
At UAT, we offer 24/7 emergency plumbing repair to help resolve your plumbing issues quickly. The following are some common plumbing emergencies we resolve:
Sewage backups indicate main line clogs and significant drainage problems.
Discolored water can indicate contaminated water caused by outdated piping materials or sediment in your water heater tank. 
Leaks can damage drywall, flooring, cabinetry, and personal possessions.
Contact United Air Temp at (877) 552-8919 to request emergency plumbing repairs in Clinton.
Full-Service Plumbing in Prince George's County
Our plumbers have the training and expertise required to solve any plumbing issue. You may not always know what service you need when you call us, but we can determine if your pipes, appliances, or fixtures need service once we've inspected the issue.
We'll provide a free estimate before any work begins so you can have confidence in choosing UAT. Our comprehensive plumbing services include:
We Proudly Serve NOVA, DC & BALT Areas
Get started by filling out a service request form.
Drain Cleaning in the Clinton Area
Effective drain cleaning is vital for keeping the water flowing into and out of your home. Our drain cleaning and clogged sink clearing and repair services will keep your drains as clean as a whistle.
United Air Temp offers hydro jetting for deep sewer line clogs. We'll use advanced camera systems to find and address problems deep within your pipes.
We are experts at identifying potential issues, including the following common causes of drain clogs:
Non-flushable items: Diapers, flushable wipes, personal hygiene products, paper towels, etc., can quickly clog your drains. You should never flush these items.
Grease, hair, etc.: These clogging substances shouldn't go down the drain because they can create dams within the pipes that can quickly lead to solid clogs. Using drain covers for hair and throwing away dried grease can alleviate the problem.
Tree root: As tree roots grow, they can expand and break through sewer pipes. As the root grows, it can completely clog the pipe.
Call (877) 552-8919 or contact UAT online to request drain cleaning services for your Clinton home.
Water Supply Piping Replacement & Repair in Clinton
We offer exceptional water line repair and replacement and leak detection and repair services to homeowners in Clinton. We can address many problems associated with outdated or damaged piping materials.
If you notice any of the following, we recommend scheduling emergency service right away:
Flooded lawn
Inconsistent water flow
Discolored water
Odd-tasting or -smelling water
Contact United Air Temp online or call (877) 552-8919 to request emergency water supply pipe replacement or repair in Clinton.
Why Choose United Air Temp?
At United Air Temp, we are committed to your comfort. We guarantee the quality of the products we install and the workmanship we deliver. Our highly trained plumbers are dedicated to ensuring you always receive the best customer service.
For more than 90 years, we've proudly served homeowners in Clinton, MD, and it's our pleasure to show you why we are the best choice for superior plumbing services in the region!
Call (877) 552-8919 or contact us online to request a free estimate for plumbing service in Clinton today!

Why Choose Us
Discover the United Difference
Environmental Health & Safety
Environmental Health & Safety
Save on Your Service
Our Goal Is to Keep Your Home Comfortable
FREE

second opinion – HVAC or Plumbing replacement
Expires 11/30/22
$25 OFF

for referrer and friend
Expires 11/30/22
$50

diagnostic for first- time plumbing customer
Expires 11/30/22
What Our Clients Are Saying

The tech was at my home less than 10 minutes and gone within 20 minutes due to having my A/C up and running. I really appreciate his response to my home and working with my son due to me being out of town, but we spoke on the phone.

The technician arrived promptly, wore a mask, was very courteous and professional. I am generally very satisfied with service by United Air Temp. In addition to good service (they repair well), it is easy to speak to a person, and promptly. Thank you.

Great service! I called because I was under the impression the AC was not working upstairs. Someone came on the same day, checked out the system, and ensured everything was working. He was polite, thorough, and friendly.

Tech was very attentive and professional. He went out his way to explain everything to me as he was doing it. I appreciated him keeping me informed.
The service technician was awesome! He spent the extra time necessary to ensure the leak in our system was fixed, the system fully recharged and everything was functioning as it should. He was extremely thorough and very professional. We are extremely pleased with the result!