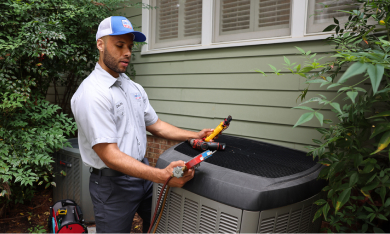 Plumbing Services in College Park, MD
Problems with your home plumbing system require professional attention to resolve. At United Air Temp, our team of top-quality plumbing technicians is here to help with all your service requests.
From 24/7 emergency plumbing repairs to drain cleaning, our fast, reliable plumbers have long-term solutions you can count on for guaranteed satisfaction.
Call our team at (877) 552-8919 to request plumbing services in College Park, MD, today!
Signs You Need a Plumber
Catching the signs of plumbing malfunction early is the best way to ensure total restoration.
Here are just a few signs that homeowners should watch out for that tell them it's time to request plumbing services from United Air Temp:
Sewage smells
Water damage on walls and ceilings
Gurgling toilets
Low water pressure
No hot water
No water
Slow-moving drains
If you notice any of these symptoms affecting your plumbing performance, reach out to United Air Temp at (877) 552-8919 to schedule plumbing service today!
24/7 Emergency Plumbing in the College Park Area
Plumbing problems don't wait until it's convenient for your schedule to wreak havoc on your home, so you shouldn't have to wait until business hours for repair service.
At United Air Temp, our plumbers offer 24/7 emergency plumbing repair to all College Park-area residents. We are here to help resolve all your most urgent plumbing emergencies, including:
Burst water pipes
Clogged drains
Overflowing toilets
Sewage backup
Burst water heaters
When your plumbing fails or malfunctions, our team is here to help. Call (877) 552-8919 to request emergency plumbing repair in College Park today!
Full-Service Plumbing for College Park Homes
Our team is continuously trained to provide Maryland residents with the most advanced plumbing solutions. We proudly offer a full suite of plumbing services, including:
Find the top-quality plumbing solutions your family deserves at United Air Temp. Call us at (877) 552-8919 or schedule service online today!
Sewage Ejector Pump Replacement & Repair in College Park
Sewage ejector pumps help encourage proper wastewater flow from fixtures below the main sewer line level. You might need a sewage ejector pump installed if:
You have plumbing fixtures located below the main sewer line.
There is flooding caused by overflowing or burst pipes.
Sewage water appears in sinks and taps.
United Air Temp offers sewage ejector pump replacement and repair and other drain and sewer solutions that College Park families can count on for improved wastewater flow in their homes.
Request sewage ejector pump services online or by calling (877) 552-8919 today!
Water Treatment & Purification in College Park & Surrounding Areas
Every family deserves safe, reliable access to clean drinking water. With our whole-home water filtration and purification solutions, families will enjoy:
Clean, safe drinking water
Improved skin and hair health
Decreased limescale and mineral deposit buildup
Improved drinking water taste
We Proudly Serve NOVA, DC & BALT Areas
Get started by filling out a service request form.
Signs of Hard Water
Along with our water purification solutions, we also install water softeners for families struggling with hard water. Common signs of hard water issues include:
Spots on dishes
Mineral stains
Low water pressure
Dry skin
Ensure your water supply is as clean as possible. Contact United Air Temp at (877) 552-8919 to request water treatment services in College Park!
Schedule Plumbing Services in College Park, MD!
United Air Temp is proud to offer College Park families the quality craftsmanship they deserve. We've provided high-quality plumbing services and products since 1931 and always go the extra mile for our customers.
When you need a plumbing team committed to service, excellence, and integrity, there's no better team than United Air Temp.
Request plumbing services in College Park by calling (877) 552-8919 today!

Why Choose Us
Discover the United Difference
Environmental Health & Safety
Environmental Health & Safety
Save on Your Service
Our Goal Is to Keep Your Home Comfortable
FREE

second opinion – HVAC or Plumbing replacement
Expires 11/30/22
$25 OFF

for referrer and friend
Expires 11/30/22
$50

diagnostic for first- time plumbing customer
Expires 11/30/22
What Our Clients Are Saying

The tech was at my home less than 10 minutes and gone within 20 minutes due to having my A/C up and running. I really appreciate his response to my home and working with my son due to me being out of town, but we spoke on the phone.

The technician arrived promptly, wore a mask, was very courteous and professional. I am generally very satisfied with service by United Air Temp. In addition to good service (they repair well), it is easy to speak to a person, and promptly. Thank you.

Great service! I called because I was under the impression the AC was not working upstairs. Someone came on the same day, checked out the system, and ensured everything was working. He was polite, thorough, and friendly.

Tech was very attentive and professional. He went out his way to explain everything to me as he was doing it. I appreciated him keeping me informed.
The service technician was awesome! He spent the extra time necessary to ensure the leak in our system was fixed, the system fully recharged and everything was functioning as it should. He was extremely thorough and very professional. We are extremely pleased with the result!