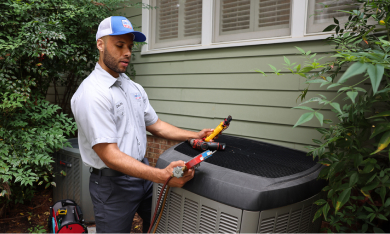 Plumbing Services in Columbia, MD
Keeping your plumbing in top condition should always be a priority. Even an occasional clogged drain can lead to serious sewer line issues down the road. When you're experiencing plumbing problems, turn to the expert team at United Air Temp.
Plumbing repairs and replacements can be easy with help from professionals. Our crew has the right tools to handle every situation. From leaky water heaters to clogged sewer lines and everything in between, you can count on us to resolve any issue.
Contact UAT online or call (877) 552-8919 to request plumbing services for your Columbia home.
Signs You Need a Plumber
Plumbing issues may seem easy to handle on your own, but many times it's best to leave it to a professional. You may need help from an expert plumber if:
You notice water damage or flooding.
You have poor water pressure.
You notice sewage odors near your drains or under the sink.
You have a jammed garbage disposal.
You smell rotten eggs or have other reasons to suspect a gas leak.
You have an overflowing toilet.
No matter your plumbing problem, United Air Temp is available to help!
We Proudly Serve NOVA, DC & BALT Areas
Get started by filling out a service request form.
24/7 Emergency Services in the Columbia Area
Unfortunately, plumbing problems can pop up at any time. Luckily, the team at United Air Temp is always available to help with 24/7 service.
If you need an emergency plumber, call us at (877) 552-8919. We'll arrive quickly to help expertly resolve the issue and restore your peace of mind.
Full-Service Plumbing for Columbia Homeowners
At United Air Temp, we want to ensure that we can take care of any plumbing issue we face. You can depend on our crew when you need:
We're your go-to crew to restore all plumbing malfunctions and failures. Connect with UAT online or call (877) 552-8919 to schedule plumbing services at your Columbia, MD, property.
Drain & Sewer Services in Columbia & Surrounding Areas
The drains around your home are your access point to your sewer main. They must be clear at all times, and UAT can make sure they are. Turn to us for:
Video camera inspections: We'll put a camera snake down your drain to get a clear view of the clog or any other sewer line problems.
Drain cleaning: We can clear out any clog from your drains without damaging your pipes as chemical drain cleaners would.
Hydro jetting: Tough sewer clogs and buildup need to be blasted with water to clear completely. We have the equipment needed to get the job done.
Sewer line repair and replacement: We can perform trench or trenchless sewer line repair based on the age and condition of your piping.
Sewage ejector pump replacement and repair: Our team can ensure that waste from fixtures in the basement and other areas below your sewer line flows through without any issues.
Take good care of your drains with help from the professionals at UAT. Reach out online or call (877) 552-8919 to request fast service from our friendly technicians.
Water Treatment & Purification in Columbia
The purity of your water should be a high priority. If your water isn't pure enough for drinking, cleaning, or cooking, you could face health and sanitization problems.
Installing a whole-home filtration system will:
Purify all the water as it comes into your home
Provide clean water for more than just drinking
Help maintain your pipes and faucets
Hard water is a common problem in Columbia. Excess mineral deposits create a slimy feel on the skin and a white film on dishes. Water softeners can break down these minerals, leaving nothing but softened, clean water behind.
Treat your water and enjoy healthier water for everyday use. Call (877) 552-8919 or contact our team online to request water treatment services in Columbia!
Why Choose United Air Temp?
Our team can resolve all your plumbing issues. Our expert plumbers are reliable, trustworthy, and experienced, so you can confidently choose our team. We provide:
Free estimates
Upfront pricing
24/7 emergency repair
Quality craftsmanship
On-time scheduling
When you need help with your plumbing, turn to a company with over 90 years of experience. Call (877) 552-8919 or contact UAT online to request a free estimate and fast service.

Why Choose Us
Discover the United Difference
Environmental Health & Safety
Environmental Health & Safety
Save on Your Service
Our Goal Is to Keep Your Home Comfortable
FREE

second opinion – HVAC or Plumbing replacement
Expires 11/30/22
$25 OFF

for referrer and friend
Expires 11/30/22
$50

diagnostic for first- time plumbing customer
Expires 11/30/22
What Our Clients Are Saying

The tech was at my home less than 10 minutes and gone within 20 minutes due to having my A/C up and running. I really appreciate his response to my home and working with my son due to me being out of town, but we spoke on the phone.

The technician arrived promptly, wore a mask, was very courteous and professional. I am generally very satisfied with service by United Air Temp. In addition to good service (they repair well), it is easy to speak to a person, and promptly. Thank you.

Great service! I called because I was under the impression the AC was not working upstairs. Someone came on the same day, checked out the system, and ensured everything was working. He was polite, thorough, and friendly.

Tech was very attentive and professional. He went out his way to explain everything to me as he was doing it. I appreciated him keeping me informed.
The service technician was awesome! He spent the extra time necessary to ensure the leak in our system was fixed, the system fully recharged and everything was functioning as it should. He was extremely thorough and very professional. We are extremely pleased with the result!