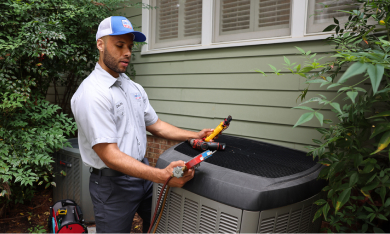 Plumbing Services in Elkridge, MD
Having a well-functioning plumbing system is crucial for any comfortable home. But when problems arise, it can be tough to know where to turn. That's where United Air Temp comes in.
We offer a wide range of plumbing services to meet your needs. Whether your toilet's clogged or your pipes need to be replaced, our highly trained professionals are here to help.
For the best plumbing service in the Elkridge area, you can count on United Air Temp. Call (877) 552-8919 or contact us online to schedule a service today.
Signs You Need a Plumber
When your plumbing system starts to act up, it may not always be obvious what or where the problem is. Telltale signs of plumbing issues include:
Skyrocketing water bills
Low or inconsistent water pressure
Inconsistent water temperature
Foul odors coming from drains
Pooling water and other signs of leaks
Frequently clogged toilets, sinks, and showers
And more
Are you noticing any of these signs in your Elkridge home? Request plumbing services from United Air Temp at (877) 552-8919 or reach out online.
24/7 Emergency Plumbing in the Elkridge Area
A burst pipe or any other issue that leaves you with water damage or no plumbing can feel like a hopeless situation for anyone, no matter when it happens.
But rest assured, the professionals at United Air Temp are ready to take on the job. Our emergency plumbers are here to help 24/7, so you're never left without professional repair when you need it most.
Call on United Air Temp at (877) 552-8919 for emergency plumbing service in Elkridge.
Full-Service Plumbing in Elkridge
When it comes to your home's plumbing system, there's nothing our experts can't handle. To ensure all your plumbing needs are met, we offer a full range of services, including:
We Proudly Serve NOVA, DC & BALT Areas
Get started by filling out a service request form.
Drain Cleaning for Elkridge Homes
Did you know that excessive drain clogs can lead to sewage backup and even sewer main damage?
If you've tried unclogging your pipes on your own but are still noticing slow-moving drains, it's time to call in the help of a professional. With UAT's drain cleaning services, your pipes will run as good as new.
Common causes of clogged drains include an excess buildup of:
Grease and fat
Rice, pasta, and other grains
Hair
Flushable wipes and other cotton products
And more
Avoid sewer line damage and recurring drain clogs with professional drain cleaning in Elkridge. Call United Air Temp at (877) 552-8919 or contact us online to schedule service.
Water Heater Services in Elkridge & Surrounding Areas
An icy cold shower isn't something anyone wants to experience. But if your water heater fails, that's one of the many things that can happen.
At United Air Temp, our professionals are highly trained to perform water heater repairs, replacements, and maintenance for both traditional storage and tankless water heaters.
Other issues associated with water heater malfunction include:
Inconsistent water temperature
Discolored hot water
Low hot water pressure
Leaking water heater tanks
And more
If your water heater isn't performing as it should, call our plumbing experts at (877) 552-8919 or reach out online to schedule water heater service in Elkridge.
Why Choose United Air Temp?
Whether you're experiencing a clogged toilet, a burst pipe, a malfunctioning sump pump, or any other plumbing issue, United Air Temp is here to help.
When you work with our team of professionals, you can expect:
High-quality craftsmanship
Upfront pricing
Transparent communication
Satisfaction guaranteed
24/7 emergency plumbing repairs
And more!
Don't wait — give us a call today at (877) 552-8919 or contact us online to schedule your plumbing service in Elkridge.

Why Choose Us
Discover the United Difference
Environmental Health & Safety
Environmental Health & Safety
Save on Your Service
Our Goal Is to Keep Your Home Comfortable
FREE

second opinion – HVAC or Plumbing replacement
Expires 11/30/22
$25 OFF

for referrer and friend
Expires 11/30/22
$50

diagnostic for first- time plumbing customer
Expires 11/30/22
What Our Clients Are Saying

The tech was at my home less than 10 minutes and gone within 20 minutes due to having my A/C up and running. I really appreciate his response to my home and working with my son due to me being out of town, but we spoke on the phone.

The technician arrived promptly, wore a mask, was very courteous and professional. I am generally very satisfied with service by United Air Temp. In addition to good service (they repair well), it is easy to speak to a person, and promptly. Thank you.

Great service! I called because I was under the impression the AC was not working upstairs. Someone came on the same day, checked out the system, and ensured everything was working. He was polite, thorough, and friendly.

Tech was very attentive and professional. He went out his way to explain everything to me as he was doing it. I appreciated him keeping me informed.
The service technician was awesome! He spent the extra time necessary to ensure the leak in our system was fixed, the system fully recharged and everything was functioning as it should. He was extremely thorough and very professional. We are extremely pleased with the result!