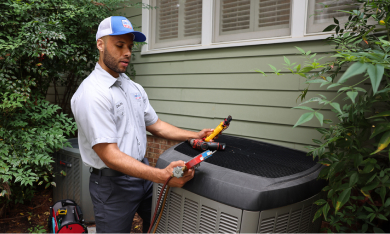 Plumbing Services in Fairfax, VA
Your plumbing system is at the heart of your home's convenience and sanitation, so malfunctions can be highly disruptive to your day-to-day life.
As a full-service plumbing company, United Air Temp offers repairs and replacements for every aspect of your plumbing infrastructure, from drains and faucets to gas and sewer lines.
Our team understands the unique challenges of plumbing in the Fairfax area because we serve houses that are new and old. No matter what plumbing issues you have, UAT can resolve them efficiently and deliver quality customer service from the moment you call us.
We Proudly Serve NOVA, DC & BALT Areas
Get started by filling out a service request form.
24/7 Emergency Plumbing in Fairfax
Plumbing breakdowns are often catastrophic. They have the potential to destroy your ceilings, walls, piping, and even your foundation. Your health is also at risk if the problem is connected to your sewage lines.
United Air Temp offers 24/7 plumbing repairs, so we can help you when you need it most. Our urgent repair services will restore your plumbing promptly so you can get back to normal.
Signs you need emergency service include:
You have no water.
You have no hot water.
You smell gas or sewage inside your home.
You hear water moving through your pipes when your fixtures aren't in use.
Your pipes have frozen.
Call (877) 552-8919 now for 24/7 emergency plumbing repair in Fairfax!
Signs You Need a Plumber
Not all plumbing problems are easy to spot. Subtle issues can turn catastrophic quickly, so keep your eye open for the following signs:
Reduced water pressure.
Gurgling or other unusual sounds from fixtures
An unexpected increase in water bills
Mold and mildew from plumbing leaks
Water stains
Have you noticed any of these issues? Contact United Air Temp online or call (877) 552-8919 to request same-day plumbing services in Fairfax.
Full-Service Plumbing in Fairfax
United Air Temp's services will take care of your plumbing at every stage, whether your pipes are outdated and breaking apart or your garbage disposal is brand new and needs a quick fix.
We expertly install fixtures and appliances, then protect your investment with same-day and emergency repairs. Our plumbing services include:
We Proudly Serve NOVA, DC & BALT Areas
Get started by filling out a service request form.
Gas Line Replacement & Repair in Fairfax & Surrounding Areas
Gas piping offers a reliable fuel source for water heaters, boilers, furnaces, and other appliances. However, your safety relies on the integrity of your system.
Natural gas leaks are potentially life-threatening, so a poorly-managed line is more than just disruptive. It can be disastrous.
We offer emergency gas line repair and replacement so you can quickly return to your home after a gas leak and have peace of mind that your family is safe.
Call (877) 552-8919 to request fast gas line services from the team at UAT.
Water Supply Piping Replacement & Repair for Fairfax Homes
You probably don't give your water supply piping much thought, but it needs as much care as any other household fixture. While some pipe materials have a life span of 100 years, others can fail long before then.
We offer comprehensive water line repair and replacement, so whether you have a hidden leak that needs repair or you need a complete water line replacement after a burst pipe, we can help.
Our emergency repair team is available when you need us most. Call the UAT for water supply piping services if:
Your water is discolored.
You see signs of rust.
Your water pressure has diminished.
You see soggy spots on your lawn, walls, ceilings, or floors.
You rely on your water supply line for your health, hygiene, and survival, so it's one of the most important fixtures in your home. You need an expert team like United Air Temp to restore your water supply so you can have peace of mind.
Call (877) 552-8919 or contact us online to request water supply piping services in the Fairfax area.
Why Choose United Air Temp?
United Air Temp understands the importance of swift, professional plumbing solutions. We've proudly served our customers since 1931, and we can help you too!
Our extensive experience and ongoing training ensure UAT plumbers have the skills to resolve any plumbing problem.
Call (877) 552-8919 or contact United Air Temp online to request emergency plumbing repairs or expert plumbing installations and replacements in Fairfax today!

Why Choose Us
Discover the United Difference
Environmental Health & Safety
Environmental Health & Safety
Save on Your Service
Our Goal Is to Keep Your Home Comfortable
FREE

second opinion – HVAC or Plumbing replacement
Expires 11/30/22
$25 OFF

for referrer and friend
Expires 11/30/22
$50

diagnostic for first- time plumbing customer
Expires 11/30/22
What Our Clients Are Saying

The tech was at my home less than 10 minutes and gone within 20 minutes due to having my A/C up and running. I really appreciate his response to my home and working with my son due to me being out of town, but we spoke on the phone.

The technician arrived promptly, wore a mask, was very courteous and professional. I am generally very satisfied with service by United Air Temp. In addition to good service (they repair well), it is easy to speak to a person, and promptly. Thank you.

Great service! I called because I was under the impression the AC was not working upstairs. Someone came on the same day, checked out the system, and ensured everything was working. He was polite, thorough, and friendly.

Tech was very attentive and professional. He went out his way to explain everything to me as he was doing it. I appreciated him keeping me informed.
The service technician was awesome! He spent the extra time necessary to ensure the leak in our system was fixed, the system fully recharged and everything was functioning as it should. He was extremely thorough and very professional. We are extremely pleased with the result!