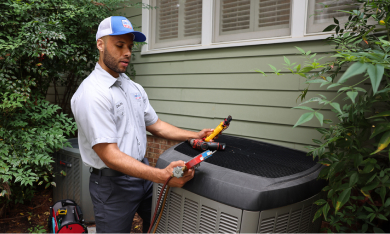 Plumbing Services in Germantown, MD
Quality plumbing services begin with a company with decades of experience and technical expertise. That company is United Air Temp.
Since 1931, our company has been invested in the Germantown area and surrounding communities. And we take pride in providing you with our industry-best workmanship, advanced plumbing technologies, and unmatched customer service.
You can trust UAT for all your plumbing needs. Call (877) 552-8919 or contact us online today!
Signs You Need a Plumber
Some plumbing problems are obvious — for example, a water line leak or break can do a lot of damage if you delay repairs. But some plumbing problems are difficult to spot.
Signs you need a professional plumber include:
Discolored water
Frequent drain clogs
Gas or sewage smells
Gurgling or rattling pipes
Low or no water pressure
No hot water
Overflowing toilet
Reduced hot water output
Standing water in showers and sinks
Visible sediment in water
Water bill spikes
Water stains on walls and ceilings
We Proudly Serve NOVA, DC & BALT Areas
Get started by filling out a service request form.
24/7 Emergency Plumbing in Germantown
When a plumbing problem starts as a small leak and quickly becomes a flood of issues, it's an emergency. Any plumbing problem that can damage property or puts family health at risk requires fast response and emergency service.
If you smell gas, leave your home and call your utility company. Then, call United Air Temp for gas line repair or replacement.
Common plumbing emergencies also include:
Emergency plumbing problems are stressful. We'll efficiently manage the repair so you can return to normal quickly.
Call (877) 552-8919 now for responsive emergency plumbing repair in Germantown!
Plumbing Solutions for Germantown Homes
Quality plumbing starts even before the water enters your home, and clean water is a necessity, especially if you live with seniors, infants, or loved ones with health issues. Water treatment ensures the safety of your water supply for your entire home.
At UAT, we're confident our plumbing pros provide the best solutions to any and all plumbing problems. We provide a precise appointment window so you'll know when to expect us, and we'll deliver upfront pricing so there are no surprises.
Choose UAT for:
Call (877) 552-8919 or contact us online to request fast and friendly plumbing services for your Germantown home.
Sewage Ejector Pump Replacement & Repair in the Germantown Area
Not all Montgomery County homes have basements, and not all need sewage ejector pump installation.
However, if one of your bathrooms, the laundry room, or your basement is below the main sewer line, you need a sewage ejector pump to remove wastewater from your home.
UAT offers sewage ejector pump replacement and repair to ensure your home's sewer line functions optimally.
Call (877) 552-8919 or contact United Air Temp online now.
Water Heater Services in Montgomery County
United Air Temp provides full-service water heater repair, replacement, and installation in the Germantown area.
Your water heater can last 10 years or longer. Signs you need water heater repair or replacement include:
Tank leaks
Lower hot water pressure
Never enough hot water
Sediment or corrosion in water
Uneven water temperatures
Benefits of a Tankless Water Heater
Tankless water heaters, also known as on-demand water heaters, cost more upfront but are more energy-efficient than traditional storage tanks.
Advantages of tankless water heaters include:
Longer life span
Lower monthly utility bills
Instant hot water
Wall-mounted unit
Call (877) 552-8919 or contact United Air Temp to request water heater services in Germantown.
Choose United Air Temp for Plumbing Solutions in Germantown
Choose United Air Temp for all your plumbing needs. We welcome your questions because when you know more, you make smarter choices.
We've provided more than 90 years of superior plumbing solutions, and you can count on our highly trained team for:
Customer-focused service
Free estimates
Quality craftsmanship
Satisfaction guaranteed
Upfront pricing
Call (877) 552-8919 or contact United Air Temp online to request plumbing services in Germantown today!

Why Choose Us
Discover the United Difference
Environmental Health & Safety
Environmental Health & Safety
Save on Your Service
Our Goal Is to Keep Your Home Comfortable
FREE

second opinion – HVAC or Plumbing replacement
Expires 11/30/22
$25 OFF

for referrer and friend
Expires 11/30/22
$50

diagnostic for first- time plumbing customer
Expires 11/30/22
What Our Clients Are Saying

The tech was at my home less than 10 minutes and gone within 20 minutes due to having my A/C up and running. I really appreciate his response to my home and working with my son due to me being out of town, but we spoke on the phone.

The technician arrived promptly, wore a mask, was very courteous and professional. I am generally very satisfied with service by United Air Temp. In addition to good service (they repair well), it is easy to speak to a person, and promptly. Thank you.

Great service! I called because I was under the impression the AC was not working upstairs. Someone came on the same day, checked out the system, and ensured everything was working. He was polite, thorough, and friendly.

Tech was very attentive and professional. He went out his way to explain everything to me as he was doing it. I appreciated him keeping me informed.
The service technician was awesome! He spent the extra time necessary to ensure the leak in our system was fixed, the system fully recharged and everything was functioning as it should. He was extremely thorough and very professional. We are extremely pleased with the result!