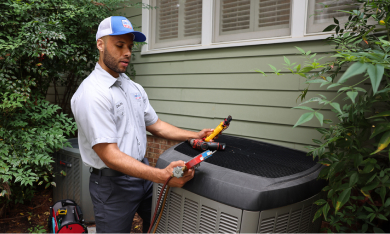 Plumbing Services in Hagerstown, MD
When a plumbing problem arises in your Hagerstown home, DIY solutions won't do the trick. You need a knowledgeable plumber that can provide the same-day service you need to prevent further damage.
At United Air Temp, our highly trained plumbing professionals provide the full suite of plumbing solutions that Hagerstown families can trust, including 24/7 emergency plumbing repairs. There's no better team for the job than United Air Temp because we guarantee your satisfaction.
Schedule plumbing services in Hagerstown, MD, by calling (877) 552-8919 or contacting us online today!
Signs You Need a Plumber
There are several signs that homeowners need to watch out for that indicate it's time to contact a plumber for service, including:
No running water
Reduced hot water capacity
Sweating water heater
Unusually low water pressure
Sewage smells emanating from fixtures
And more
Recognize the signs of plumbing problems in your home? Don't hesitate to contact us at (877) 552-8919 to schedule plumbing service in Hagerstown today!
24/7 Emergency Plumbing for Hagerstown Homes
Plumbing emergencies can occur anytime, so United Air Temp offers 24/7 emergency plumbing repairs to all Hagerstown families. We're here to resolve all of your most pressing plumbing problems, including:
Burst and frozen pipes
Sewage backup
Overflowing toilets
Gas leaks
Water damage from pipe leaks
Flooded basements from malfunctioning sump pumps
And more
Don't waste time waiting around for plumbing repairs. Contact United Air Temp at (877) 552-8919 to request emergency plumbing repair for your Hagerstown home today!
UAT Is Your Complete Plumbing Solutions Provider
Our plumbers complete ongoing training so we can provide the most advanced plumbing solutions to Hagerstown families. We are here to help with:
If you're seeking a top-quality plumber in Hagerstown, MD, look no further than United Air Temp. Request plumbing services today by calling (877) 552-8919!
Sewer Line Replacement & Repair in the Hagerstown Area
We're equipped to service the hardest-to-reach areas of your home plumbing system.
Our team will address the root cause of your sewer line problems, but the method we use will depend on the age and condition of your plumbing. We offer:
Trenchless sewer line repair and replacement: When your sewer lines are mostly intact, we can use a trenchless technique to repair or replace damaged portions of sewer pipe without digging up your lawn.
Traditional sewer line repair and replacement: If your sewer lines have suffered severe deterioration, our team will dig trenches on both sides of the pipe to replace the entire sewer pipe system and provide improved plumbing functionality.
Just like a burst pipe requires immediate attention, a trained professional should address sewer line issues as quickly as possible.
Contact us at (877) 552-8919 to request sewer line services in Hagerstown today!
Garbage Disposal Replacement & Repair in Hagerstown
Our team is here to help when your garbage disposal fails or malfunctions. Don't hesitate to request garbage disposal repair or replacement if you notice:
Strange noises
Frequent system resets
No power
Foul odors
Poor performance
Water leaks
A jammed system
We Proudly Serve NOVA, DC & BALT Areas
Get started by filling out a service request form.
Request Professional Plumbing Service From UAT
As a leader in home comfort since 1931, United Air Temp is uniquely capable of resolving any plumbing service request.
We're committed to providing an exceptional service experience from start to finish. Our team invests in long-lasting customer relationships, earning trust through our unparalleled commitment to reliability, honesty, and integrity.
Get the top-quality craftsmanship you deserve from your plumbing team. Call United Air Temp at (877) 552-8919 to schedule plumbing services today!

Why Choose Us
Discover the United Difference
Environmental Health & Safety
Environmental Health & Safety
Save on Your Service
Our Goal Is to Keep Your Home Comfortable
FREE

second opinion – HVAC or Plumbing replacement
Expires 11/30/22
$25 OFF

for referrer and friend
Expires 11/30/22
$50

diagnostic for first- time plumbing customer
Expires 11/30/22
What Our Clients Are Saying

The tech was at my home less than 10 minutes and gone within 20 minutes due to having my A/C up and running. I really appreciate his response to my home and working with my son due to me being out of town, but we spoke on the phone.

The technician arrived promptly, wore a mask, was very courteous and professional. I am generally very satisfied with service by United Air Temp. In addition to good service (they repair well), it is easy to speak to a person, and promptly. Thank you.

Great service! I called because I was under the impression the AC was not working upstairs. Someone came on the same day, checked out the system, and ensured everything was working. He was polite, thorough, and friendly.

Tech was very attentive and professional. He went out his way to explain everything to me as he was doing it. I appreciated him keeping me informed.
The service technician was awesome! He spent the extra time necessary to ensure the leak in our system was fixed, the system fully recharged and everything was functioning as it should. He was extremely thorough and very professional. We are extremely pleased with the result!