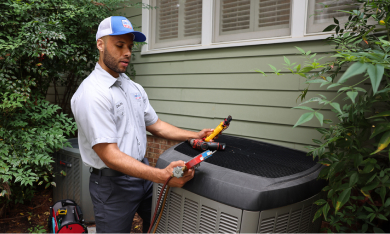 Plumbing Services in Severn, MD
United Air Temp offers premier plumbing services to Severn-area homeowners. We always treat our clients with the care and respect they deserve.
With over 90 years of experience under our belts, you can trust our team for fast, effective plumbing services.
We Proudly Serve NOVA, DC & BALT Areas
Get started by filling out a service request form.
24/7 Emergency Plumbing Repair for Severn Homes
When your water heater bursts or your water pipe leaks, you can't afford to wait for a repair. Our emergency plumbing services are available 24/7 to minimize damage and restore your home as soon as possible.
You need an emergency plumbing team if:
You have a frozen, leaking, or burst pipe.
You smell sulfur or rotten eggs, indicating a gas leak.
Your water heater has burst.
Your toilet is overflowing.
You have water stains on walls or ceilings.
Your basement is flooded.
Call (877) 552-8919 for 24/7 emergency plumbing repair in Severn.
Signs You Need a Plumber
Plumbing problems can be extremely annoying, but they can lead to significant damage if left unattended. We'll handle your repair promptly when you reach out to our expert team.
Don't hesitate to schedule plumbing service if:
Your drains and toilet are gurgling.
You have slow-moving drains.
Your water pressure is low or inconsistent.
Your garbage disposal is jammed.
Contact us online or call (877) 552-8919 now to request plumbing services for your Severn home.
Sewage Ejector Pump Replacement & Repair in Severn
Your sewage ejector pump protects the integrity of your foundation and basement by removing sewage waste. You need a sewage ejector pump if:
Your property is built at a low elevation.
You need to move wastewater from basements and other rooms below ground level.
You experience frequent waste blockages.
We offer sewage ejector pump replacement and repair to ensure your equipment is always in optimal condition. While hydro jetting can move tough clogs, it can't prevent them from recurring. A sewage ejector pump is a practical long-term solution.
Call (877) 552-8919 or contact us online today for all your drain and sewer service needs in Severn.
Gas Line Replacement & Repair in Severn & Surrounding Areas
Your gas line has the potential to affect your entire family's safety, so you need a trustworthy plumber if something goes wrong. At United Air Temp, we provide emergency gas line repair and replacement for homes in Severn.
You can detect gas leaks by:
Scent: While natural gas doesn't have an odor, utility companies give it an artificial scent, which smells like rotten eggs, to make it easier to detect a gas leak.
Sound: Beware of hissing or whistling sounds from gas appliances.
Symptoms: Gas leaks cause fatigue, headaches, nausea, and other symptoms.
If you suspect a gas leak, evacuate your home, call your utility company to shut off your gas supply, and call United Air Temp for gas line service.
Call (877) 552-8919 now to request emergency gas line services for your Severn home.
Full-Service Plumbing in the Severn Area
United Air Temp is a one-stop shop for all your plumbing service needs, so you'll never need to search for another plumber again. Our service offerings include:
Contact UAT online or call (877) 552-8919 to request plumbing services today!
Why Choose United Air Temp?
At United Air Temp, our priority is ensuring our clients receive the quality services and customer care they deserve. Choose our team for:
24/7 emergency plumbing repairs
Free estimates
Upfront pricing
And more!
Experience the United Air Temp difference by calling (877) 552-8919 or contacting us online. 

Why Choose Us
Discover the United Difference
Environmental Health & Safety
Environmental Health & Safety
Save on Your Service
Our Goal Is to Keep Your Home Comfortable
FREE

second opinion – HVAC or Plumbing replacement
Expires 02/28/23
$25 OFF

for referrer and friend
Expires 02/28/23
$50

diagnostic for first- time plumbing customer
Expires 02/28/23
What Our Clients Are Saying

The tech was at my home less than 10 minutes and gone within 20 minutes due to having my A/C up and running. I really appreciate his response to my home and working with my son due to me being out of town, but we spoke on the phone.

The technician arrived promptly, wore a mask, was very courteous and professional. I am generally very satisfied with service by United Air Temp. In addition to good service (they repair well), it is easy to speak to a person, and promptly. Thank you.

Great service! I called because I was under the impression the AC was not working upstairs. Someone came on the same day, checked out the system, and ensured everything was working. He was polite, thorough, and friendly.

Tech was very attentive and professional. He went out his way to explain everything to me as he was doing it. I appreciated him keeping me informed.
The service technician was awesome! He spent the extra time necessary to ensure the leak in our system was fixed, the system fully recharged and everything was functioning as it should. He was extremely thorough and very professional. We are extremely pleased with the result!