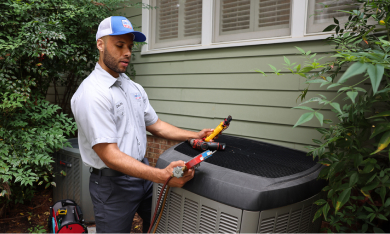 Plumbing Services in Sterling, VA
Plumbing problems can be a headache for any homeowner. United Air Temp can help. For over 90 years, we have provided comprehensive plumbing services in Sterling, VA, and the surrounding areas. Our team of highly trained plumbers brings years of experience and training to every job, ensuring your plumbing issues will be resolved promptly and effectively.
Your satisfaction and comfort are our top priorities, which is why we back our services with a 100% satisfaction guarantee. We've been the leading heating, cooling, and plumbing services provider in Sterling since 1931. No problem is too big or small for our team!
Call (877) 552-8919 or contact us online to request plumbing services in Sterling, VA.
24/7 Emergency Plumbing Services
Plumbing problems can strike at any time. If a pipe bursts, sewage backs up, or another emergency arises, United Air Temp will be there when you need us most. You can depend on United Air Temp for 24/7 emergency plumbing services.
We'll arrive quickly with a full inventory of parts to avoid any delays in restoring your comfort. Plus, we offer upfront pricing and a 100% satisfaction guarantee, so you can count on us to get the job done right the first time!
Don't delay — call (877) 552-8919 now to request emergency plumbing services in Sterling, VA.
Signs You Need a Plumber
Knowing when to contact a plumber, especially when it comes to early detection of plumbing malfunctions, can save you the trouble and headache before disaster strikes. Save yourself the costly damage by enlisting the services of a professional plumber if you notice signs of:
Slow-draining sinks
Low water pressure
No water is running
No hot water
Burst pipes
Backflow issues
We Proudly Serve NOVA, DC & BALT Areas
Get started by filling out a service request form.
Plumbing Services for Sterling Homes
We offer a wide range of comprehensive plumbing services in Sterling, VA, and surrounding areas, including:
Sewage Ejector Pump Services in the Sterling Area
When your home's plumbing fixtures are located below your home's main sewer line or septic line, most commonly in basements, a sewage ejector pump is installed to move waste against gravity to carry it out of your home effectively. United Air Temp provides complete sewage ejector pump services, including installation, maintenance, and repair.
You may need a sewage ejector pump in your home if any of the following apply:
Your home's sewer line is located below the municipal sewer line
Your home has fixtures that are lower than the main sewer line
Your home contains utility sinks or bathrooms in a basement area that is lower than the sewer line
Your home has a septic system with a holding tank or leach field that is higher than the sewer line.
Schedule service with UAT by calling (877) 552-8919 or contacting us online.
Sump Pump Services in Sterling
United Air Temp provides comprehensive sump pump repair and replacement services to protect your home from floodwater damage. With our maintenance service, we will test and perform necessary repairs to keep your sump pump working effectively and reliably.
If your home falls into one of the following categories, you may need a sump pump:
Your home is in a flood zone
Your home's drainage system is ineffective
Your home has a basement, crawl space, or patio
The ground outside of your home slopes in toward your property and not away
Avoid a flooding disaster during the rainy season! Call (877) 552-8919 or contact us online to have your sump pump checked out!
Why Choose UAT?
At United Air Temp, we've tailored our services to your needs. For more than 90 years, our loyal customers have chosen us for our:
Upfront, honest pricing
24/7 emergency services
100% satisfaction guarantee
Highly trained, professional team
And more!
Find out why we're Sterling's preferred plumbing company — call (877) 552-8919 or contact us online to schedule service with United Air Temp.

Why Choose Us
Discover the United Difference
Environmental Health & Safety
Environmental Health & Safety
Save on Your Service
Our Goal Is to Keep Your Home Comfortable
FREE

second opinion – HVAC or Plumbing replacement
Expires 11/30/22
$25 OFF

for referrer and friend
Expires 11/30/22
$50

diagnostic for first- time plumbing customer
Expires 11/30/22
What Our Clients Are Saying

The tech was at my home less than 10 minutes and gone within 20 minutes due to having my A/C up and running. I really appreciate his response to my home and working with my son due to me being out of town, but we spoke on the phone.

The technician arrived promptly, wore a mask, was very courteous and professional. I am generally very satisfied with service by United Air Temp. In addition to good service (they repair well), it is easy to speak to a person, and promptly. Thank you.

Great service! I called because I was under the impression the AC was not working upstairs. Someone came on the same day, checked out the system, and ensured everything was working. He was polite, thorough, and friendly.

Tech was very attentive and professional. He went out his way to explain everything to me as he was doing it. I appreciated him keeping me informed.
The service technician was awesome! He spent the extra time necessary to ensure the leak in our system was fixed, the system fully recharged and everything was functioning as it should. He was extremely thorough and very professional. We are extremely pleased with the result!