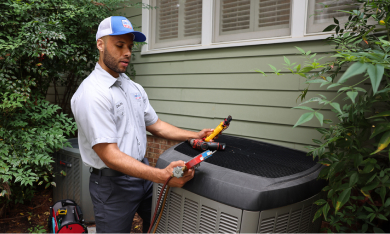 Plumbing Services in Towson, MD
United Air Temp is at the beck and call of Towson residents who need professional plumbing services.
Our honest and reliable technicians will help you keep your plumbing system running at its best. We've been in business for over 90 years and are a leader in home comfort services, so you can have peace of mind when you choose our team.
Call (877) 552-8919 or contact us online today for all your plumbing needs in Towson, MD.
24/7 Emergency Plumbing for Towson Homes
We understand how devastating it feels when a plumbing issue disrupts your home, causes widespread damage, and brings financial distress. Our team of professionals is available to resolve plumbing emergencies when you need us most, including:
Frozen and cracked pipes
Flooded basements
Overflowing toilets
No water pressure
No hot water
Sewage backup
Contact us immediately, and our team will accurately diagnose your problem, explain your best options with upfront pricing, and do whatever it takes to restore your plumbing. We do it all with quality craftsmanship and guaranteed customer satisfaction.
Call (877) 552-8919 now if you have a plumbing emergency.
Signs You Need a Plumber
Every home needs plumbing work at one point or another because wear and tear and other issues are inevitable over time. If you notice any of these signs, contact the trusted plumbers at United Air Temp without delay:
Decreased water pressure
Gurgling drains
Slow-moving drains
Pipe leaks
Uneven water temperatures
Strange noises from pipes or fixtures
Call (877) 552-8919 or contact us online now to request service in Towson, MD.
Burst Pipe Repair & Replacement in the Towson Area
Burst pipes are one of the worst plumbing issues due to wasted water and water damage. Aside from water stains on walls, ceilings, or floors, other signs of a burst pipe include:
Fluctuating water pressure
Discolored, rusty, or smelly water
Increased water bills
Visible mold
We Proudly Serve NOVA, DC & BALT Areas
Get started by filling out a service request form.
What To Do if You Have a Burst Pipe
If you discover a burst pipe, follow these steps to quickly restore your plumbing:
Shut off your water: Locate and switch off your main water valve to stop further water damage.
Disconnect your electrical panel: If an area of your home is flooded, shut off all electricity from your breaker box to prevent electrocution.
Turn on all faucets: This will release any remaining water from your pipes.
Call United Air Temp for help: We'll be on our way to you ASAP.
Call (877) 552-8919 without delay for emergency burst pipe repair in Towson.
Toilet Replacement & Repair in Towson
When it comes to replacing or repairing your toilet, let a trained plumber do the job. You'll avoid exerted energy and time and potential complications.
Two of the most common parts of a toilet that need to be repaired are the flush valve and gasket. We know how frustrating a malfunctioning toilet is, so we'll inspect your toilet and provide a fast solution, whether you need repair or replacement.
Is your toilet giving you trouble? Call (877) 552-8919 or contact us online now to request service in Towson, MD.
Full-Service Plumbing in Towson, MD
The Towson community can rest easy knowing that United Air Temp is on their side for all their plumbing service needs. We work hard to build honest relationships with our customers by going the extra mile and treating them with respect because it's what they deserve.
We provide a full suite of plumbing services, including:
Are you experiencing plumbing issues? Call (877) 552-8919 or contact us online now!
Choose United Air Temp for Reliable Plumbing Services
Our work is backed by a history of providing high-quality services and products since 1931.
You can always count on United Air Temp for:
24/7 emergency repairs
Free estimates
Upfront pricing
On-time scheduling
And more
Call (877) 552-8919 or contact us online now for all your plumbing needs in Towson.

Why Choose Us
Discover the United Difference
Environmental Health & Safety
Environmental Health & Safety
Save on Your Service
Our Goal Is to Keep Your Home Comfortable
FREE

second opinion – HVAC or Plumbing replacement
Expires 02/28/23
$25 OFF

for referrer and friend
Expires 02/28/23
$50

diagnostic for first- time plumbing customer
Expires 02/28/23
What Our Clients Are Saying

The tech was at my home less than 10 minutes and gone within 20 minutes due to having my A/C up and running. I really appreciate his response to my home and working with my son due to me being out of town, but we spoke on the phone.

The technician arrived promptly, wore a mask, was very courteous and professional. I am generally very satisfied with service by United Air Temp. In addition to good service (they repair well), it is easy to speak to a person, and promptly. Thank you.

Great service! I called because I was under the impression the AC was not working upstairs. Someone came on the same day, checked out the system, and ensured everything was working. He was polite, thorough, and friendly.

Tech was very attentive and professional. He went out his way to explain everything to me as he was doing it. I appreciated him keeping me informed.
The service technician was awesome! He spent the extra time necessary to ensure the leak in our system was fixed, the system fully recharged and everything was functioning as it should. He was extremely thorough and very professional. We are extremely pleased with the result!