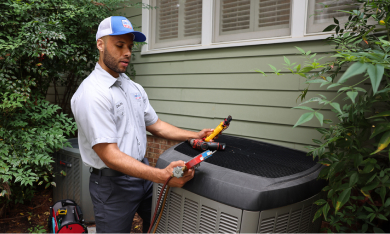 Plumbing Services in Annapolis, MD
When a toilet doesn't stop running, your bathtub won't drain, or you start finding water where it shouldn't be, you need a reliable plumber to turn to for fast repairs and expert replacements. If you live in the Annapolis area and need a plumber, reach out to the expert plumbers of United Air Temp and schedule service today.
At United Air Temp, our plumbers can handle all the plumbing services necessary to keep water flowing free and clear through your home. Don't hesitate — the longer you wait, the worse your plumbing problem will likely become.
Call (877) 552-8919 or reach out to us online to schedule plumbing services in the Annapolis, MD, area!
Signs You Need a Plumber
Not sure you need a plumber? Acting quickly can save you a lot of frustration and money in the long run, so look closely for these signs that you need a professional:
Water spots, puddles underneath plumbing appliances, or other signs of water damage
Evidence of increased humidity or water, such as pests, peeling paint, and mold
Changes in water pressure
Changes in your water color, taste, or smell
Unusually high water bills
The sound of running water when fixtures aren't in use
Not enough hot water
We Proudly Serve NOVA, DC & BALT Areas
Get started by filling out a service request form.
24/7 Emergency Plumbing Repair for Annapolis Homes
When you need plumbing quickly to prevent substantial damage or disruption, the team at United Air Temp is standing by to assist you 24/7. Don't hesitate to reach out to us for:
Basement flooding
Frozen or burst pipes
Sewage backflow
A broken water line
Clogs in multiple fixtures
And similar issues!
To request plumbing repairs in the Annapolis area, call (877) 552-8919 now. We're available 24/7 for emergency plumbing repairs!
Full-Service Plumbing in Anne Arundel County
Whatever your plumbing needs, you can always turn to the expert team at United Air Temp to deliver superior service and equipment. Our full-service plumbing includes:
Call United Air Temp at (877) 552-8919 or contact us online to request same-day plumbing service in Annapolis.
Burst Pipe Repair & Replacement in Annapolis
When you need burst pipe repair or replacement, you don't have time to delay. Know what to look for, and give us a call promptly if you have:
Frozen pipes
Water pressure fluctuations
Water damage on walls and ceilings
No water
With a burst pipe, stopping the flow of water at the main should be a high priority. If you have any flooding, it's also necessary to switch off your circuit breakers in any affected areas.
The team at United Air Temp can help you through the process of restoring your water supply so you can have peace of mind that your home is safe and your plumbing is functional.
Call (877) 552-8919 to request emergency burst pipe repair in Annapolis today!
Annapolis-Area Drain Cleaning
At some point, every homeowner needs drain cleaning to clear out the accumulated gunk and obstructions in their pipes. However, you can greatly reduce your need for clogged sink clearing and repair with a few tips:
Your garbage disposal isn't invincible. Don't put fats, grease, and starches through it.
Try to minimize how much hair goes down your drains with a drain cover or similar solution.
Clear your drains out regularly with hot water and a vinegar and baking soda solution to clear out any gunk accumulation before it becomes a massive clog.
When the time comes to cleanse your drains and get rid of stubborn or recurrent clogs — or just slow drains in general — the team at United Air Temp will be glad to help with the latest tools and techniques.
We Proudly Serve NOVA, DC & BALT Areas
Get started by filling out a service request form.
Choose United Air Temp for Plumbing Services in Annapolis, MD
At United Air Temp, we're committed to delivering exceptional service to our community. We achieve this through careful training, dedication to customer satisfaction, and a set of core values that guide every interaction with our customers.
When you need plumbing services in the Annapolis area, know that by choosing United Air Temp, you're choosing an expert team that offers great customer service so that you can feel at ease.
To schedule plumbing services in the Annapolis area, call United Air Temp at (877) 552-8919 or contact us online.

Why Choose Us
Discover the United Difference
Environmental Health & Safety
Environmental Health & Safety
Save on Your Service
Our Goal Is to Keep Your Home Comfortable
FREE

second opinion – HVAC or Plumbing replacement
Expires 03/31/23
$25 OFF

for referrer and friend
Expires 03/31/23
$50

diagnostic for first- time plumbing customer
Expires 03/31/23
What Our Clients Are Saying

The tech was at my home less than 10 minutes and gone within 20 minutes due to having my A/C up and running. I really appreciate his response to my home and working with my son due to me being out of town, but we spoke on the phone.

The technician arrived promptly, wore a mask, was very courteous and professional. I am generally very satisfied with service by United Air Temp. In addition to good service (they repair well), it is easy to speak to a person, and promptly. Thank you.

Great service! I called because I was under the impression the AC was not working upstairs. Someone came on the same day, checked out the system, and ensured everything was working. He was polite, thorough, and friendly.

Tech was very attentive and professional. He went out his way to explain everything to me as he was doing it. I appreciated him keeping me informed.
The service technician was awesome! He spent the extra time necessary to ensure the leak in our system was fixed, the system fully recharged and everything was functioning as it should. He was extremely thorough and very professional. We are extremely pleased with the result!