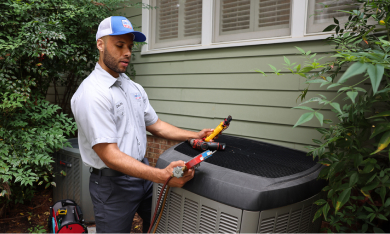 Plumbing Services in Gaithersburg, MD
Without working water, your home and family can't function as they should. When your plumbing is disrupted, you need help fast.
United Air Temp's full-service plumbing team can help restore your plumbing pipes, fixtures, and systems. We understand what homeowners in the Gaithersburg area need and are committed to ensuring you always have functional plumbing.
Reach out to our Gaithersburg-area plumbers today. Call (877) 552-8919 or contact us online to schedule service with a local team you can count on.
Signs You Need a Plumber
When you can't use your fixtures or have water damage, it's obvious that you need professional plumbing help right away.
Yet sometimes, the signs are less obvious. For example, if you have a pesky drip from a faucet, it's not an emergency, but you still likely need a plumber to resolve the issue.
Signs that it's time to call a plumber for your Gaithersburg property include:
Increased water bills with no cause
Slow-moving drains
Frequently clogged toilets
Jammed garbage disposal
Reduced hot water capacity
Low water pressure
At the first sign of trouble, contact the plumbing professionals at United Air Temp for help. 
We Proudly Serve NOVA, DC & BALT Areas
Get started by filling out a service request form.
24/7 Emergency Plumbing Repair for Gaithersburg Families
Don't hesitate to contact the professionals if you have a plumbing emergency. United Air Temp's plumbers are standing by 24/7 to help.
You might need emergency service if you have an issue that puts your family or property at risk, such as:
A gas leak
A frozen pipe
An overflowing toilet
A burst water heater
A water line break
Similarly, if you have an issue that prevents you from using your plumbing, such as a sewer line clog, it may be time to call for emergency plumbing service.
Call (877) 552-8919 to get an emergency plumber's help today.
Full-Service Plumbing in the Gaithersburg Area
United Air Temp is a truly full-service plumbing team. We can help with all of your needs, including:
Choose the plumbing professionals at United Air Temp for all your plumbing service needs. Call (877) 552-8919 or reach out online today!
Sewer Line Replacement & Repair for Gaithersburg Homes
Problems with your sewer line can get messy quickly. Sewer line issues frequently require emergency repair because it affects the drains in your entire home.
At United Air Temp, we offer trenchless sewer line services whenever possible. This allows us to repair or even replace your sewer line with minimal disruption to your property.
We also offer traditional sewer line service if your existing pipe has completely deteriorated and trenchless service isn't an option.
If you have sewage backup in multiple fixtures, sewer main clogs, tree root infiltration, or a sewer line break, call United Air Temp at (877) 552-8919 for emergency service.
Garbage Disposal Replacement & Repair in Gaithersburg
Many homeowners are unaware of the do's and don'ts of owning a garbage disposal. Foods you should never put down your disposal include:
Fibrous vegetables
Rice and pasta
Coffee grounds
Grease and fat
UAT can help with garbage disposal replacement or repair. If your garbage disposal is backing up, causing a clogged sink, or not running at all, our team can identify and resolve the issue.
Request garbage disposal service for your Gaithersburg home. Contact us online or call (877) 552-8919 today!
Why Choose United Air Temp for Your Plumbing Needs?
United Air Temp is the number one choice for 24/7 plumbing in Gaithersburg and surrounding areas.
Our core values are what set us apart. You can count on us to provide quality customer care and be committed to service excellence with every job.
With over 90 years in business, we can help restore your plumbing so you can have peace of mind.
For all of your Gaithersburg, MD, plumbing needs, call the team at United Air Temp at (877) 552-8919 or contact us online.

Why Choose Us
Discover the United Difference
Environmental Health & Safety
Environmental Health & Safety
Save on Your Service
Our Goal Is to Keep Your Home Comfortable
FREE

second opinion – HVAC or Plumbing replacement
Expires 03/31/23
$25 OFF

for referrer and friend
Expires 03/31/23
$50

diagnostic for first- time plumbing customer
Expires 03/31/23
What Our Clients Are Saying

The tech was at my home less than 10 minutes and gone within 20 minutes due to having my A/C up and running. I really appreciate his response to my home and working with my son due to me being out of town, but we spoke on the phone.

The technician arrived promptly, wore a mask, was very courteous and professional. I am generally very satisfied with service by United Air Temp. In addition to good service (they repair well), it is easy to speak to a person, and promptly. Thank you.

Great service! I called because I was under the impression the AC was not working upstairs. Someone came on the same day, checked out the system, and ensured everything was working. He was polite, thorough, and friendly.

Tech was very attentive and professional. He went out his way to explain everything to me as he was doing it. I appreciated him keeping me informed.
The service technician was awesome! He spent the extra time necessary to ensure the leak in our system was fixed, the system fully recharged and everything was functioning as it should. He was extremely thorough and very professional. We are extremely pleased with the result!