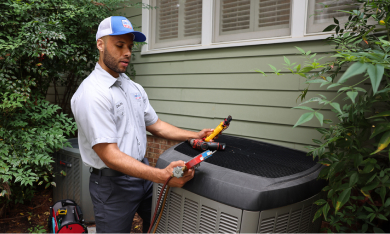 HVAC & Plumbing Services in Sterling, VA
For HVAC and plumbing services you can depend on for your Sterling home or business, contact United Air Temp. Our NATE-certified technicians and licensed plumbers stay updated on all technological advances and techniques to solve any issue you might experience.
For over 90 years, Sterling homeowners and business owners have trusted the experts at United Air Temp, and our teams are honored to continue this tradition of service excellence.
Contact United Air Temp online for 24/7 emergency HVAC and plumbing assistance.
24/7 Air Conditioning Services in Sterling, VA
United Air Temp offers air conditioning services for your cooling needs all year. In the event of an AC emergency, our NATE-certified technicians can arrive quickly to provide quality air conditioning repairs.
We recommend scheduling an air conditioning maintenance appointment with a United Air Temp technician once per year to ensure your cooling system will operate efficiently.
Our AC services include:
Ready to get started? Contact us online to schedule an air conditioning service in Sterling, VA.
Sterling Heating Services
At United Air Temp, we understand that heating emergencies in Sterling can be serious. Our expert technicians are available 24/7 to provide emergency repairs for Sterling homes and businesses. We also keep fully stocked trucks near Sterling to quickly respond to furnace, heat pump, and ductless mini-split emergencies.
Before the heating season begins, our experienced technicians recommend you have your heating system inspected by a certified HVAC technician. This can prevent unexpected breakdowns and costly repairs that leave you and your family in the cold.
Here are the heating services we offer in Sterling:
Save on your energy bills, reduce the need for repairs, and extend the life of your heater with professional heating services in Sterling.
Contact United Air Temp to schedule an appointment.
HVAC Systems We Service
Indoor Air Quality Services
Many Sterling homeowners and business owners don't realize indoor air is often more polluted than outside air. While newly built homes are more energy-efficient, this can lead to tightly enclosed spaces where the air quality rapidly decreases. With our indoor air quality services, we can counteract this by installing systems that improve the air quality.
Our indoor air quality services help homeowners, families, and colleagues breathe easier indoors, reducing the circulation of pollutants and allergens like mold, pet dander, and dust. Rely on our experts to find the right solution for your home, including:
Emergency & Routine Plumbing Services
Licensed plumbers at United Air Temp are on call 24/7 for emergency plumbing services in Sterling. When you call us, we'll send an experienced plumber who knows how to solve the plumbing issue you're dealing with.
We also provide routine and non-emergency services, like plumbing maintenance and plumbing installation, that help you upgrade your home's comfort to meet your needs.
Call our plumbers if you're having trouble with:
Schedule a plumbing service online with one of United Air Temp's licensed plumbers.
Choose United Air Temp for Reliable HVAC & Plumbing Services
Whether you need urgent HVAC or plumbing repairs, or you want to upgrade one of these systems in your home, call United Air Temp. Our licensed plumbers and NATE-certified technicians are equipped with the tools, knowledge, and experience to improve the comfort of your home.
We're available 24/7 to respond to emergency repair needs, so rest assured that our teams will restore your heating, cooling, or plumbing system as soon as possible.
Contact us online to schedule an HVAC or plumbing service in Sterling.

Why Choose Us
Discover the United Difference
Environmental Health & Safety
Environmental Health & Safety
Save on Your Service
Our Goal Is to Keep Your Home Comfortable
FREE

second opinion – HVAC or Plumbing replacement
Expires 11/30/22
$25 OFF

for referrer and friend
Expires 11/30/22
$50

diagnostic for first- time plumbing customer
Expires 11/30/22
What Our Clients Are Saying

The tech was at my home less than 10 minutes and gone within 20 minutes due to having my A/C up and running. I really appreciate his response to my home and working with my son due to me being out of town, but we spoke on the phone.

The technician arrived promptly, wore a mask, was very courteous and professional. I am generally very satisfied with service by United Air Temp. In addition to good service (they repair well), it is easy to speak to a person, and promptly. Thank you.

Great service! I called because I was under the impression the AC was not working upstairs. Someone came on the same day, checked out the system, and ensured everything was working. He was polite, thorough, and friendly.

Tech was very attentive and professional. He went out his way to explain everything to me as he was doing it. I appreciated him keeping me informed.
The service technician was awesome! He spent the extra time necessary to ensure the leak in our system was fixed, the system fully recharged and everything was functioning as it should. He was extremely thorough and very professional. We are extremely pleased with the result!