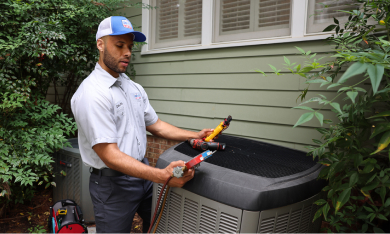 UAT Receives Prestigious Ethics Award
In 2015, United Air Temp has received the Ethics award from The Society of Financial Service Professionals of Greater Washington and Northern Virginia. The Ethics Award honors companies that demonstrate a firm commitment to ethical business practices in everyday operations, management philosophies and responses to crises or challenges.
Presenting the award to Gabe Ivanescu, CEO of United Air Temp, is Elizabeth Schwarzman and Scott Harding, Co-Chairmen of the 2015 National Capitals Business Ethics Award.
The review of United Air Temp by the Ethics in Business Committee said in part that "United Air Temp, Inc. is a company of principle-centered professionals who believe that their most valuable asset is the trust of their customers. While it does not have a written ethics policy, the company has a long established culture of doing the right thing – always. United Air Temp believes that being ethical is a very easy-to-understand principle that does not require extensive analysis, as most people have a solid grasp of what is right and what is wrong. The difficulty comes when applying the principle when it has a negative short term implications on the company, or an associate."
The basic principles United Air Temp employs in ensuring that it does the "right thing" include: if something is done wrong, it is fixed, no matter the cost; if people have the perception that the company did something wrong, the company removes all finanical reward from the equation; United Air Temp always crosses the bridge to understand its customers point of view.
Why Choose Us
Discover the United Difference
Environmental Health & Safety
Environmental Health & Safety
Save on Your Service
Our Goal Is to Keep Your Home Comfortable
What Our Clients Are Saying

The tech was at my home less than 10 minutes and gone within 20 minutes due to having my A/C up and running. I really appreciate his response to my home and working with my son due to me being out of town, but we spoke on the phone.

The technician arrived promptly, wore a mask, was very courteous and professional. I am generally very satisfied with service by United Air Temp. In addition to good service (they repair well), it is easy to speak to a person, and promptly. Thank you.

Great service! I called because I was under the impression the AC was not working upstairs. Someone came on the same day, checked out the system, and ensured everything was working. He was polite, thorough, and friendly.

Tech was very attentive and professional. He went out his way to explain everything to me as he was doing it. I appreciated him keeping me informed.
The service technician was awesome! He spent the extra time necessary to ensure the leak in our system was fixed, the system fully recharged and everything was functioning as it should. He was extremely thorough and very professional. We are extremely pleased with the result!