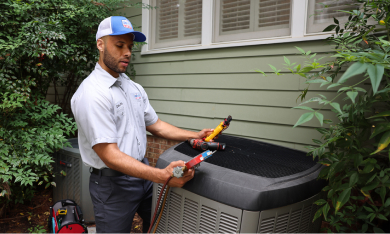 Your Preferred Full-Service HVAC & Plumbing Company
Providing Dependable Residential & Plumbing Services
Since 1931
When you need HVAC or plumbing services for your home, United Air Temp is the company to call. For more than 90 years, we've provided reliable HVAC and plumbing services to homeowners who expect only the best in home comfort solutions.
You're always in good hands with the team at United Air Temp! Our NATE-certified technicians and licensed plumbers can solve any home heating, air conditioning, or plumbing problem you have and deliver unparalleled customer care and service.
Our History
From a small local business to a regional firm serving multiple communities throughout the southeast, United Air Temp now has 30 branch offices and more than 300 technicians and support staff. Today, our growth is limited only by our imagination as we strive to prove ourselves as a true leader in the home comfort industry.
Integrity, professionalism, and social responsibility are the ethics United Air Temp's history is based on, and they continue to drive our mission today in providing exceptional customer experiences.
Ethics
United Air Temp is firmly committed to its core business ethics:
Honesty

Integrity

Trustworthiness

Loyalty

Fairness

Respect for others

Respect
For our customers, that means delivering HVAC and plumbing services above and beyond what they expect. For our employees, it means being treated fairly and provided with the training and support they need to uphold our high performance standards. Socially, we're committed to protecting the health and safety of the communities we serve.
Mission Statement
Our mission is simple and golden: treat people the way you would like to be treated. For United Air Temp, that translates into seeking out and hiring the best people who understand the customer always comes first. To provide our customers with outstanding service, we continuously reinvent competitive advantages and maintain consistent standards of excellence.
HVAC and Plumbing Services
From preventative maintenance to guaranteed repairs, United Air Temp is ready to perform when you need home comfort services, including:
Plumbing repairs and replacements

Air conditioning installations and repairs

Heating systems, including furnaces and boilers

Maintenance programs for AC, heating, and plumbing systems

Geothermal heat pump installation

Indoor air quality
What Sets United Air Temp Apart
When you choose award-winning United Air Temp as your HVAC and plumbing contractor for your home, you get the best services available. We provide:
Convenient 2-hour windows for routine repair and maintenance services

24/7 emergency service

Continuous updates on service techniques and technologies

A computerized customer tracking system

Written reports on all work we perform

A 90-year+ tradition of customer care and service excellence
But don't just take our word for it. We're grateful to our customers for the thousands of satisfied reviews they've given us. We strive every day to maintain the trust they place in us.
Need outstanding HVAC or plumbing services for your home? Contact United Air Temp online today to schedule an appointment.
Why Choose Us
Discover the United Difference
Environmental Health & Safety
Environmental Health & Safety
Save on Your Service
Our Goal Is to Keep Your Home Comfortable
What Our Clients Are Saying

The tech was at my home less than 10 minutes and gone within 20 minutes due to having my A/C up and running. I really appreciate his response to my home and working with my son due to me being out of town, but we spoke on the phone.

The technician arrived promptly, wore a mask, was very courteous and professional. I am generally very satisfied with service by United Air Temp. In addition to good service (they repair well), it is easy to speak to a person, and promptly. Thank you.

Great service! I called because I was under the impression the AC was not working upstairs. Someone came on the same day, checked out the system, and ensured everything was working. He was polite, thorough, and friendly.

Tech was very attentive and professional. He went out his way to explain everything to me as he was doing it. I appreciated him keeping me informed.
The service technician was awesome! He spent the extra time necessary to ensure the leak in our system was fixed, the system fully recharged and everything was functioning as it should. He was extremely thorough and very professional. We are extremely pleased with the result!