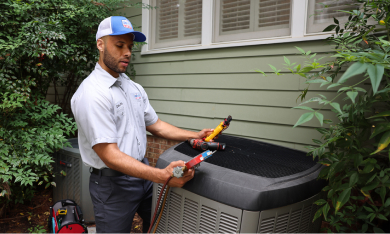 UAT Wins HVAC National Contractor of the Year 2022
On October 28, 2022, United Air Temp continued to break records, becoming the only two-time winner of the prestigious award; Plumbing Heating and Cooling Contractors Association's HVACR National Contractor of the Year. CEO Mike Giordano and SVP Butch McGonegal accepted the award on behalf of United Air Temp. "United Air Temp's continued success is a direct result of our employees' commitment to excellence," said Giordano.
The PHCC HVACR National Contractor of the Year candidates are evaluated by a committee of PHCC members who judge accomplishments in six areas: professionalism, merchandising skills, management skills, innovative HVAC practices, trade involvement, and community service. For over 90 years, United Air Temp's foundation has been integrity, employee development, technical competence, and always doing what is right. These principles, combined with local community involvement and cutting-edge technical practices, are why United Air Temp is the only two-time winner of the PHCC award.
With over 50 branches from Maryland to Florida, United Air Temp's mission of creating an environment where talented people with like-minded goals can grow and achieve great things continues to be the formula for success. "We are very proud of where we've come from and where we are headed," said McGonegal, "being recognized again by the PHCC is a public declaration of our continued commitment to our employees and customers."
To learn more about PHCC and the award, visit www.phccweb.org
Why Choose Us
Discover the United Difference
Environmental Health & Safety
Environmental Health & Safety
Save on Your Service
Our Goal Is to Keep Your Home Comfortable
What Our Clients Are Saying

The tech was at my home less than 10 minutes and gone within 20 minutes due to having my A/C up and running. I really appreciate his response to my home and working with my son due to me being out of town, but we spoke on the phone.

The technician arrived promptly, wore a mask, was very courteous and professional. I am generally very satisfied with service by United Air Temp. In addition to good service (they repair well), it is easy to speak to a person, and promptly. Thank you.

Great service! I called because I was under the impression the AC was not working upstairs. Someone came on the same day, checked out the system, and ensured everything was working. He was polite, thorough, and friendly.

Tech was very attentive and professional. He went out his way to explain everything to me as he was doing it. I appreciated him keeping me informed.
The service technician was awesome! He spent the extra time necessary to ensure the leak in our system was fixed, the system fully recharged and everything was functioning as it should. He was extremely thorough and very professional. We are extremely pleased with the result!