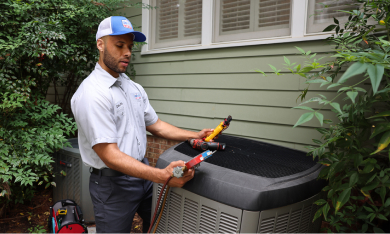 Privacy Policy
Your privacy is important to us, and this policy will inform you of the information that United Air Temp may collect from you, how it is used, and/or disclosed. By using our Website, www.unitedairtemp.com you are acknowledging and accepting the practices and information described in this policy and on our Website.
Collecting Personal Information
When you visit our Website, we may collect personal and non-personal information such as: domain name, IP Address, type of Internet browser used, operating system, what brought you to our Website, which pages you visited, and the length of time you were on each page. We work with third parties, using cookies and other similar identifiers, to collect user data on our Website and elsewhere on the Internet for the purposes of tracking and advertising. Additionally, any information you willingly submit to us via our Website or otherwise will be collected. We may use this information to contact you in the future regarding specials, new products, services, or changes to this privacy policy.
Using Information
We may use the information we have collected primarily for our own internal purposes, including improving our products, services, Website, advertising, remarketing efforts, etc. However, we may also use your collected information to contact you to respond to inquiries or provide information about our services.
Protecting Information
United Air Temp generally follows accepted industry standards when it comes to protecting the information you submit to us and that we gather, both during transmission and once we receive it. We use appropriate data collection, storage, and processing practices and security measures to protect against unauthorized access, alteration, disclosure, or destruction of your personal information, username, password, transaction information, and data stored on our site.
Web Browser Cookies
We may use "cookies" to enhance your experience on our Website. A cookie is a piece of data placed on your hard drive for record-keeping purposes by your web browser that may sometimes track information about you. You may choose to set your web browser to refuse cookies or to alert you when cookies are being sent. If you do so, note that some parts of the Site may not function properly. Usage of a cookie is in no way linked to any personally identifiable information on our site.
Sharing Information
We do not sell, trade, or rent your personal identification information to others. We may share generic aggregated demographic information not linked to any personal identification information regarding visitors and users with our business partners, trusted affiliates, and advertisers. We may also disclose your customer information with third parties in order to perform services on our behalf, and we will obtain consent for such sharing where it is legally required.
We will disclose personal information and/or an IP Address when required by law or in good-faith belief that such an action is necessary to: cooperate with an investigation of purported unlawful activity, protect the rights or property of our Website and related properties, or identify persons who may be violating the law, the rights of third parties, or otherwise misusing our Website or its related properties.
Please keep in mind that if you voluntarily submit your information in a public forum on our related to our Website—such as a comment section, discussion board, etc.—it may be collected and used by others, and we have no control of how third parties may use your publicly accessible information.
Third-Party Websites
United Air Temp's Website may contain links to third-party websites, including links to the sites and services of our partners, suppliers, advertisers, sponsors, licensors, and other third parties. We do not control the content or links that appear on these sites and are not responsible for the practices employed by websites linked to or from our Site. In addition, these sites or services, including their content and links, may be constantly changing. These sites and services may have their own privacy policies and customer service policies. Browsing and interaction on any other website, including websites which have a link to our Site, is subject to that website's own terms and policies.
This site is being monitored by one or more third-party monitoring software(s), and may capture information about your visit that will help us improve the quality of our service. You may opt-out from the data that SmartPiXL is collecting on your visit through a universal consumer options page located at https://smartpixl.com/Unsub/unsub.html.
Privacy Policy Changes
United Air Temp may make changes to this privacy policy at our discretion. When we do, we will revise the updated date at the bottom of this page. We encourage you to frequently check this page for any changes to stay informed about how we are helping to protect the personal information we collect. By using our Website, you acknowledge and agree that it is your responsibility to review this privacy policy periodically and become aware of modifications.
Your Consent
By using this site, you signify your acceptance of this policy. If you do not agree to this policy, please do not use our Site. Your continued use of the Site following the posting of changes to this policy will be deemed your acceptance of those changes.
If you would like to opt out of our tracking, you may do so here:
If you have questions about our privacy policy, please contact us.
Last updated: 5/31/2022
Why Choose Us
Discover the United Difference
Environmental Health & Safety
Environmental Health & Safety
Save on Your Service
Our Goal Is to Keep Your Home Comfortable
What Our Clients Are Saying

The tech was at my home less than 10 minutes and gone within 20 minutes due to having my A/C up and running. I really appreciate his response to my home and working with my son due to me being out of town, but we spoke on the phone.

The technician arrived promptly, wore a mask, was very courteous and professional. I am generally very satisfied with service by United Air Temp. In addition to good service (they repair well), it is easy to speak to a person, and promptly. Thank you.

Great service! I called because I was under the impression the AC was not working upstairs. Someone came on the same day, checked out the system, and ensured everything was working. He was polite, thorough, and friendly.

Tech was very attentive and professional. He went out his way to explain everything to me as he was doing it. I appreciated him keeping me informed.
The service technician was awesome! He spent the extra time necessary to ensure the leak in our system was fixed, the system fully recharged and everything was functioning as it should. He was extremely thorough and very professional. We are extremely pleased with the result!