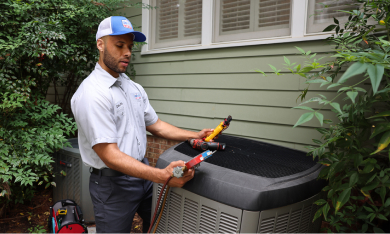 Our History
In 90+ years, United Air Temp has evolved into a regional firm that serves the South East United States with over 30 branch offices and more than 300 technicians and staff.
United Air Temp's history isn't what one would expect from such a large firm. It began humbly in Erie, Pa. in 1931 as Fowler Heating Company, which manufactured incinerator equipment, and Aire Flow Distributing. By 1950, Fowler Heating Company Conjoined the manufacturing arm of the company and Heating & Air Conditioning partners to focus on HVAC needs to the consumer. In 1976, Fowler Heating Company changed its business focus and name to Fowler Heating and Air Conditioning. The focus changed to the promotion of preventative maintenance and service.
In 1979 Fowler Heating and Air Conditioning franchise and Fowler-Trane was created. The CEO of Fowler Heating and Air Conditioning moved to Alexandria Va., and opened United Air Temp in its first office in Falls Church, Va. The growth since 1999 is nothing short of spectacular. United Air Temp has grown rapidly to include service and installation branches throughout the South East Currently United Air Temp has office locations that service Lower Maryland, Northern Virginia, Charlotte North Carolina, Atlanta Georgia and many areas in Florida.
The growth of United Air Temp is only limited to the imagination. Our goal is to become the leader in Heating, Air Conditioning and Refrigeration for the South Eastern United States. United Air Temp is actively pursuing growth in North Carolina, Georgia and Florida. From a small town in Erie Pa., to a five-state operation in very competitive markets, United Air Temp has proven itself a true leader in the home comfort industry.
Why Choose Us
Discover the United Difference
Environmental Health & Safety
Environmental Health & Safety
Save on Your Service
Our Goal Is to Keep Your Home Comfortable
What Our Clients Are Saying

The tech was at my home less than 10 minutes and gone within 20 minutes due to having my A/C up and running. I really appreciate his response to my home and working with my son due to me being out of town, but we spoke on the phone.

The technician arrived promptly, wore a mask, was very courteous and professional. I am generally very satisfied with service by United Air Temp. In addition to good service (they repair well), it is easy to speak to a person, and promptly. Thank you.

Great service! I called because I was under the impression the AC was not working upstairs. Someone came on the same day, checked out the system, and ensured everything was working. He was polite, thorough, and friendly.

Tech was very attentive and professional. He went out his way to explain everything to me as he was doing it. I appreciated him keeping me informed.
The service technician was awesome! He spent the extra time necessary to ensure the leak in our system was fixed, the system fully recharged and everything was functioning as it should. He was extremely thorough and very professional. We are extremely pleased with the result!