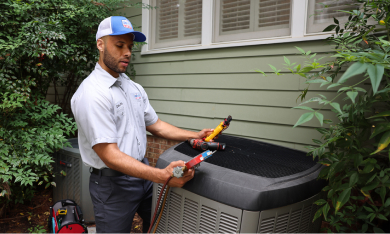 United Air Temp Ethics
To our valued customers:
We will serve our customers with integrity, competence, and objectivity.
We will deliver to our customers more than we promised through value-added services.
We will perform our work to meet technical codes or better.
We will explore each customer situation in sufficient detail and gather sufficient facts to gain an understanding of the problem, the scope of assistance needed, and the possible benefits our service and technical recommendations may provide our customers.
We will respect each customer's home and property and leave them as clean as we found them.
To our employees:
We will treat our employees fairly.
We will assign technical and support personnel to each job in accord with their experience, knowledge, and expertise.
We will provide training for all our employees on an on-going basis to uphold high performance standards.
We will only hire personnel of high integrity.
Professional Responsibility:
We will perform jobs for which we are qualified by our experience and technical competence.
We will make quality service the trademark of the jobs we perform.
We will schedule all work to provide a minimum of inconvenience to our customers
We will stand behind our craftsmanship.
We will not provide services to a customer under terms or conditions that might damage or compromise the integrity of our trade and profession. We will follow the golden rule.
We will not advertise our services in a deceptive manner.
We will maintain a wholly professional attitude and behavior toward those we serve, our fellow contractors, our own employees, our suppliers, and the public at large.
Social Responsibility:
We will be good corporate citizens.
We will protect the health and safety of our communities by sharing knowledge of new environmental developments and technological advancements with the communities we serve.
We will report violations of this code of ethics
Why Choose Us
Discover the United Difference
Environmental Health & Safety
Environmental Health & Safety
Save on Your Service
Our Goal Is to Keep Your Home Comfortable
What Our Clients Are Saying

The tech was at my home less than 10 minutes and gone within 20 minutes due to having my A/C up and running. I really appreciate his response to my home and working with my son due to me being out of town, but we spoke on the phone.

The technician arrived promptly, wore a mask, was very courteous and professional. I am generally very satisfied with service by United Air Temp. In addition to good service (they repair well), it is easy to speak to a person, and promptly. Thank you.

Great service! I called because I was under the impression the AC was not working upstairs. Someone came on the same day, checked out the system, and ensured everything was working. He was polite, thorough, and friendly.

Tech was very attentive and professional. He went out his way to explain everything to me as he was doing it. I appreciated him keeping me informed.
The service technician was awesome! He spent the extra time necessary to ensure the leak in our system was fixed, the system fully recharged and everything was functioning as it should. He was extremely thorough and very professional. We are extremely pleased with the result!