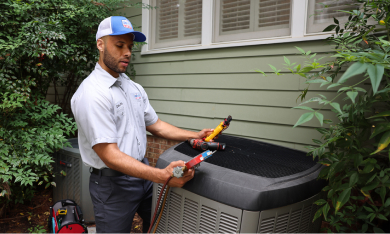 Careers
Your Path to Success
For over 90 years, the HVAC industry leader, United Air Temp, has thrived because of our amazing, dedicated employees.
Today, we're looking for driven, customer-focused team members who take great pride in themselves and their work.
United Air Temp is unique; we provide a clear career path to management for those without experience in HVAC, Plumbing, Electrical or Corporate roles. We provide leadership and technical training certifications in-house (EPA, NATE, Journeyman, Master, and Contractor License). Our CEO began his career at United Air Temp, with no experience, over 20 years ago.
Whether you're an HVAC Technician, Financial Analyst, or Customer Service Professional, we don't believe in ceilings.
If you are interested in a career with a company that fosters professional growth, is employee-focused, and offers countless career opportunities, you've found it.
Apply now to begin your career with our amazing team!
Why Our Techs Choose United Air Temp
Our commitment to our team stands out from other HVAC, Plumbing, Electrical, and Installation career opportunities. As a United Air Temp team member, you'll be paid to learn your profession through our 'UAT Path to Success' training program.
You will have a career with limitless opportunities- Heating, Air Conditioning, Electrical, and Plumbing trade professionals are highly valued and essential worldwide.
As a United Air Temp technician, you'll enjoy:
A company that welcomes entry-level technicians and pays you to learn
The opportunity to earn your EPA, NATE, Journeyman, Master, and Contractor Licenses
Managers that are highly invested in your development and success
A leading-edge training program, UAT's Path to Success, that includes both technical and management development and advancement
Valuable exposure to diverse HVAC, Plumbing, Electrical, and Install services.
Tools, education, and resources needed to perform and stay safe on the job
No cap on income
401K retirement plans with company matching
Start your exciting new career with United Air Temp today! Apply now!
Company Culture
Every day at United Air Temp is an opportunity to learn something new with the support and trust of your team. Our managers are committed to creating environments that foster professional, financial, and personal growth. With United Air Temp, you can expect:
Service excellence: At every level, we focus on doing what's right for our customers and employees.
Open communication: Leaders are available outside of traditional work hours to help our team members.
Financial transparency: You'll always know how much you earn. There are no hidden commission formulas.
Recreation: We have athletic teams for multiple sports, company events, contests, and much more!
Start your exciting new career with United Air Temp today! Apply now!
Why Choose Us
Discover the United Difference
Environmental Health & Safety
Environmental Health & Safety
Save on Your Service
Our Goal Is to Keep Your Home Comfortable
What Our Clients Are Saying

The tech was at my home less than 10 minutes and gone within 20 minutes due to having my A/C up and running. I really appreciate his response to my home and working with my son due to me being out of town, but we spoke on the phone.

The technician arrived promptly, wore a mask, was very courteous and professional. I am generally very satisfied with service by United Air Temp. In addition to good service (they repair well), it is easy to speak to a person, and promptly. Thank you.

Great service! I called because I was under the impression the AC was not working upstairs. Someone came on the same day, checked out the system, and ensured everything was working. He was polite, thorough, and friendly.

Tech was very attentive and professional. He went out his way to explain everything to me as he was doing it. I appreciated him keeping me informed.
The service technician was awesome! He spent the extra time necessary to ensure the leak in our system was fixed, the system fully recharged and everything was functioning as it should. He was extremely thorough and very professional. We are extremely pleased with the result!