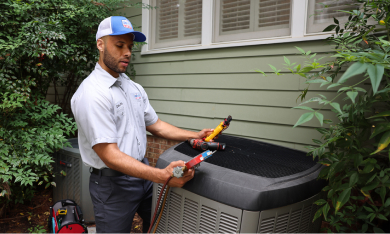 United Air Temp Merges with Comfort First
Comfort First Heating and Cooling is merging with United Air Temp, combining two businesses that Charlotte residents have trusted for years to provide quality HVAC and plumbing services. The merged companies will soon operate solely as United Air Temp.
United Air Temp and Comfort First Customers Can Expect Even Greater Customer Care
Comfort First and United Air Temp customers will still receive the attentive, dependable service they are used to—but on a larger scale. As our teams come together, homeowners in Charlotte will enjoy access to 24/7 emergency services from expert, friendly technicians with the knowledge and resources to provide quick repairs.
Here are other benefits that customers can expect as a result of the merger:
Even more innovation in excellent customer service techniques
Expanded efficiency in repairing and installing top-rated HVAC systems
24/7 emergency services that depend on a team of technicians united in their service excellence and knowledge to provide quick repairs
Continuation of ultimate respect for your home—including wearing protective gear
Routine maintenance services that rely on a broader wealth of industry experience in preventing and solving problems before they happen
Comfort First's Commitment to Exceptional Service Expanded
Comfort First's customers know the company and its associates as neighborly experts who prioritize their needs. One of the ways Comfort First achieves this is by requiring 80+ hours of rigorous, hands-on annual training from each team member. It is also careful to keep service trucks fully stocked with every supply needed to make repairs in a single visit.  
This commitment to service excellence represents a shared core value between both companies and each member of their technician teams. United Air Temp is proud to use our 90+ year tradition of customer care to expand the reaches of Comfort First's commitment.
Why Choose United Air Temp?
Choosing United Air Temp to service your HVAC or plumbing system in your Charlotte home means that you will receive service that meets the highest standards of two companies fully committed to you and your home's needs. When you choose United Air Temp, you'll benefit from:
 NATE-certified technicians
Licensed plumbers 
24/7 emergency service
Written reports on all completed work
Convenient 2-hour routine maintenance service windows
For over 90+ years, United Air Temp has been an HVAC and plumbing company that Charlotte homeowners can count on every time.
Schedule service in Charlotte online today.
Why Choose Us
Discover the United Difference
Environmental Health & Safety
Environmental Health & Safety
Save on Your Service
Our Goal Is to Keep Your Home Comfortable
What Our Clients Are Saying

The tech was at my home less than 10 minutes and gone within 20 minutes due to having my A/C up and running. I really appreciate his response to my home and working with my son due to me being out of town, but we spoke on the phone.

The technician arrived promptly, wore a mask, was very courteous and professional. I am generally very satisfied with service by United Air Temp. In addition to good service (they repair well), it is easy to speak to a person, and promptly. Thank you.

Great service! I called because I was under the impression the AC was not working upstairs. Someone came on the same day, checked out the system, and ensured everything was working. He was polite, thorough, and friendly.

Tech was very attentive and professional. He went out his way to explain everything to me as he was doing it. I appreciated him keeping me informed.
The service technician was awesome! He spent the extra time necessary to ensure the leak in our system was fixed, the system fully recharged and everything was functioning as it should. He was extremely thorough and very professional. We are extremely pleased with the result!