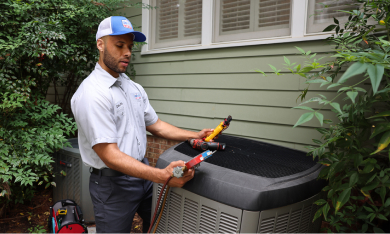 UAT Wins HVAC Contractor of the Year 2022
President Mike Giordano and Senior Vice President Butch McGonegal represented United Air Temp, Lorton, Va., on Oct. 5 as the recipient of the 2012 PHCC "HVACR Contractor of the Year" award during CONNECT 2012. The award is given yearly during the Plumbing-Heating-Cooling Contractors-National Association's (PHCC) conference in Philadelphia, Pa. United Air Temp was founded in 1931 in Erie, Pa. Its mission is to "create an environment where talented people with like-minded goals can grow and achieve great things." United Air Temp was selected to receive the 2012 honor based on its high ethical and professional standards, commitment to contractor education and on-going service to the community.
United Air Temp has evolved into a regional firm that serves the greater Washington D.C.: Atlanta, Ga.: Jacksonville and Orlando, Fla., areas, with over 20 branch offices and more than 200 technicians and staff. From 2005-2008, the company was a finalist in the Washington, D.C. "National Capital Ethics in Business" awards, where it was lauded as "a company of principle-centered professionals who believe that their most valuable asset is the trust of their customers."
An educated, professional workforce is another priority for the organization. United Air Temp's intensive in-house management program requires months of classroom and on-site training to develop a confident and technically proficient workforce. The company also promotes workplace safety with a driver safety training program and required weekly briefings on safety issues at each branch. Also, United Air Temp has customer service procedures in place to ensure a pleasant, professional experience for all clients, and supports green initiatives by teaching its customer base about available products that are energy-efficient and environmentally sustainable.
The team's leadership extends to public service, as well. The company has served on the Rebuilding Alexandria (Va.) Board of Directors; is an active member of the Vienna (Va.) Rotary Club; and is a major supporter of "Child Help." It also has donated HVAC systems to families in need through the Habitat for Humanity, Prince William chapter, and provides support for sustaining scholarship programs at two Virginia state universities-James Madison University and George Mason University.
In order to be named a PHCC "HVACR Contractor of the Year," candidates were evaluated by a committee of PHCC members who judged accomplishments in six areas: professionalism, merchandising skills, management skills, innovative HVAC practices, trade involvement and community service.
For more information on PHCC and the award visit www.phccweb.org or PHCC Web News Publication.
Why Choose Us
Discover the United Difference
Environmental Health & Safety
Environmental Health & Safety
Save on Your Service
Our Goal Is to Keep Your Home Comfortable
What Our Clients Are Saying

The tech was at my home less than 10 minutes and gone within 20 minutes due to having my A/C up and running. I really appreciate his response to my home and working with my son due to me being out of town, but we spoke on the phone.

The technician arrived promptly, wore a mask, was very courteous and professional. I am generally very satisfied with service by United Air Temp. In addition to good service (they repair well), it is easy to speak to a person, and promptly. Thank you.

Great service! I called because I was under the impression the AC was not working upstairs. Someone came on the same day, checked out the system, and ensured everything was working. He was polite, thorough, and friendly.

Tech was very attentive and professional. He went out his way to explain everything to me as he was doing it. I appreciated him keeping me informed.
The service technician was awesome! He spent the extra time necessary to ensure the leak in our system was fixed, the system fully recharged and everything was functioning as it should. He was extremely thorough and very professional. We are extremely pleased with the result!