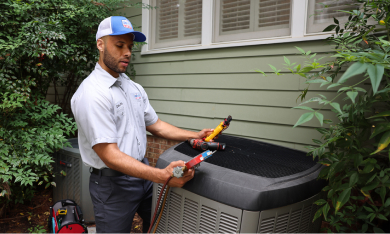 New 2023 HVAC SEER Regulations
Whether it's the latest iPhone or your air conditioning system, technological advancement never seems to slow down. After all, you want the best-performing, most efficient solutions for your home.
Many homeowners don't realize that the Department of Energy updates efficiency regulation standards for HVAC equipment every few years. This is how they ensure HVAC manufacturers ensure reliable system performance and efficiency.
In 2023, efficiency standards across all home HVAC equipment are set to change again. To help you prepare, we answer some of the most important questions that homeowners have:
How Is HVAC Efficiency Measured?
There are three metrics currently used to measure system efficiency depending on the type of equipment:
Seasonal Energy Efficiency Ratio (SEER): The higher the SEER rating, the more efficient your AC unit is.
Heating Seasonal Performance Factor (HSPF): The higher the rating, the more efficient your heat pump is.
Annualized Fuel Utilization Efficiency (AFUE): Furnaces receive an efficiency rating based on how much heat is produced per dollar of fuel that the unit consumes.
Efficiency standards aren't just dictated by system type but are also set based on geographic location. Families that United Air Temp serves in Northern Virginia, Maryland, Washington, DC, North Carolina, Georgia, and Florida are in the southeast region. 
What Are the New Regulations?
Starting January 1, 2023, a new set of efficiency regulations is set to take effect for home HVAC equipment. The following table outlines how efficiency standards will change for those living in the southeast region depending on the type of HVAC equipment:
Starting in the new year, test ratings will move from SEER, EER, and HSPF to SEER2, EER2, and HSPF2. These new ratings are more precise because new HVAC units will undergo more rigorous factory testing.
How Do the New Efficiency Standards Benefit Me?
The new efficiency requirements and test rating systems are designed to help homeowners make better decisions when it comes to their home comfort. HVAC systems manufactured five to 10 years ago are much less efficient, costing homeowners more money in the long run.
With the new efficiency standards in place, you can rest assured knowing that any new equipment manufactured after January 1, 2023, must adhere to these new requirements. That means if you decide to upgrade your HVAC equipment in the future, you'll have access to the most efficient solutions.
What if My AC Has a SEER Lower Than 15?
If your air conditioner has a SEER lower than 15, don't worry. Homeowners aren't required to update their equipment because the regulations change. All this means is that newly manufactured HVAC systems must adhere to these updated requirements.
However, when it's time to replace your unit, whether in a year, five years, or 10 years, the cost of a new unit that meets minimum efficiency standards will be higher.
Contact United Air Temp if You Need HVAC Replacement Today
With the changing regulations, now is an excellent time to invest in the future of your home comfort with an all-new HVAC system.
At United Air Temp, our team installs top-rated heating and cooling equipment in:
If you plan to replace your AC, heat pump, or furnace in the new year, contact our team online or call (703) 516-8300 today to review your options! We'll provide a free estimate so you can make an informed decision.
Why Choose Us
Discover the United Difference
Environmental Health & Safety
Environmental Health & Safety
Save on Your Service
Our Goal Is to Keep Your Home Comfortable
What Our Clients Are Saying

The tech was at my home less than 10 minutes and gone within 20 minutes due to having my A/C up and running. I really appreciate his response to my home and working with my son due to me being out of town, but we spoke on the phone.

The technician arrived promptly, wore a mask, was very courteous and professional. I am generally very satisfied with service by United Air Temp. In addition to good service (they repair well), it is easy to speak to a person, and promptly. Thank you.

Great service! I called because I was under the impression the AC was not working upstairs. Someone came on the same day, checked out the system, and ensured everything was working. He was polite, thorough, and friendly.

Tech was very attentive and professional. He went out his way to explain everything to me as he was doing it. I appreciated him keeping me informed.
The service technician was awesome! He spent the extra time necessary to ensure the leak in our system was fixed, the system fully recharged and everything was functioning as it should. He was extremely thorough and very professional. We are extremely pleased with the result!