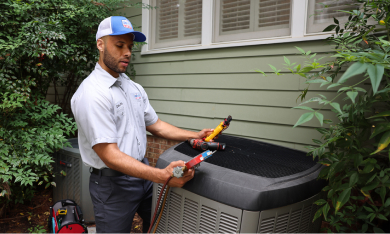 Why is my Air Conditioning Freezing?
Air conditioning units can freeze over for several reasons. Although air conditioners are usually used during the hotter months of the year, it's not uncommon for them to freeze up, especially if they're putting in more work than they used to.
In this blog, you'll learn the common causes for your AC freezing up and how to troubleshoot them.
Blocked or Insufficient Air Flow
Air filters for your air conditioners are like the screens for your doors. They serve to clean the air that passes through your air conditioner. But after a while, it starts to get clogged up with dust, dirt, and other air particles.
This debris blocks the airflow, allowing humidity to build up and settle on your AC's coils and causing them to freeze. Likewise, a broken blower fan and collapsed air ducts can lead to insufficient airflow, causing your AC to freeze.
Low Refrigerant Levels
Having enough refrigerant in your AC is a must. Since your AC is a closed system and refrigerant doesn't evaporate, having low refrigerant levels is a sign there may be a leak.
When your AC's refrigerant level gets too low, the pressure and temperature will drop below freezing. As a result, water vapors attach to your AC's coils, inevitably leading to your AC freezing up.
Blocked or Dirty Coils
Like your air filters and air ducts, your AC's coils are also prone to blockages. This issue is usually a result of dirty air filters. Once blocked, pollutants can no longer be caught in the filter, so the excess gets caught in the coils.
This dust accumulation acts as an insulator, making it difficult for the cold to escape from the coils, leading to ice formation and the subsequent freezing of your AC unit.
Faulty or Broken Parts
A broken or faulty fan or blower can also lead to insufficient airflow. This problem will prevent cool air from moving through your AC and into your home. Instead, it gets trapped and accumulates inside your AC, causing it to freeze up.
Usually, a sign of a faulty or broken motor is hearing sounds such as rattling, humming, or buzzing when you turn on your AC.
Troubleshooting a Frozen AC System
Although it's best to let a professional properly inspect your AC to find the root cause of its freezing problem, there are a few ways you may be able to prevent your AC from freezing up and improve its effectiveness in cooling your home:
Change air filters: Depending on the quality of your air filter, it's recommended to change them out at least once every three months.
Check motor fan: Odd noises when your AC turns on can mean a problem with your AC's blower fan.
Inspect AC for leaks: Keep an eye out for random puddles that look larger than what usual condensation would produce.
Depend on United Air Temp To Fix Your AC
Scheduling professional routine maintenance is a more permanent way to ensure your AC keeps working smoothly. Our technicians are highly trained and experienced in providing an in-depth inspection of your AC to ensure that nothing goes unchecked.
Once they find the root cause of the problem, they have the expertise and resources to get the job done right. Plus, you can save on maintenance services through our maintenance plans.
If you've tried to troubleshoot your AC and it's still not performing as it should, schedule AC service with United Air Temp as soon as possible. We'll fix it in no time.
We Repair Air Conditioners in:
Why Choose Us
Discover the United Difference
Environmental Health & Safety
Environmental Health & Safety
Save on Your Service
Our Goal Is to Keep Your Home Comfortable
What Our Clients Are Saying

The tech was at my home less than 10 minutes and gone within 20 minutes due to having my A/C up and running. I really appreciate his response to my home and working with my son due to me being out of town, but we spoke on the phone.

The technician arrived promptly, wore a mask, was very courteous and professional. I am generally very satisfied with service by United Air Temp. In addition to good service (they repair well), it is easy to speak to a person, and promptly. Thank you.

Great service! I called because I was under the impression the AC was not working upstairs. Someone came on the same day, checked out the system, and ensured everything was working. He was polite, thorough, and friendly.

Tech was very attentive and professional. He went out his way to explain everything to me as he was doing it. I appreciated him keeping me informed.
The service technician was awesome! He spent the extra time necessary to ensure the leak in our system was fixed, the system fully recharged and everything was functioning as it should. He was extremely thorough and very professional. We are extremely pleased with the result!