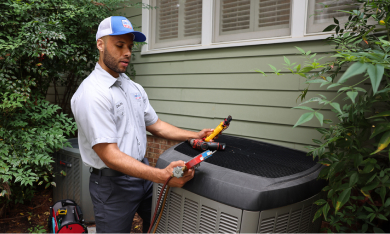 Maintenance Plans in Northern VA, DC & Baltimore Metro Areas
As an air conditioner ages, it starts to wear down. Over time, this can drive up your energy bills or increase the risk of a leak. In the Washington, DC area, homeowners need to know they can rely on their heating and cooling systems to handle anything the weather might throw at them.
Preventative maintenance helps keep systems running well and prevent unnecessary and costly breakdowns. United Air Temperature offers preventive maintenance programs for HVAC systems, so you can ensure everything continues to work as it should year in and year out. In fact, with proper HVAC maintenance, you can decrease your energy use by as much as 60%. United Air Temp is here to make sure that happens.
Are you overdue for HVAC maintenance? Contact our team to schedule it today.
Benefits of HVAC Maintenance in the DMV
Preventive maintenance plans help your home stay safe and comfortable in several ways. First, the right maintenance reduces the risk of having your system break down prematurely. HVAC replacement is a costly investment, and you want to ensure it is fully necessary before signing that check. These service appointments also allow our trained technicians to find and diagnose problems with your HVAC. Other benefits of preventive maintenance include:
Making sure your HVAC system is ready for the heating and cooling season each year

Ensuring that the system is working at full capacity for your comfort

Optimizing the energy efficiency of your unit

Saving you money by reducing energy bill spikes
We believe these maintenance benefits are worth embracing, so talk to our team about how you can get started with a DC metro area preventive maintenance plan.
We Proudly Serve NOVA, DC & BALT Areas
Get started by filling out a service request form.
Our Affordable and Comprehensive HVAC Maintenance Plans
If you are ready to embrace the benefits of HVAC maintenance in Washington, DC, Virginia, or Maryland, we have a comprehensive plan to help. Our maintenance plans allow our technicians to thoroughly inspect your systems inside and outside your home while fine-tuning them to work as efficiently as possible. We will alert you to any pending repair needs and ensure all connections and components are in good working order.
Reach out today to discuss an HVAC maintenance plan for your DC metro area home.
Attentive and Qualified HVAC Technicians Offering Maintenance in NOVA, DC & MD
United Air Temp has a team of highly trained HVAC technicians that know these systems well. They are standing by to help you embrace better function in your HVAC systems. We are attentive to detail and knowledgeable about our craft, so you can be confident in the maintenance services we offer.
Make sure your HVAC system is working properly. Schedule your maintenance check today. We proudly serve Washington, DC, Virginia, and Maryland.
Maintenance Plan FAQs
What happens if I skip maintenance?
Skipping maintenance can drive up your energy bills and lead to higher costs for your home. You may also have a preventable breakdown on your hands.

Why Choose Us
Discover the United Difference
Environmental Health & Safety
Environmental Health & Safety
Save on Your Service
Our Goal Is to Keep Your Home Comfortable
FREE

second opinion – HVAC or Plumbing replacement
Expires 03/31/23
$25 OFF

for referrer and friend
Expires 03/31/23
$50

diagnostic for first- time plumbing customer
Expires 03/31/23
What Our Clients Are Saying

The tech was at my home less than 10 minutes and gone within 20 minutes due to having my A/C up and running. I really appreciate his response to my home and working with my son due to me being out of town, but we spoke on the phone.

The technician arrived promptly, wore a mask, was very courteous and professional. I am generally very satisfied with service by United Air Temp. In addition to good service (they repair well), it is easy to speak to a person, and promptly. Thank you.

Great service! I called because I was under the impression the AC was not working upstairs. Someone came on the same day, checked out the system, and ensured everything was working. He was polite, thorough, and friendly.

Tech was very attentive and professional. He went out his way to explain everything to me as he was doing it. I appreciated him keeping me informed.
The service technician was awesome! He spent the extra time necessary to ensure the leak in our system was fixed, the system fully recharged and everything was functioning as it should. He was extremely thorough and very professional. We are extremely pleased with the result!