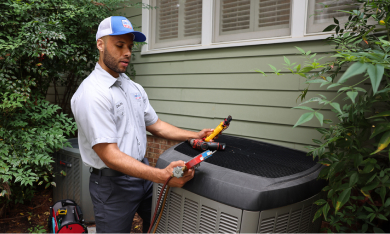 Clogged Drain Repair in Northern Virginia and Washington D.C.
You depend on your plumbing system daily, from washing dishes to bathing. Clogged drains are a common, frustrating issue. While it's tempting to resolve the issue yourself with a chemical drain cleaner, doing so can cause more problems.
When you're struggling with a clog, turn to the plumbers at United Air Temp! Since 1931, we've provided top-notch drain services to DC, Maryland, and Northern VA residents. 
Call (877) 552-8919 or contact us online to request drain cleaning from our team.
Signs You Need Professional Drain Cleaning
Are you not sure if you need professional drain cleaning? Consider whether any or all of these signs sound familiar:
You have standing water in sinks and showers.
You have slow-moving drains.
Your drains smell bad.
Your drains and toilets make gurgling noises.
Your toilet keeps clogging, even though you're using it normally.
DIY methods are not working or only work for a short time period.
Reach out to UAT online or call (877) 552-8919 to request drain cleaning for your DMV home.
Common Causes of Drain Blockages
Wondering why you keep having to deal with clogs. Most drain blockages are caused by:
Oil and fat
Food scraps
Mineral buildup
Hair
Disposable wipes and other cotton products
Foreign objects, such as toys
Request Service
Get started by filling out a service request form or by giving us a call.
How To Prevent Clogged Drains
Think of pipes like the arteries of the home. When enough gunk builds up, there's no room for drainage to flow through, leading to blockages. A good rule of thumb is to know that you probably shouldn't put it down your sink drain if you won't eat it.
Instead of sending them down the drain, find alternative disposal methods for the most common causes of drain clogs:
Fruit pits, peels, and rinds: Although you may think it's fine to throw these into your drain if you have a garbage disposal, that's not the case. It's better to throw them away or compost them.
Kitchen grease: Let your grease congeal in a container and throw it away in the trash, or you can even use the grease for other purposes.
Call (877) 552-8919 or contact us online and let the experts at United Air Temp help with drain cleaning and clearing.
Drain Cleaning vs. Hydro Jetting
Drain cleaning and hydro jetting are both professional pipe-clearing solutions:
Drain cleaning refers to plumbers using drain snakes and augers to break up drain clogs.
Hydro jetting is a service that uses high-pressure water to blast through sewer clogs, scouring them clean of any residue.
Using video camera inspection technology, your UAT plumber can determine which of these is necessary, where any clogs exist, and what other problems might affect your pipes so we can deliver the best results possible.
Reach out online or call (877) 552-8919 to request drain and sewer services from United Air Temp.
Schedule Drain Clearing in Washington DC, Central Maryland & Northern Virginia Areas
United Air Temp has licensed plumbers with the right knowledge and tools to protect your home and its plumbing. We have been in the area since 1931 and continue to deliver a high level of service every time someone calls for clog removal.
In addition to friendly, licensed plumbers, you can rely on United Air Temp for: 
On-time scheduling
Upfront pricing
Quality service
Guaranteed satisfaction
And more!
Schedule plumbing help with United Air Temp today by contacting our DC metro area plumbers online or calling (877) 552-8919 now.
Frequently Asked Questions About Drain Cleaning

Why Choose Us
Discover the United Difference
Environmental Health & Safety
Environmental Health & Safety
Save on Your Service
Our Goal Is to Keep Your Home Comfortable
BOGO! $99 Buy This Year's Tune Up, Get Next Year's Free.
Expires 12/31/23
Plus, up to 2 lbs of refrigerant if needed. *Cannot be combined with any other offer. Call for details.
Save Up To $2,000

When You Buy a Complete HVAC System with A/C and Furnace!
Expires 12/31/23
*Cannot be combined with any other offer. Not applicable for a heat pump system.
What Our Clients Are Saying

The tech was at my home less than 10 minutes and gone within 20 minutes due to having my A/C up and running. I really appreciate his response to my home and working with my son due to me being out of town, but we spoke on the phone.

The technician arrived promptly, wore a mask, was very courteous and professional. I am generally very satisfied with service by United Air Temp. In addition to good service (they repair well), it is easy to speak to a person, and promptly. Thank you.

Great service! I called because I was under the impression the AC was not working upstairs. Someone came on the same day, checked out the system, and ensured everything was working. He was polite, thorough, and friendly.

Tech was very attentive and professional. He went out his way to explain everything to me as he was doing it. I appreciated him keeping me informed.
The service technician was awesome! He spent the extra time necessary to ensure the leak in our system was fixed, the system fully recharged and everything was functioning as it should. He was extremely thorough and very professional. We are extremely pleased with the result!