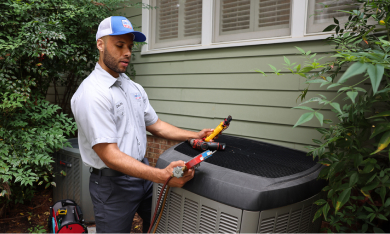 Sewer Services in Northern Virginia and Washington D.C.
Your sewer line plays a vital role in the overall functionality and well-being of your home's plumbing system. It's a critical component that efficiently removes waste and wastewater, maintaining a clean and healthy living environment.
When issues arise within your sewer line, they can significantly impact various aspects of your home, ranging from sewage backup in multiple fixtures to damage to the property's structural integrity. That's why it's essential to have a reliable, professional sewer service provider you can trust — like United Air Temp.
Whether you require 24/7 emergency sewer line repair or complete sewer replacement, we have the expertise and resources to restore your pipes.
Schedule sewer services in the DMV area by calling United Air Temp at (877) 552-8919 today!
24/7 Emergency Sewer Line Repair
Plumbing emergencies can strike at any time, and when it comes to sewer line issues, immediate action is crucial to prevent further damage and inconvenience.
At United Air Temp, we recognize the urgency of such situations, which is why we provide 24/7 emergency sewer line repair to families throughout the DC Metro area.
Our experienced plumbers are available around the clock, ready to respond to your call and swiftly resolve any sewer-related emergencies.
Request 24/7 emergency sewer line repair by calling UAT at (877) 552-8919 today!
Signs You Need Sewer Line Services
Identifying the signs of a sewer line problem early can save you from extensive damage and costly repairs. If you notice any of the following issues, it's time to consider professional sewer line services:
Sewage odors emanating from your sink, shower, or bathtub drains
Slow drains and frequent clogs throughout your home
Gurgling sounds coming from your toilets
Sewage backups in one fixture when you use another
Patches of lush and green grass in your yard
Sinkholes or depressions forming near your sewer line
If you encounter any of these signs, it's important not to ignore them and seek the expertise of our skilled plumbers. We have the knowledge and tools to diagnose and repair sewer line issues promptly, restoring the proper drainage in no time.
Request Service
Get started by filling out a service request form or by giving us a call.
Common Causes of Sewer Line Issues
Understanding the common causes of sewer line problems can help you take preventative measures and maintain the health and integrity of your sewer line.
Blockages and clogs: Buildup of grease, debris, flushed items, or foreign objects can cause blockages and clogs in your sewer line. Our professionals employ advanced drain and sewer cleaning techniques to clear these obstructions and restore proper flow to your system.
Tree root infiltration: Tree roots seeking moisture and nutrients can invade your sewer line, causing blockages, cracks, or collapses. We provide hydro jetting to clear out tree roots and sewer line repair to restore any damage to the pipes.
Bellied sewer pipes: Over time, soil erosion, frozen ground, or improper installation can result in a sagging sewer line, causing waste to accumulate and obstruct the drainage flow. Our team can assess the extent of the damage and recommend repair or replacement.
Pipe corrosion and aging: Sewer lines, especially those made of older materials like cast iron or clay, can deteriorate over time due to corrosion, rust, and general wear and tear. We can determine the condition of your sewer line and offer suitable replacement options.
No matter the underlying cause of your sewer failures, United Air Temp has the skills and expertise to resolve the problem in no time.
Call (877) 552-8919 to request sewer line repair or replacement in DC, NOVA, or Central MD.
Traditional & Trenchless Sewer Line Services in Washington, DC & Northern VA.
At United Air Temp, we specialize in trenchless sewer line repair and traditional sewer line replacement methods.
Our skilled technicians are equipped with state-of-the-art tools and equipment to handle the entire process precisely and efficiently.
To minimize disruption, we employ video pipe inspections to accurately pinpoint the damage, allowing us to opt for pipe relining whenever possible and excavating only where necessary.
Contact our team at (877) 552-8919 to schedule sewer services today!
Choose UAT for Superior Sewer Services in the DMV
When it comes to your sewer line, trust the expertise of United Air Temp. We deliver expert services and customer care to restore your home and peace of mind.
With 24/7 emergency repair availability, upfront pricing, and skilled plumbers, we are here to address any sewer line issues quickly and efficiently. Whether you need to clear tree root infiltrations, repair bellied lines, or replace outdated pipe materials, UAT is the team you need.
Contact United Air Temp today at (877) 552-8919 or contact us online for service from our knowledgeable team.

Why Choose Us
Discover the United Difference
Environmental Health & Safety
Environmental Health & Safety
Save on Your Service
Our Goal Is to Keep Your Home Comfortable
Save Up To $2,000

When You Buy a Complete HVAC System with A/C and Furnace!
Expires 09/30/23
*Cannot be combined with any other offer. Not applicable for a heat pump system.
FREE

Surge Protector with Electrical Panel Upgrade
Expires 09/30/23
What Our Clients Are Saying

The tech was at my home less than 10 minutes and gone within 20 minutes due to having my A/C up and running. I really appreciate his response to my home and working with my son due to me being out of town, but we spoke on the phone.

The technician arrived promptly, wore a mask, was very courteous and professional. I am generally very satisfied with service by United Air Temp. In addition to good service (they repair well), it is easy to speak to a person, and promptly. Thank you.

Great service! I called because I was under the impression the AC was not working upstairs. Someone came on the same day, checked out the system, and ensured everything was working. He was polite, thorough, and friendly.

Tech was very attentive and professional. He went out his way to explain everything to me as he was doing it. I appreciated him keeping me informed.
The service technician was awesome! He spent the extra time necessary to ensure the leak in our system was fixed, the system fully recharged and everything was functioning as it should. He was extremely thorough and very professional. We are extremely pleased with the result!