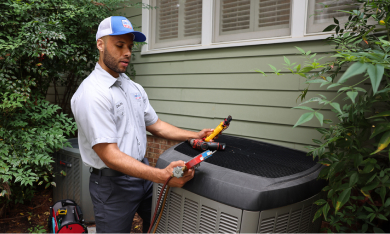 Tankless Water Heaters Services in Northern Virginia & Washington DC
Tankless water heaters are an excellent alternative to common tank-style models. They offer greater efficiency in a smaller package, plus a virtually unlimited supply of hot water. At United Air Temp, we offer our customers tankless water heaters from several top manufacturers and complete services, such as installation, repair, and maintenance.
Our company has been a leader in home comfort since 1931, and we proudly serve homeowners in the DC metro and NOVA. With a complete selection of plumbing, heating, and air conditioning services, we are here to help with all your home service needs.
Do you need service or repairs for your tankless water heater? Call (877) 552-8919 or contact our home plumbing experts at United Air Temp for tankless water heater services anywhere in the DC metro area.
How Does a Tankless Water Heater Work?
Instead of heating large volumes of water and constantly warming it in a storage tank, a tankless water heater heats it as needed. Not only does this save you money, but it provides almost endless hot water when the system is sized and installed correctly.
Tankless water heaters use powerful gas burners or electric heating elements to heat water as it passes through a heat exchanger. The process is entirely automated, with a sensor that detects water flow when the faucet is opened and a computer directing the burners or heating element to heat the water until the water heater achieves the desired temperature. This process requires large amounts of energy for a brief period but significantly less than conventional water heaters. This higher initial energy may require some homes in the DC area to upgrade their gas or electrical service when installing a tankless water heater.
Contact our team online or call (877) 552-8919 to learn more about the advantages of a tankless water heater and how it works.
Tankless Water Heater Installation & Replacement in Northern VA & Washington, DC
Tankless water heaters can last up to 25 years or longer with proper care. If you have an older model that is starting to have problems, needs frequent repairs, or has a heat exchanger on the verge of failure, it may be time to consider a tankless water heater replacement. Our team at United Air Temp can help. We offer water heater replacements throughout the DC area, and we can ensure you have the best model to fit your needs.
Request Service
Get started by filling out a service request form or by giving us a call.
Gas Tankless Water Heaters
Gas tankless water heaters can be powered by either natural gas or propane. Gas systems generate more hot water, making them ideal for larger families or running multiple taps for doing laundry, showering, washing dishes, and more simultaneously.
Because the system uses gas, it is imperative to have robust ventilation installed to prevent carbon monoxide buildup within the home. As with all gas-powered systems, staying up-to-date with maintenance requirements for safe and optimal function is imperative.
Electric Tankless Water Heaters
Electric tankless water heaters are powered by electricity. These systems typically cost less than gas systems to purchase and install.
They're also the most eco-friendly water heating system available. However, they tend to cost more to operate because the cost of gas is usually lower than that of electricity.
Another key advantage to consider is that because they are electric, there is no need for ventilation, and they have minimal maintenance requirements.
To schedule a water heater replacement anywhere in the DC metro area, contact us online or call (877) 552-8919.
Tankless Water Heater Repair in NOVA & DC Metro
Are you having problems with your tankless water heater? Trust our experts at United Air Temp for fast service and repairs in Washington, DC, and Northern Virginia. We are equipped to handle everything from heat exchanger flushes to heating element or gas valve replacements, and a complete satisfaction guarantee backs all our tankless water heater repairs.
24/7 Emergency Tankless Water Heater Repair
United Air Temp offers emergency plumbing services 24/7. This means you can get service for your tankless water heater whenever an emergent problem arises without waiting for service.
Tankless water heaters tend to need fewer repairs than traditional water heaters. However, when they break down, you can get help quickly from our experienced and knowledgeable plumbing team.
Call (877) 552-8919 for prompt help with your tankless water heater. Our team is here for you 24/7.
Tankless Water Heater Maintenance in Northern VA & DC Metro Areas
If you would like to avoid problems and make your tankless water heater last as long as possible, regularly schedule annual tankless water heater maintenance with our United Air Temp team. We will ensure that your system receives care for efficient operation and long service life.
What Maintenance Does a Tankless Water Heater Require?
To keep your tankless water heater running smoothly and efficiently, the following preventative maintenance should be performed by a professional like United Air Temp once a year:
Flushing sediment and minerals from the heat exchanger
Testing the thermostat and control board
Testing the burners, igniter, or the heating elements
Ensuring the gas valve operates correctly
Inspecting the electrical connections
Checking for leaks or corrosion
Ensuring all safeties are working properly
Save energy and make your water heater last longer by scheduling tankless water heater maintenance with our team at United Air Temp. Contact us online or call (877) 552-8919 for an appointment.
Schedule Water Heater Services in Northern Virginia & the DC Area Today
With over 90 years of experience and licensed, professional plumbers who are always ready to help, United Air Temp is an easy choice for all your tankless water heater needs. Our company is dedicated to your comfort, and we offer:
Skilled, friendly professionals
On-time service
24/7 availability
Upfront pricing
Quality craftsmanship
Guaranteed satisfaction
We offer unparalleled honesty and integrity and are happy to help with any plumbing or HVAC problems you may encounter. Contact us online or call (877) 552-8919 to schedule tankless water heater service or repairs in your DC-area home!

Why Choose Us
Discover the United Difference
Environmental Health & Safety
Environmental Health & Safety
Save on Your Service
Our Goal Is to Keep Your Home Comfortable
BOGO! $99 Buy This Year's Tune Up, Get Next Year's Free.
Expires 12/31/23
Plus, up to 2 lbs of refrigerant if needed. *Cannot be combined with any other offer. Call for details.
Save Up To $2,000

When You Buy a Complete HVAC System with A/C and Furnace!
Expires 12/31/23
*Cannot be combined with any other offer. Not applicable for a heat pump system.
What Our Clients Are Saying

The tech was at my home less than 10 minutes and gone within 20 minutes due to having my A/C up and running. I really appreciate his response to my home and working with my son due to me being out of town, but we spoke on the phone.

The technician arrived promptly, wore a mask, was very courteous and professional. I am generally very satisfied with service by United Air Temp. In addition to good service (they repair well), it is easy to speak to a person, and promptly. Thank you.

Great service! I called because I was under the impression the AC was not working upstairs. Someone came on the same day, checked out the system, and ensured everything was working. He was polite, thorough, and friendly.

Tech was very attentive and professional. He went out his way to explain everything to me as he was doing it. I appreciated him keeping me informed.
The service technician was awesome! He spent the extra time necessary to ensure the leak in our system was fixed, the system fully recharged and everything was functioning as it should. He was extremely thorough and very professional. We are extremely pleased with the result!