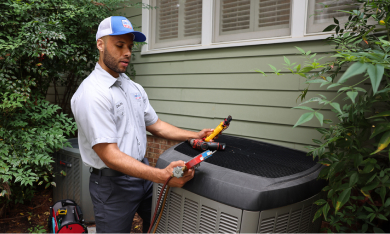 Ductless Mini-Split Services in Northern VA, DC & Baltimore Metro Areas
If your HVAC system isn't properly servicing a part of your home or provides uneven heating and cooling, a ductless mini-split could be a good choice. These wall-mounted heat pump units heat and cool the space without ductwork, providing efficient and effective heating and cooling.
United Air Temp offers a full list of ductless mini-split services in the DC metro area to help keep your home comfortable.
Contact our team for ductless mini-split installation, maintenance, replacement, and repair services.
Ductless Mini-Split Repair in the NOVA, BALT & DC Metro Areas
If you have a ductless mini-split in your home, it may need to be repaired from time to time. These systems are reliable and easy to forget about, but some signs that something may be going wrong include:
Controls are not working, which could indicate a dangerous electrical problem

It is building up ice on the coil

The output is diminishing

Water puddles are collecting outside the condensate lines

The system isn't working

Unusual noises or smells from the system
Contact United Air Temp for ductless mini-split repair services at the first sign of problems.
We Proudly Serve NOVA, DC & BALT Areas
Get started by filling out a service request form.
Keep Your Ductless AC System Well Maintained
One way to prevent repair problems and keep your system running efficiently is ductless mini-split maintenance. Our technicians at United Air Temp perform comprehensive maintenance checks that offer a careful system inspection. This maintenance includes:
Cleaning and replacing the air filter

Cleaning the evaporator coils

Inspecting the condensate drain

Optimizing airflow settings

Tightening electrical connections

Checking the system for safety
We recommend scheduling this check at the start of the cooling and heating seasons to ensure the system will serve you well.
Contact United Air Temp when it's time for ductless mini-split maintenance.
Is It Time for a New Ductless Mini-Split?
Ductless mini-splits can last for over 20 years with good maintenance, but eventually, they'll need to be replaced. When it's time for a new one, you may start noticing increased breakdowns, decreased efficiency, and decreased effectiveness.
United Air Temp offers expert help for ductless mini-split replacement, so you can continue enjoying the efficiency of a mini-split system.
Schedule a quote for ductless mini-split replacement service in the DC metro area.
Why Choose United Air Temp?
United Air Temp has nearly a century of experience providing homeowners in the DC metro area with reliable HVAC services. Our NATE-certified techs are standing by to assist with all your needs, and we're thoroughly trained on ductless mini-split systems.
We will treat you well and ensure you have a working system at the end of your appointment.
Schedule ductless mini-split services with United Air Temp today.
Ductless Mini-Split FAQs
Can I install my ductless mini-split system on my own?
Ductless mini-splits may seem easy to install, but some issues can arise. It's always best to have a professional do the job.
Should I clean the outdoor unit on my ductless mini-split?
This task is included as part of your ductless mini-split maintenance check. Always ask a technician for cleaning advice, so you don't damage the system.
How often should I run my ductless mini-split?
To keep temperatures consistent, leave the ductless mini-split running at all times. The unit's thermostat will control the temperature and keep it consistent.

Why Choose Us
Discover the United Difference
Environmental Health & Safety
Environmental Health & Safety
Save on Your Service
Our Goal Is to Keep Your Home Comfortable
FREE

Surge Protector with Electrical Panel Upgrade
Expires 06/30/23
FREE

second opinion – HVAC or Plumbing replacement
Expires 06/30/23
What Our Clients Are Saying

The tech was at my home less than 10 minutes and gone within 20 minutes due to having my A/C up and running. I really appreciate his response to my home and working with my son due to me being out of town, but we spoke on the phone.

The technician arrived promptly, wore a mask, was very courteous and professional. I am generally very satisfied with service by United Air Temp. In addition to good service (they repair well), it is easy to speak to a person, and promptly. Thank you.

Great service! I called because I was under the impression the AC was not working upstairs. Someone came on the same day, checked out the system, and ensured everything was working. He was polite, thorough, and friendly.

Tech was very attentive and professional. He went out his way to explain everything to me as he was doing it. I appreciated him keeping me informed.
The service technician was awesome! He spent the extra time necessary to ensure the leak in our system was fixed, the system fully recharged and everything was functioning as it should. He was extremely thorough and very professional. We are extremely pleased with the result!