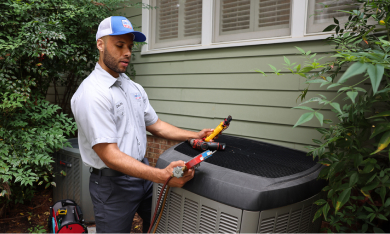 Hydro Jetting Services in Northern Virginia, Washington, DC & Maryland
When you have an especially tough or recurring clog in one or more drains, the problem may not be in the drain itself but in the main sewer line. Stubborn sewer clogs can lead to slow drains and recurring drain clogs throughout your home.
Turn to the skilled plumbers at United Air Temp for a long-lasting, reliable solution for sewer clogs. Our hydro jetting services are strong enough to cut through the toughest clogs, and we serve homeowners throughout Maryland, Northern Virginia, and the Washington, DC, area.
Our company has delivered complete customer satisfaction since 1931, and we are happy to help with all your home plumbing needs.
Do you have a clogged sewer line or recurring drain clogs? Call United Air Temp today at (877) 552-8919 or contact us online to request hydro jetting services.
What Is Hydro Jetting?
Hydro jetting is a type of drain cleaning that uses a highly pressurized water jet to cut through tough clogs and scour accumulations of tree roots, grease, soap residue, limescale, and waste from the interior of sewer pipes.
Due to its powerful nature, hydro jetting isn't ideal for small drain pipes or weak sewer lines like clay or Orangeburg pipes, but it can be safely used for modern sewer pipes.
Our plumbing team can determine the cause of the clog and the condition of the pipe before clearing the clog using our video camera inspection services.
We Proudly Serve NOVA, DC & BALT Areas
Get started by filling out a service request form.
Hydro Jetting vs. Drain Snaking
Drain snakes work well to clear clogs by breaking them up and pulling them out, but they often leave behind years of buildup on pipe walls that could lead to clogs in the future.
Hydro jetting not only cuts through the clogs but blasts the pipes clean in the process, making your entire sewer and drain system flow smoothly and preventing future clogs.
Call (877) 552-8919 or contact us online to schedule hydro jetting or drain cleaning today.
Signs You Need Hydro Jetting
Plumbers can clear most drain clogs with methods like plunging, snaking, or augering, but hydro jetting is the best choice when you have a clogged sewer line. Signs that you need hydro jetting include:
Your sinks, showers, and tubs drain slowly, leaving standing water.
Your drains clog frequently.
Multiple drains are clogged at once.
Sewage backs up and spills out of the drains.
Your drains emit foul sewer odors.
You have gurgling drains.
Do you suspect you have a sewer line clog? Contact our team online or call (877) 552-8919 to learn if hydro jetting is the best option for your DMV home.
Additional Drain & Sewer Solutions We Offer
At United Air Temp, we offer hydro jetting throughout Maryland, NOVA, and DC. We'll recommend the best drain and sewer solution for your needs. In addition to hydro jetting, we offer:
Traditional and trenchless sewer repair and replacement
Call Today for Hydro Jetting Services in MD, Northern VA & DC
When you need help clearing a frustrating sewer blockage in Maryland, Northern Virginia, or the DC metro area, contact our team at United Air Temp. We offer hydro jetting services throughout the region and are available 24/7 for emergency repairs.
Our top priority is our customers' comfort and satisfaction, so we work hard to deliver the best service and products possible. We do everything from drains and sewers to fixtures, water heaters, and more!
With our excellent reviews and over 80,000 satisfied customers, you can count on us for top-quality service and craftsmanship with every visit.
Call (877) 552-8919 or reach out online today to schedule hydro jetting services anywhere in Maryland, Northern Virginia, or the DC metro area.

Why Choose Us
Discover the United Difference
Environmental Health & Safety
Environmental Health & Safety
Save on Your Service
Our Goal Is to Keep Your Home Comfortable
FREE

second opinion – HVAC or Plumbing replacement
Expires 03/31/23
$25 OFF

for referrer and friend
Expires 03/31/23
$50

diagnostic for first- time plumbing customer
Expires 03/31/23
What Our Clients Are Saying

The tech was at my home less than 10 minutes and gone within 20 minutes due to having my A/C up and running. I really appreciate his response to my home and working with my son due to me being out of town, but we spoke on the phone.

The technician arrived promptly, wore a mask, was very courteous and professional. I am generally very satisfied with service by United Air Temp. In addition to good service (they repair well), it is easy to speak to a person, and promptly. Thank you.

Great service! I called because I was under the impression the AC was not working upstairs. Someone came on the same day, checked out the system, and ensured everything was working. He was polite, thorough, and friendly.

Tech was very attentive and professional. He went out his way to explain everything to me as he was doing it. I appreciated him keeping me informed.
The service technician was awesome! He spent the extra time necessary to ensure the leak in our system was fixed, the system fully recharged and everything was functioning as it should. He was extremely thorough and very professional. We are extremely pleased with the result!