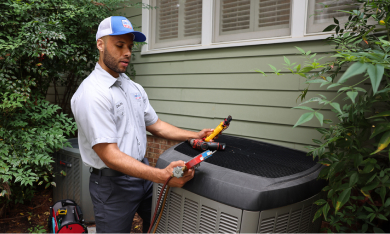 Pipe Leak Detection & Repair in Northern VA, DC & Baltimore Metro Areas
Sooner or later, a pipe in your home will likely spring a leak. These situations don't have to be stressful, especially with the right crew of expert plumbers on the job. That's where United Air Temp comes in.
Our plumbers have the tools and talents to deliver quality plumbing services, including uncovering the source of a hidden leak. Once we identify the issue, we can repair your water supply piping.
Don't stress out over a leaking pipe in your home. Our team can get to the bottom of the problem and fix it fast. Contact UAT online or call (877) 552-8919 to schedule leak detection services in Washington, DC, Baltimore, or Northern Virginia.
Signs You Have a Hidden Plumbing Leak
Sometimes it can be tough to tell if you have a plumbing leak. Fortunately, these situations tend to show signs that there is a problem.
You may have a hidden leak in your plumbing if:
You notice water stains on your floors, walls, or ceilings.
You see or smell mold.
You hear a dripping noise or constantly running water behind a wall.
You notice a puddle underneath your sink.
Your water bill is unusually high.
When any of these issues present themselves, it's important to call a professional plumber for help. The United Air Temp team can find the source of the leak and seal the pipe correctly to ensure it will last until you are ready to replace your pipes.
Take care of your plumbing as soon as you notice a problem. Contact UAT online or call (877) 552-8919 to request emergency leak detection services.
We Proudly Serve NOVA, DC & BALT Areas
Get started by filling out a service request form.
Emergency Pipe Leak Detection & Repair in DC, MD & Northern VA
When you have a pipe leak or burst pipe, you need experienced plumbers to handle the repair. United Air Temp's team can perform a video pipe inspection to find the source of the leak.
We'll cut out the damaged section of the pipe and replace it or use a pipe repair clamp that can seal the leak and prevent future issues.
Slab Leaks
In most cases, water lines are located beneath the concrete foundation of homes, so if you have a water supply leak, you will likely need slab leak detection and repair.
Slab leaks can be caused by:
Poor pipe installation
External pressure from soil erosion
Pipe corrosion
Alkaline or acidic water
Wear and tear over time
If you notice water stains on your floors, you must act quickly to minimize damage to your foundation and property. Our team can locate the leak and access and repair the piping quickly.
From small pinhole leaks to serious slab leaks and everything in between, count on United Air Temp to restore your plumbing. Call (877) 552-8919 to request emergency leak detection and repair services.
Why Choose United Air Temp?
Since 1931, our team has provided comprehensive leak detection services to DC, Baltimore, and Northern Virginia. We are highly trained and use the latest technology to provide the best service possible. At UAT, we prioritize:
Honest work
Upfront pricing
Customer satisfaction
Count on United Air Temp to identify pipe leaks and seal them quickly. Contact us online or call (877) 552-8919 to schedule service in Washington, DC, Baltimore, or Northern Virginia.
Frequently Asked Questions About Pipe Leaks
Can a leaky pipe burst?
Yes. Strong water pressure can continue to damage a pipe with a small leak. This can lead to a major break that will cause significantly more water damage.
How long does it take for a leak to cause water damage?
Water can quickly cause stains on your floors or ceilings in as little as a few hours.
After a few days of a water leak, you risk mold and mildew development.
Call a trusted plumber as soon as you notice the leak to prevent unnecessary water damage.

Why Choose Us
Discover the United Difference
Environmental Health & Safety
Environmental Health & Safety
Save on Your Service
Our Goal Is to Keep Your Home Comfortable
FREE

second opinion – HVAC or Plumbing replacement
Expires 03/31/23
$25 OFF

for referrer and friend
Expires 03/31/23
$50

diagnostic for first- time plumbing customer
Expires 03/31/23
What Our Clients Are Saying

The tech was at my home less than 10 minutes and gone within 20 minutes due to having my A/C up and running. I really appreciate his response to my home and working with my son due to me being out of town, but we spoke on the phone.

The technician arrived promptly, wore a mask, was very courteous and professional. I am generally very satisfied with service by United Air Temp. In addition to good service (they repair well), it is easy to speak to a person, and promptly. Thank you.

Great service! I called because I was under the impression the AC was not working upstairs. Someone came on the same day, checked out the system, and ensured everything was working. He was polite, thorough, and friendly.

Tech was very attentive and professional. He went out his way to explain everything to me as he was doing it. I appreciated him keeping me informed.
The service technician was awesome! He spent the extra time necessary to ensure the leak in our system was fixed, the system fully recharged and everything was functioning as it should. He was extremely thorough and very professional. We are extremely pleased with the result!