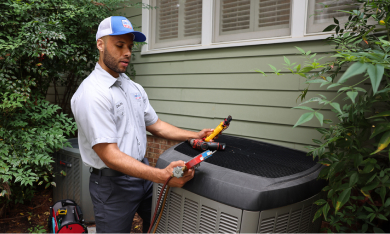 Pressure-Reducing Valves in Northern Virginia and Washington D.C.
High water pressure is good, but water pressure that's too high can damage your plumbing systems and appliances.
At United Air Temp, our plumbing specialists can help ensure the force flowing through your pipes is just right by installing pressure-reducing valves. These are installed near the shut-off valve on the main water line to help regulate the home's water pressure. 
Contact United Air Temp to learn more about pressure-reducing valves and how they will help ensure your home has even, reliable pressure.
How Pressure-Reducing Valves Work
Pressure-reducing valves cause resistance to the water flow. Inside the valve, a spring diaphragm tightens when it senses high pressure. This creates resistance that keeps your water pressure within the recommended 40 to 60 psi (pounds per square inch).
This is important because if water pressure falls below this level, you could experience a low-pressure shower. If it rises above this level and reaches 70 to 80 psi, it can damage pipes, pipe joints, faucets, fixtures, and appliances.
Contact United Air Temp to learn why it's crucial to maintain your water pressure at a steady, consistent level in your home.
Signs You Need a Pressure-Reducing Valve
Many homeowners don't know what signs to look for that indicate their water pressure is too high. Here are some signs we recommend our clients keep an eye on:
Significant or complete loss of water pressure
Water pressure fluctuates consistently
Hammering or vibrating noises coming from your walls
Fixtures are constantly leaking
The toilet is continuously running
Water bill fluctuations
Cracks around fixtures, walls, or tiles
Toilets, fixtures, and appliances need constant repairs or replacing
Not sure if high pressure is causing your plumbing problems?
Contact United Air Temp to schedule an appointment with our certified plumbing specialists. It's our pleasure to measure your pressure and inspect your plumbing systems.
Installation, Maintenance & Repair for Pressure-Reducing Valves
Our certified, licensed, and insured plumbing professionals will determine the ideal valve and location for your needs. We'll prepare your pipes to accept the valve and test it to ensure proper operation. 
We will also maintain it, including the following services:
Replacing plugged fittings
Cleaning dirty strainer screens
Testing for air in the pilot system
Inspecting for leaks
Testing the valve diaphragm
And more!
Contact United Air Temp to schedule the installation, maintenance, or repair of a pressure-reducing valve in your home.
Depend on United Air Temp for Your Plumbing Needs
Since 1931, United Air Temp has delivered fast, reliable, and exceptional service to clients throughout the region. Our highly trained professionals adhere to strict quality standards and share our commitment to customer service.
When you entrust the safety and reliability of your plumbing systems to us, you can rest assured your system operates smoothly, efficiently, and reliably year after year.
Contact United Air Temp for more information about our company and services.
Frequently Asked Questions About Pressure-Reducing Valves

Why Choose Us
Discover the United Difference
Environmental Health & Safety
Environmental Health & Safety
Save on Your Service
Our Goal Is to Keep Your Home Comfortable
Save Up To $2,000

When You Buy a Complete HVAC System with A/C and Furnace!
Expires 09/30/23
*Cannot be combined with any other offer. Not applicable for a heat pump system.
FREE

Surge Protector with Electrical Panel Upgrade
Expires 09/30/23
What Our Clients Are Saying

The tech was at my home less than 10 minutes and gone within 20 minutes due to having my A/C up and running. I really appreciate his response to my home and working with my son due to me being out of town, but we spoke on the phone.

The technician arrived promptly, wore a mask, was very courteous and professional. I am generally very satisfied with service by United Air Temp. In addition to good service (they repair well), it is easy to speak to a person, and promptly. Thank you.

Great service! I called because I was under the impression the AC was not working upstairs. Someone came on the same day, checked out the system, and ensured everything was working. He was polite, thorough, and friendly.

Tech was very attentive and professional. He went out his way to explain everything to me as he was doing it. I appreciated him keeping me informed.
The service technician was awesome! He spent the extra time necessary to ensure the leak in our system was fixed, the system fully recharged and everything was functioning as it should. He was extremely thorough and very professional. We are extremely pleased with the result!