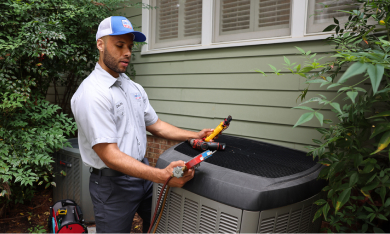 Heating Maintenance in Northern Virginia and Washington D.C.
Fall and winter in the DC & NOVA areas are a sight to behold. But just as they are beautiful, they are also cold and frosty, which means you need a reliable heating system.
At United Air Temp, we understand the frustration of waking up with chilly toes, which is why we strongly recommend scheduling maintenance for your heating system before the winter weather arrives. It's fast, affordable, and the best way to ensure you don't end up with a sudden heating system breakdown.
Is your heating system overdue for service? Contact the HVAC professionals at United Air Temp at (877) 552-8919, and we will schedule a time for one of our licensed and insured HVAC technicians to visit your home.
What's Included in a Heating Tune-Up/Maintenance Appointment?
Our certified, licensed, and fully insured HVAC specialists know that heat pump and furnace maintenance is an investment in your comfort. That's why we strive to give you the warmest return possible.
We perform a full range of maintenance services that are designed to prolong your system's life span, facilitate energy-efficient operation, and protect you against sudden failure. Our maintenance services include:
Heat Pump Tune-Ups
Check and replace filters
Inspect ducts for leaks
Clean supply and registers
Straighten fins
Inspect indoor coil
Inspect and test condenser
Test thermostat
Inspect and test electrical components and controls
Check and add refrigerant as needed
Gas & Electric Furnace Tune-Ups
Inspect and clean vents and air intakes
Check heat exchanger for damage and corrosion
Inspect and clean blower motor
Test and tighten electrical connections
Check burner and flame sensor
Calibrate thermostat
Check, clean, or replace the air filter
Test startup cycle
Test safety controls
Inspect thermocouple
Examine fuel lines
Check gas pressure
When you need fast and responsive HVAC system maintenance, the team at United Air Temp is ready to help! Contact us at (877) 552-8919 to schedule service on your heating system in DC right away!
The Importance of Heating Tune-Ups and Furnace Preventitive Maintenance
Your heating system comprises many different individual elements that must work perfectly for the system to operate correctly.
If any component falters or fails, the system won't deliver the safe, reliable, energy-efficient operation you require.
Furnaces can provide 10 to 15 years of reliable operation with proper care and maintenance, and heat pumps may work for 20 years or longer. Without it, the serviceable life span before you need to replace the system can drop to less than half of those ranges. 
Sign Up for United Air Temp's Maintenance Plans
We make it a little easier to stay on top of your heating system maintenance. Our maintenance plans are an affordable, effective option that virtually guarantees your system will operate smoothly throughout the coldest months of the year.
All you have to do is enroll, and we'll take care of keeping your HVAC maintenance on schedule and on track to comply with all manufacturer warranty requirements.
Contact United Air Temp at (877) 552-8919 to learn more about the preventative maintenance plans we offer in the DC metro area!
Depend On United Air Temp for Your Comfort in DC and NOVA!
Our HVAC professionals are happy to help homeowners in the DC metro area stay warm and comfortable, from furnace tune-ups to repairs.
Our heating maintenance teams will ensure your systems are ready to go when the leaves start to change color. Our upfront pricing, dedication to detail, and determination to provide the greatest value to our clients make us the region's premier HVAC service provider.
Contact United Air Temp at (877) 552-8919 to learn more about our company and schedule everything from furnace maintenance to furnace tune-ups for your home in DC, Maryland, or Virginia!

Why Choose Us
Discover the United Difference
Environmental Health & Safety
Environmental Health & Safety
Save on Your Service
Our Goal Is to Keep Your Home Comfortable
BOGO! $99 Buy This Year's Tune Up, Get Next Year's Free.
Expires 12/31/23
Plus, up to 2 lbs of refrigerant if needed. *Cannot be combined with any other offer. Call for details.
Save Up To $2,000

When You Buy a Complete HVAC System with A/C and Furnace!
Expires 12/31/23
*Cannot be combined with any other offer. Not applicable for a heat pump system.
What Our Clients Are Saying

The tech was at my home less than 10 minutes and gone within 20 minutes due to having my A/C up and running. I really appreciate his response to my home and working with my son due to me being out of town, but we spoke on the phone.

The technician arrived promptly, wore a mask, was very courteous and professional. I am generally very satisfied with service by United Air Temp. In addition to good service (they repair well), it is easy to speak to a person, and promptly. Thank you.

Great service! I called because I was under the impression the AC was not working upstairs. Someone came on the same day, checked out the system, and ensured everything was working. He was polite, thorough, and friendly.

Tech was very attentive and professional. He went out his way to explain everything to me as he was doing it. I appreciated him keeping me informed.
The service technician was awesome! He spent the extra time necessary to ensure the leak in our system was fixed, the system fully recharged and everything was functioning as it should. He was extremely thorough and very professional. We are extremely pleased with the result!