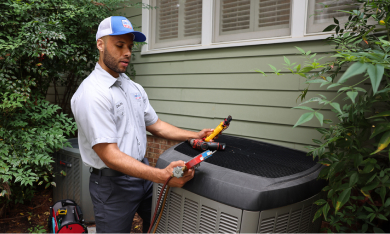 Gas Fireplace Repair & Replacement in Washington, DC & Northern Virginia
Gas fireplaces are a popular feature in DC Metro and NOVA homes. Energy-efficient, attractive, and inviting, there are many reasons that you will want to take care of the gas fireplace in your home. Not only is it an added hedge against cold weather, but a gas fireplace enhances the aesthetics and value of your home.
At United Air Temp, we're here for all your heating service needs, including gas fireplace repair and replacement. We adhere to strict safety and quality standards and thoroughly inspect every aspect of your fireplace to ensure safe, efficient, and reliable operation.
We provide a comprehensive range of emergency heating repairs, and you can depend on our team to deliver the superior service and reliable recommendations necessary to keep your gas fireplace in excellent condition.
Contact United Air Temp online or call (877) 552-8919 to schedule a service appointment in Washington, DC, or Northern VA.
Gas Fireplace Repair
It is imperative to pay close attention to the operation of your gas fireplace. Often, small signs can indicate malfunction before they become bigger problems.
If you notice any problems with your system, we recommend scheduling gas fireplace repair at the earliest opportunity. The following issues can indicate everything from poor ventilation to damaged gas lines that could spark a fire or release toxic fumes if left unresolved:
Problems with the pilot light: Clogged pilot lights, worn-out thermocouples, and faulty wiring can cause pilot light failure.
Rotten egg odors: If you smell rotten eggs near your gas fireplace, you likely have a natural gas leak that requires immediate attention.
Excessive soot buildup: Heavy soot within a gas fireplace indicates poor ventilation from a blocked flue pipe. Unusual soot accumulation could be caused by poor gas pressure, a malfunctioning gas valve, and infrequent maintenance.
Short-cycling: Your fireplace turning off and on frequently could be caused by faulty or dirty sensors, a thermostat issue, or a bad thermocouple or thermopile.
Call (877) 552-8919 to schedule gas fireplace repair in Northern Virginia or Washington, DC.
Gas Fireplace Replacement for DC Metro & NOVA Homes
When an old gas fireplace has outlived its effective life span, United Air Temp recommends replacing the unit. If any of the following apply, then it's time to consider replacing your old fireplace:
Your gas fireplace is more than 15 years old.
You need frequent, costly, or complex fireplace repairs.
You have an aging fireplace and intend to sell your home.
Your gas fireplace is unsafe or unreliable.
We also offer fireplace conversions so you can use your existing wood-burning fireplace as a gas fireplace.
Request Service
Get started by filling out a service request form or by giving us a call.
What to Expect During a Gas Fireplace Replacement
When it's time to replace your old gas fireplace, our technicians will help you select the ideal hardware and appearance for your home. We follow procedures to ensure efficiency and safety. This includes:
Isolating the gas supply and disconnecting the unit
Removing trim and fireplace surround
Removing the electrical supply, cables, and other elements
Installing your new gas fireplace
Testing to verify proper function and ventilation
Contact United Air Temp at (877) 552-8919 to schedule a gas fireplace replacement in the DC Metro or NOVA.
Why Choose UAT for Gas Fireplace Services?
At United Air Temp, we work closely with our customers to deliver customized solutions that enhance the reliability of your comfort systems.
As a leader in home comfort since 1931, you can depend on our team to give you honest recommendations, reliable workmanship, and superior customer support.
Our highly trained team is committed to providing the superior heating solutions you need.
When you need reliable gas fireplace repair or replacement, call (877) 552-8919 to schedule a service appointment. 
Frequently Asked Questions
What are the benefits of replacing your gas fireplace?
Replacing your old gas fireplace with a newer system allows you to incorporate modern features that can:
Improve your comfort
Increase the value of your home
Mitigate fire hazards
Mitigate gas leaks
Improve energy efficiency

Why Choose Us
Discover the United Difference
Environmental Health & Safety
Environmental Health & Safety
Save on Your Service
Our Goal Is to Keep Your Home Comfortable
Save Up To $2,000

When You Buy a Complete HVAC System with A/C and Furnace!
Expires 09/30/23
*Cannot be combined with any other offer. Not applicable for a heat pump system.
FREE

Surge Protector with Electrical Panel Upgrade
Expires 09/30/23
What Our Clients Are Saying

The tech was at my home less than 10 minutes and gone within 20 minutes due to having my A/C up and running. I really appreciate his response to my home and working with my son due to me being out of town, but we spoke on the phone.

The technician arrived promptly, wore a mask, was very courteous and professional. I am generally very satisfied with service by United Air Temp. In addition to good service (they repair well), it is easy to speak to a person, and promptly. Thank you.

Great service! I called because I was under the impression the AC was not working upstairs. Someone came on the same day, checked out the system, and ensured everything was working. He was polite, thorough, and friendly.

Tech was very attentive and professional. He went out his way to explain everything to me as he was doing it. I appreciated him keeping me informed.
The service technician was awesome! He spent the extra time necessary to ensure the leak in our system was fixed, the system fully recharged and everything was functioning as it should. He was extremely thorough and very professional. We are extremely pleased with the result!