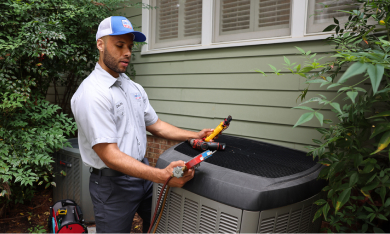 Emergency Burst Pipe Repair in Northern Virginia and Washington D.C.
When you need comprehensive plumbing solutions for water supply piping, turn to United Air Temp for fast, friendly services for burst and leaky pipes.
With over 90 years in business, our team provides expert plumbing in the DC metro area to keep your plumbing in top condition for years to come.
When you call a UAT plumber, you're guaranteed to work with reliable, honest, and trustworthy professionals who do the job right the first time.
If you have a burst pipe in your home, call United Air Temp plumber at (877) 552-8919 for a fast response and 24/7 emergency services.
Telltale Signs of a Burst Water Pipe
There are more visible signs of a ruptured water pipe, like a spray of water, and then there are less obvious signs that require a little more detailed attention. Be on the lookout for:
A fluctuation in water pressure
Discolored or rust-colored water that smells
Visible mold
Mildew smells
Standing water in sinks and tubs
Higher-than-normal utility bills
Running water noises in the walls
If you've noticed one or more key signs of a burst pipe in your home, it's time to call United Air Temp at (877) 552-8919 or contact us online to request emergency service.
Request Service
Get started by filling out a service request form or by giving us a call.
Common Causes of Burst Pipes
Finding the cause of a burst pipe depends on the piping system, the age of your home, and the environment affecting your piping system.
Each home and each plumbing system needs to be individually inspected to determine the cause of your burst pipe. However, common causes include:
Freezing: When temperatures drop, the water inside your pipes can freeze and expand the pipes, creating pressure that can cause the pipes to rupture.
Tree root infiltration: Tree roots can infiltrate your water supply pipes and begin growing inside of your pipes.
Rust and corrosion: Old pipes were often made of materials that weren't corrosion-resistant and durable. When your piping system is outdated, you're more susceptible to breaks in your pipes.
Clogs: If your piping system is clogged with debris, then pressure can build up within your system, ultimately leading to cracks and breaks.
Shifting soil: Homeowners are often unaware of how shifting soil due to rainfall can damage pipes over the years.
High water pressure: It's important to maintain your water pressure at just the right level. High water pressure can damage your pipes if it rises to 70 to 80 psi.
Accidental damage: Accidents happen. Whether it's due to a DIY fix or storm damage, we're here to help restore your water supply.
Call (877) 552-8919 or contact United Air Temp online for emergency burst pipe repair or replacement services. We'll determine the cause of your burst pipe and apply the best solution.
What To Do if You Have a Burst Water Pipe In Your Home
UAT provides emergency services to restore your home's water supply. If you're experiencing a burst pipe in your home, here's what you should do:
Shut off your water: Locate your home's main water valve and shut it off. It may be in your crawl space, around the water heater or furnace, under the kitchen sink, or in the basement.
Disconnect electrical panel: Before cleaning up the water from your burst pipe, it's important to disconnect your electrical panel to avoid electric shock. Your breaker box should be in your basement, utility closet, or garage.
Turn on faucets to drain remaining water: Help relieve the pressure within your pipes by draining your system of the remaining water.
Call United Air Temp: We provide emergency services to get your system back up and running safely and prevent other water-related damages.
Document damage and contact your insurance company: Your insurance company may be able to cover the cost of repair or replacement. Document the damage to your property and review your policy to see if you have water damage coverage.
Call United Air Temp at (877) 552-8919 or contact us online today to request emergency services in DC or Northern Virginia.
Request Service
Get started by filling out a service request form or by giving us a call.
Burst Pipe Repair vs. Replacement
Repairing your water supply pipe will likely be the chosen solution unless your pipes themselves are outdated and worn beyond repair.
While all pipes experience wear and tear over time, materials like galvanized steel and copper have a shorter life span and are more susceptible to damage than modern PEX and CPVC piping.
Call UAT at (877) 552-8919 or contact us online. We can inspect your piping and determine if pipe repair or replacement is right for your home.
Call Today if You Have a Burst Pipe in Washington DC or Northern Virginia
At United Air Temp, our honest and reliable professionals will work with you to find the right solution for your plumbing woes.
Whether we're repairing a pipe leak before major water damage occurs or replacing your piping after they burst, you can rely on our team to ensure your home has a reliable water supply.
When you choose United Air Temp for burst pipe repair or replacement, you're backed by a team of professionals willing to go the extra mile to find the right solution.
Call (877) 552-8919 or contact us online to request service in DC or Northern VA today!

Why Choose Us
Discover the United Difference
Environmental Health & Safety
Environmental Health & Safety
Save on Your Service
Our Goal Is to Keep Your Home Comfortable
BOGO! $99 Buy This Year's Tune Up, Get Next Year's Free.
Expires 12/31/23
Plus, up to 2 lbs of refrigerant if needed. *Cannot be combined with any other offer. Call for details.
Save Up To $2,000

When You Buy a Complete HVAC System with A/C and Furnace!
Expires 12/31/23
*Cannot be combined with any other offer. Not applicable for a heat pump system.
What Our Clients Are Saying

The tech was at my home less than 10 minutes and gone within 20 minutes due to having my A/C up and running. I really appreciate his response to my home and working with my son due to me being out of town, but we spoke on the phone.

The technician arrived promptly, wore a mask, was very courteous and professional. I am generally very satisfied with service by United Air Temp. In addition to good service (they repair well), it is easy to speak to a person, and promptly. Thank you.

Great service! I called because I was under the impression the AC was not working upstairs. Someone came on the same day, checked out the system, and ensured everything was working. He was polite, thorough, and friendly.

Tech was very attentive and professional. He went out his way to explain everything to me as he was doing it. I appreciated him keeping me informed.
The service technician was awesome! He spent the extra time necessary to ensure the leak in our system was fixed, the system fully recharged and everything was functioning as it should. He was extremely thorough and very professional. We are extremely pleased with the result!