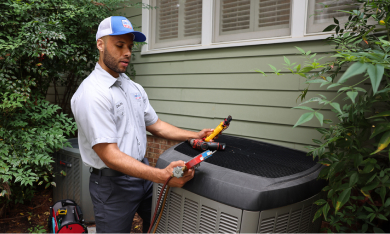 Heat Pump Services in DC, MD & Northern VA
Heat pumps are the multi-taskers of the HVAC industry. They're the only appliances that can keep you comfortable in both winter and summer. During winter, they extract heat from outside and transfer it indoors. In summer, they reverse that action to cool your home with the help of a coolant. A refrigerant line adds to their cooling power. A heat pump is a perfect solution to reduce your upfront costs and require indoor climate control throughout the year.
Heat Pump Maintenance in DC
Heat pumps rely on several components to achieve their effects. They use refrigerant lines, filters, compressors, evaporators, and condensers. These parts need to be carefully maintained through regular cleanings, lubrication, and repairs. Your heat pump needs routine maintenance twice a year, before summer and at the start of winter. Regular maintenance will lengthen its service life and prevent components from overheating. Our team performs comprehensive tune-ups designed to avoid future breakdowns.
Heat Pump Repair in the DC Metro Area
A heat pump in peak condition functions quietly and produces dry air. If you're picking up unusual noises, scents, or temperature changes, it's time to schedule a repair. Your heat pump needs attention if it's producing:
Signs of rust
Skyrocketing electricity bills
Unusual noise
Short-cycling
Signs of refrigerant leakage
As one of the leading HVAC service providers in DC, we can provide expert repair solutions that go straight to the source of the problem. Get in touch with United Air Temp to schedule heat pump repair in DC.
We Proudly Serve NOVA, DC & BALT Areas
Get started by filling out a service request form.
Heat Pump Replacement
The average heat pump lasts 15 years, but heavy usage or poor maintenance habits can reduce that period to 10 years. For that reason, preventative maintenance is the best and cheapest way to stretch out its service life. If your unit is experiencing frequent breakdowns and is older than 10 years, it might be cost-effective to replace it instead of requesting a repair. If your unit's SEER rating is chewing up your funds, a new product can reduce your running costs. United Air Temp has provided home comfort to DC residents since 1931. Few HVAC companies can offer that level of experience and expertise, so when you order a United replacement, you give yourself the best chance of satisfying HVAC ownership.
Why Choose United Air Temp?
United Air Temp is an industry leader with almost a century of experience behind us. We provide a range of maintenance plans and solutions to handle all of your heat pump needs. When you choose United Air Temp, you'll receive: 
Quality craftsmanship
Trained technicians
Upfront pricing
On-time scheduling
And much more!
 If you're ready to experience United Air Temp's unparalleled service and professionalism, contact us to schedule service.
FAQs

Why Choose Us
Discover the United Difference
Environmental Health & Safety
Environmental Health & Safety
Save on Your Service
Our Goal Is to Keep Your Home Comfortable
FREE

Surge Protector with Electrical Panel Upgrade
Expires 06/30/23
FREE

second opinion – HVAC or Plumbing replacement
Expires 06/30/23
What Our Clients Are Saying

The tech was at my home less than 10 minutes and gone within 20 minutes due to having my A/C up and running. I really appreciate his response to my home and working with my son due to me being out of town, but we spoke on the phone.

The technician arrived promptly, wore a mask, was very courteous and professional. I am generally very satisfied with service by United Air Temp. In addition to good service (they repair well), it is easy to speak to a person, and promptly. Thank you.

Great service! I called because I was under the impression the AC was not working upstairs. Someone came on the same day, checked out the system, and ensured everything was working. He was polite, thorough, and friendly.

Tech was very attentive and professional. He went out his way to explain everything to me as he was doing it. I appreciated him keeping me informed.
The service technician was awesome! He spent the extra time necessary to ensure the leak in our system was fixed, the system fully recharged and everything was functioning as it should. He was extremely thorough and very professional. We are extremely pleased with the result!