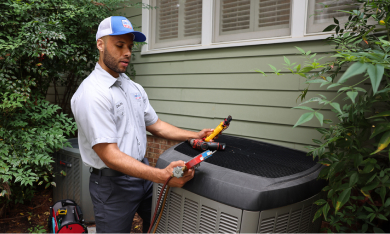 Generator Installation in Washington D.C. and Northern Virginia
Power outages can leave your home without heating and air conditioning, lighting, refrigeration, medical equipment, and other essentials for hours or even days.
Consider a whole-home generator installation to protect your home and your family during a blackout. Also known as a standby generator, this system offers a reliable source of electricity during power outages without the dangers or hassle of setting up a portable generator.
When you need a qualified team of electricians in Northern Virginia or Washington, DC, talk to our experts at United Air Temp. Our company has provided industry-leading home comfort solutions since 1931.
Make sure your home has the power you need no matter what with a standby generator from UAT. Call (877) 552-8919 or contact us online to request a free estimate in the DC area today.
Whole-Home Generators vs. Portable Generators
Portable generators are a good solution for backup power, but they tend to be smaller than standby generators, meaning they cannot run as many appliances simultaneously.
Plus, portable generators must be refueled constantly and serviced often, and if they're set up too close to your home, they can allow dangerous carbon monoxide to enter.
Whole-home generators can provide all the power you need to keep your home comfortable and safe during an outage, and they are permanently connected to your home with no need to set up the generator and run extension cords when power is lost.
With high electrical capacity options, standby generators can power even large homes safely and efficiently.
Request Service
Get started by filling out a service request form or by giving us a call.
Benefits of Installing a Whole-Home Generator
As often as powerful storms, accidents, or maintenance issues happen in the DC area, it's important to have a reliable option for backup power when the utility grid goes down.
A standby generator can provide all the power you need, and it offers the following benefits for your home:
Reliable backup power: A whole-home generator is permanently installed and ready to go in an emergency, turning on automatically when power is lost.
Complete comfort: You'll have all the power you need to keep your heating or air conditioning running during an outage, along with stoves, refrigerators, emergency radios, mobile device charging, and more.
Improved safety: Unlike a portable generator, there are no cords to handle during bad weather, no refueling, and no carbon monoxide concerns.
Peace of mind: Rest easy knowing that your family is protected with reliable power for cooking, medical devices, and more during an emergency.
Contact our team online or call (877) 552-8919 to request a free estimate for standby generator installation for your DC home.
Choose UAT for Whole-Home Generator Installation in the DC Metro Area
Make sure your NOVA or DC home is ready for a power outage with a quality standby generator installation from United Air Temp. We install high-quality, dependable systems and can recommend the best model for your needs and budget.
An excellent customer service experience is our top priority, and our outstanding customer reviews reflect that. When you choose UAT, you can count on:
Expert recommendations
Award-winning service
Honest, trustworthy electricians
On-time scheduling
Upfront pricing
And more
Our company is here to help with all your heating, cooling, plumbing, and electrical needs in the DC metro area.
Call (877) 552-8919 or contact us online to schedule whole-home generator installation in Virginia, or Washington, DC.
Frequently Asked Questions 
What size generator should I install?
Each household will have different power requirements depending on the size of the home and the type of equipment installed. A home with gas appliances will require less power, while one with a heat pump, electric water heater, or electric stove may need more.
To estimate the generator size you need, add up the wattage of all your electrical devices or look at a few power bills and divide the monthly usage by the number of days. Add about 15% to 25% to make sure you have enough power to support large loads like air conditioners and avoid overpowering the generator.
Your electrician can help you accurately size your generator.
What is a transfer switch?
A transfer switch turns the generator on automatically when power is lost. They feature a permanent fuel supply like a natural gas line or a liquid propane tank so that you don't have to worry about refueling during an outage.

Why Choose Us
Discover the United Difference
Environmental Health & Safety
Environmental Health & Safety
Save on Your Service
Our Goal Is to Keep Your Home Comfortable
BOGO! $99 Buy This Year's Tune Up, Get Next Year's Free.
Expires 12/31/23
Plus, up to 2 lbs of refrigerant if needed. *Cannot be combined with any other offer. Call for details.
Save Up To $2,000

When You Buy a Complete HVAC System with A/C and Furnace!
Expires 12/31/23
*Cannot be combined with any other offer. Not applicable for a heat pump system.
What Our Clients Are Saying

The tech was at my home less than 10 minutes and gone within 20 minutes due to having my A/C up and running. I really appreciate his response to my home and working with my son due to me being out of town, but we spoke on the phone.

The technician arrived promptly, wore a mask, was very courteous and professional. I am generally very satisfied with service by United Air Temp. In addition to good service (they repair well), it is easy to speak to a person, and promptly. Thank you.

Great service! I called because I was under the impression the AC was not working upstairs. Someone came on the same day, checked out the system, and ensured everything was working. He was polite, thorough, and friendly.

Tech was very attentive and professional. He went out his way to explain everything to me as he was doing it. I appreciated him keeping me informed.
The service technician was awesome! He spent the extra time necessary to ensure the leak in our system was fixed, the system fully recharged and everything was functioning as it should. He was extremely thorough and very professional. We are extremely pleased with the result!