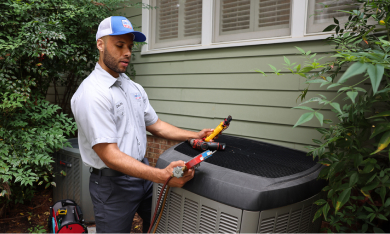 Gas Line Installation & Repair in Northern Virginia & Washington D.C.
Keeping your gas line in good working order is crucial to your safety, health, and utility bills. Leaks of any kind in your home are a cause for concern, but a gas leak puts you at personal risk.
The risks involved in poorly managed and maintained gas lines are a good reason to leave installation and repair to reliable plumbers like the team at United Air Temp.
Need gas line services in DC or Northern Virginia? Reach out to UAT today by calling (877) 552-8919 or contacting us online.
24/7 Emergency Gas Line Repairs Available
It's ideal to detect gas line trouble as early as possible before it can become a danger. If any of these signs sound familiar, you need emergency gas line repairs:
The smell of rotten eggs
The hissing sound of gas escaping
Plants dying in or near your home
Symptoms of gas poisoning, like dizziness, fatigue, nausea, headaches, etc.
Unusually high gas bills
Remember, if you notice a gas leak, your highest priority should be to evacuate your home and call 911 or your gas company.
Call United Air Temp at (877) 552-8919 once you're safe and the danger is resolved to effectively and thoroughly restore your gas plumbing to safe operation.
Request Service
Get started by filling out a service request form or by giving us a call.
Gas Line Installation & Replacement
Gas lines play an important role in many homes in the DC metro area, delivering efficient and effective fuel to appliances and systems, including:
Ovens
Stoves
Fireplaces
And more
At United Air Temp, our experienced gas line experts can help you run lines for new appliances. We can also replace degraded, damaged, poorly installed, or inconveniently routed lines in your home with appropriate traditional or flexible gas lines. Our team is well equipped to install and replace gas lines throughout your home, so do not hesitate to give us a call for a consultation today.
Traditional vs. Flexible Gas Lines
Traditional gas lines use rigid steel pipes, which can be more difficult to install and require adequate space. They also feature exceptional resilience and durability — barring accidents or other problems, a steel or iron gas pipe can outlast the home it's installed in.
Flexible gas lines, aka CSST (corrugated stainless steel tubing), are easier to install and can be more convenient to run in awkward locations but lacks the longevity of traditional lines.
Both gas line types offer safe and effective gas supplies if installed correctly. Which is appropriate for a particular home or even a specific application in that home can vary, so we recommend working with our team to figure out the best answer for your circumstances.
Need a gas line installed or replaced in DC or Northern Virginia? Contact UAT online or call (877) 552-8919 today.
Request Service
Get started by filling out a service request form or by giving us a call.
Schedule Emergency Gas Line Services in DC & Northern VA
When your home in the DC metro area requires gas line service, let the professionals at United Air Temp deliver fast, effective service you can count on. Choosing United Air Temp means choosing:
Well-trained technicians with ongoing training
Quality customer service
Upfront pricing with honest communication
Precise scheduling with narrow arrival windows for service
Satisfaction guaranteed
Ready to request gas line installation, replacement, or repair? Call (877) 552-8919 or contact us online now to get started.

Why Choose Us
Discover the United Difference
Environmental Health & Safety
Environmental Health & Safety
Save on Your Service
Our Goal Is to Keep Your Home Comfortable
BOGO! $99 Buy This Year's Tune Up, Get Next Year's Free.
Expires 12/31/23
Plus, up to 2 lbs of refrigerant if needed. *Cannot be combined with any other offer. Call for details.
Save Up To $2,000

When You Buy a Complete HVAC System with A/C and Furnace!
Expires 12/31/23
*Cannot be combined with any other offer. Not applicable for a heat pump system.
What Our Clients Are Saying

The tech was at my home less than 10 minutes and gone within 20 minutes due to having my A/C up and running. I really appreciate his response to my home and working with my son due to me being out of town, but we spoke on the phone.

The technician arrived promptly, wore a mask, was very courteous and professional. I am generally very satisfied with service by United Air Temp. In addition to good service (they repair well), it is easy to speak to a person, and promptly. Thank you.

Great service! I called because I was under the impression the AC was not working upstairs. Someone came on the same day, checked out the system, and ensured everything was working. He was polite, thorough, and friendly.

Tech was very attentive and professional. He went out his way to explain everything to me as he was doing it. I appreciated him keeping me informed.
The service technician was awesome! He spent the extra time necessary to ensure the leak in our system was fixed, the system fully recharged and everything was functioning as it should. He was extremely thorough and very professional. We are extremely pleased with the result!