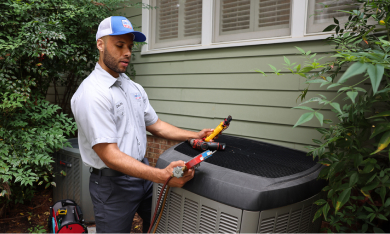 Electrical Services in Washington, DC, Maryland & Northern Virginia
Whether it's modern comforts like watching TV and charging your smartphone or using essentials like your refrigerator, HVAC system, and medical equipment, you deserve to know all your electronic devices and appliances can operate safely when you need them to — and that means having a reliable flow of electricity.
Two of the best ways to ensure safe and continuous electricity in your home are to install a whole-home generator and upgrade your electrical panel. Turn to United Air Temp for your electrical service needs.
Call United Air Temp at (877) 552-8919 today to request electrical installation and upgrades for your DMV home.
Whole-Home Generator Installation
Many DMV residents are considering whole-home generator installation to ensure their homes can operate normally, even when major storms roll through and knock out power.
Thunderstorms, windstorms, and hailstorms alike can all lead to electricity disruptions for individual homes and entire neighborhoods.
When you install a standby generator, we'll also install a transfer switch, which will automatically transfer power from your home's electrical panel to your standby generator.
We Proudly Serve NOVA, DC & BALT Areas
Get started by filling out a service request form.
Benefits of Installing a Whole-Home Generator
By installing a whole-home generator, you'll receive a wealth of benefits, including:
Reliable backup power in emergencies, even for extended periods
Enough energy to cover power-intensive systems like furnaces and air conditioners
Improved safety thanks to a lack of cords and carbon monoxide emissions
Access to essentials like cooking ranges, smartphone charging, and critical medical devices
Whether it's brief and inconvenient downtime or a more extensive grid failure due to an emergency, a whole-home generator gives you one less thing to worry about when the power goes out.
If you want to install a whole-home generator in DC, MD, or NOVA, call United Air Temp at (877) 552-8919 to request a free estimate.
Electric Box Replacement
Also known as an electrical panel, your electric box protects your home by shutting power off to a circuit if a surge is detected.
It's not always clear when you need to upgrade your electric box, and an inspection is necessary to determine the condition of the panel and wiring. However, you should consider an electrical panel upgrade if:
Your home is over 20 or 30 years old and has the original wiring and panel.
You don't have any more circuits available for new appliances.
The service panel is sparking or buzzing.
You smell burning odors near your electrical panel or outlets.
There is discoloration on outlets or wiring.
Your lights flicker when you use your appliances.
Your breakers frequently trip.
If any of these problems are plaguing your home, call United Air Temp at (877) 552-8919 to schedule service. We'll diagnose the issue and upgrade your electric box.
Contact United Air Temp for Electrical Services in DC, MD & NOVA
Reviews from our community speak to the quality of our services and the experience we provide our customers.
When your satisfaction and your home's electrical safety are on the line, call on United Air Temp to ensure you have the reliable power you need.
Call (877) 552-8919 to request a free estimate for whole-home generator installation or electrical panel upgrades for your home.
Frequently Asked Questions
What's the difference between a fuse box and an electrical panel?
Though they serve the same function, electrical panels are the modern version of fuse boxes.
Fuse boxes have not been installed in new homes since the 1960s. They're not as safe, and you must replace a fuse every time it's blown.
Electrical panels have circuit breakers that flip when there's a surge. The switch can be reset instead of needing to be replaced.
What's the difference between whole-home, standby, and portable generators?
Portable generators are powered by gas, and you have to refuel them periodically, while standby generators are directly connected to your electrical system and a fuel line simultaneously.
A whole-home generator is a standby generator large enough to supply the electricity needed for running an entire home.

Why Choose Us
Discover the United Difference
Environmental Health & Safety
Environmental Health & Safety
Save on Your Service
Our Goal Is to Keep Your Home Comfortable
FREE

Surge Protector with Electrical Panel Upgrade
Expires 06/30/23
FREE

second opinion – HVAC or Plumbing replacement
Expires 06/30/23
What Our Clients Are Saying

The tech was at my home less than 10 minutes and gone within 20 minutes due to having my A/C up and running. I really appreciate his response to my home and working with my son due to me being out of town, but we spoke on the phone.

The technician arrived promptly, wore a mask, was very courteous and professional. I am generally very satisfied with service by United Air Temp. In addition to good service (they repair well), it is easy to speak to a person, and promptly. Thank you.

Great service! I called because I was under the impression the AC was not working upstairs. Someone came on the same day, checked out the system, and ensured everything was working. He was polite, thorough, and friendly.

Tech was very attentive and professional. He went out his way to explain everything to me as he was doing it. I appreciated him keeping me informed.
The service technician was awesome! He spent the extra time necessary to ensure the leak in our system was fixed, the system fully recharged and everything was functioning as it should. He was extremely thorough and very professional. We are extremely pleased with the result!