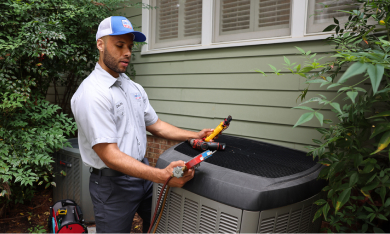 Indoor Air Quality Services in Northern VA, DC & Baltimore Metro Areas
Did you know indoor air is often much more polluted than outdoor air? Tightly built homes aim to keep heated and cooled air inside, but low air exchange rates trap chemicals, odors, mold, pet dander, dust, and volatile organic compounds (VOCs) inside as well. As a result, pollutant levels in the average DC metro area home are two to five times higher than typical outdoor concentrations.
Learn more about the importance of indoor air quality (IAQ) and contact United Air Temp to schedule services that will help you breathe easier.
Why Is Indoor Air Quality Important? 
You breathe over 2,000 gallons of air every day. If that air is full of allergens and contaminants, you may start showing signs of "sick building syndrome," including sneezing, coughing, skin irritation, headaches, and even shortness of breath. These symptoms, which are more likely to appear in sensitive individuals, may dissipate when you leave home, a telltale sign that the indoor air is to blame.
Even if you don't exhibit health symptoms, a home with poor air quality may feel stuffy, reek of lingering odors, or have dust mites and mold growth problems.
We Proudly Serve NOVA, DC & BALT Areas
Get started by filling out a service request form.
Our Indoor Air Quality Services
Our goal at United Air Temp is to help our customers breathe easy with solutions designed to improve indoor air quality from every angle. Here are the services we provide in the DC metro area:
Humidifiers: Microorganisms thrive in dry air, worsening your allergies and asthma in the winter. Other symptoms of low humidity include itchy skin, brittle hair, nosebleeds, sore throat, and static shock. A whole-house humidifier can combat all these problems.
Dehumidifiers: Humidity problems reverse in the summer, with excess moisture leading to condensation, mold growth, and a clammy feeling. Running a dehumidifier alongside your air conditioner can help.
Thermostats: Control the temperature and humidity while maximizing energy savings by upgrading to a programmable or Wi-Fi thermostat.
Ductwork installation and repair: Poorly installed or degrading ductwork can waste energy and introduce polluted air into your home. Optimizing, repairing, and sealing your ductwork can combat these problems.
Air scrubbers and air purifiers: When particles, gasses, chemicals, and microbes are a concern, remove these from your indoor air with a whole-house air scrubber or purifier.
Attic fans: An attic fan is a simple, energy-efficient solution that ventilates your attic so it doesn't get too hot and humid in the summer.
R-22 conversions: For years, R-22 (Freon) was the go-to refrigerant for home air conditioning. It has now been phased out due to environmental concerns. If you have an older AC that still runs on R-22, we can convert it to a cleaner R-410A (Puron) system.
Depend on United Air Temp for Indoor Air Quality Services in DC, BALT & NOVA
Since 1931, our mission has been to improve indoor air quality for families living in the DC metro area. Our experienced Certified Climate Consultants are ready to answer your questions and recommend the best IAQ solutions for your needs.
Contact us to schedule indoor air quality services today.
Frequently Asked Questions About Indoor Air Quality
How can I test my indoor air quality?
Here are the best ways to monitor your indoor air:
Purchase an indoor air quality monitor to test for particulate matter, chemical pollutants, carbon dioxide, and VOC levels.
Purchase a hygrometer to measure humidity.
Test for mold.
Install carbon monoxide detectors.
Conduct a radon test.
What is a healthy air exchange rate?
The EPA recommends 0.35 air changes per hour (ACH), meaning the air refreshes about once every three hours. It's common for new homes to have rates as low as 0.05 ACH, which is energy-efficient but unhealthy. A properly sized and installed ventilation system can increase the air exchange rate without hiking up your energy bills.
What are some DIY ways to improve indoor air quality?
In addition to using HVAC systems and services to improve your IAQ, here are some other steps you can take:
Invest in a vacuum cleaner with a HEPA filter. Vacuum at least once a week.
Mop and dust hard surfaces regularly.
Use natural cleaning products.
Run the exhaust fan when showering and cooking.
Avoid products containing VOCs, including candles, perfume, aerosol sprays, air fresheners, and more.
Place a potted plant in each room to clean the air naturally.
Contact United Air Temp today for more information.

Why Choose Us
Discover the United Difference
Environmental Health & Safety
Environmental Health & Safety
Save on Your Service
Our Goal Is to Keep Your Home Comfortable
FREE

second opinion – HVAC or Plumbing replacement
Expires 03/31/23
$25 OFF

for referrer and friend
Expires 03/31/23
$50

diagnostic for first- time plumbing customer
Expires 03/31/23
What Our Clients Are Saying

The tech was at my home less than 10 minutes and gone within 20 minutes due to having my A/C up and running. I really appreciate his response to my home and working with my son due to me being out of town, but we spoke on the phone.

The technician arrived promptly, wore a mask, was very courteous and professional. I am generally very satisfied with service by United Air Temp. In addition to good service (they repair well), it is easy to speak to a person, and promptly. Thank you.

Great service! I called because I was under the impression the AC was not working upstairs. Someone came on the same day, checked out the system, and ensured everything was working. He was polite, thorough, and friendly.

Tech was very attentive and professional. He went out his way to explain everything to me as he was doing it. I appreciated him keeping me informed.
The service technician was awesome! He spent the extra time necessary to ensure the leak in our system was fixed, the system fully recharged and everything was functioning as it should. He was extremely thorough and very professional. We are extremely pleased with the result!