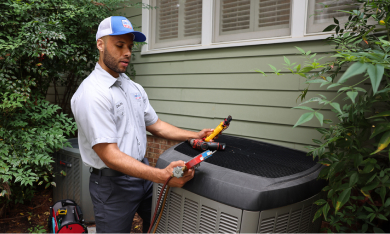 UV Light Installation in Northern VA, DC & Baltimore Metro Areas
If you're like most homeowners, you spend a lot of your time indoors, but do you know that bacteria, germs, and viruses contaminants are floating in the air of your home? However, these pollutants don't stand a chance against a well-positioned UV light! UV lights are as invaluable as a reliable filter on your furnace and proper sealing around your windows and doors. At United Air Temp, we offer several types of UV lighting systems that we can install, maintain, and repair to ensure the air you breathe is as clean as possible.
Contact United Air Temp to learn more about UV lights and why we recommend them to homeowners in DC, Maryland, and Northern Virginia. 
We Proudly Serve NOVA, DC & BALT Areas
Get started by filling out a service request form.
Incredible Benefits of UV-C Lights
Installing UV-C lights in your home comes with several benefits and features, including:
Significantly reduces mold and mildew growth
Increases indoor air quality by removing harmful irritants and pathogens
Reduces respiratory illnesses, colds, flu, etc.
Improves airflow through the home
Provides safe, affordable, and effective air purification
To learn more about the benefits of UV-C lights, contact United Air Temp to speak with our HVAC and indoor air quality specialists.
How UV-C Lights Work
UV-C lights can be installed on ceilings, walls, and within air ducts. To maximize effectiveness, they should be placed in areas with significant airflow.
As air circulates in front of the UV light, the UV radiation neutralizes pathogens, including mold, viruses, and bacteria, thus rendering it incapable of causing an infection. This process purifies the air and helps improve the indoor air quality within your home.
UV lights can also be positioned on your plumbing systems to improve the water quality within your home. As water circulates over the light, the UV rays neutralize toxins and pathogens within the water, thus improving the taste, clarity, and quality of the water you use for cooking, cleaning, and bathing.
Do you have questions about UV-C lights? Contact United Air Temp to speak with a member of our team.
Trust United Air Temp for Your Comfort!
The team at United Air Temp has used the latest technologies to improve our client's comfort and health for nearly 100 years. From HEPA filters and eco-friendly home heating and cooling options to air purifiers and UV-C light systems, it is our pleasure to protect your health and help you breathe easier every day of the year. 
United Air Temp is made up of over 300 technicians and support staff. Our experience and expertise allow us to provide superior service, responsive repairs, and exceptional results to homeowners in the DC metro area. We are available 24/7 to respond to your needs and provide the installation, repair, and maintenance services you deserve!
United Air Temp Is Here for You!
Breathe easy when you choose United Air Temp for UV-C lights. These systems can significantly improve the air quality within your home. We are happy to perform a thorough audit of your home's indoor air quality and recommend steps you can take to enjoy the freshest, cleanest air you deserve in DC, MD, and Northern VA!
Contact United Air Temp to learn more about our company and to schedule the installation, maintenance, or repair of a UV-C lighting system in your DC metro home!

Why Choose Us
Discover the United Difference
Environmental Health & Safety
Environmental Health & Safety
Save on Your Service
Our Goal Is to Keep Your Home Comfortable
FREE

second opinion – HVAC or Plumbing replacement
Expires 03/31/23
$25 OFF

for referrer and friend
Expires 03/31/23
$50

diagnostic for first- time plumbing customer
Expires 03/31/23
What Our Clients Are Saying

The tech was at my home less than 10 minutes and gone within 20 minutes due to having my A/C up and running. I really appreciate his response to my home and working with my son due to me being out of town, but we spoke on the phone.

The technician arrived promptly, wore a mask, was very courteous and professional. I am generally very satisfied with service by United Air Temp. In addition to good service (they repair well), it is easy to speak to a person, and promptly. Thank you.

Great service! I called because I was under the impression the AC was not working upstairs. Someone came on the same day, checked out the system, and ensured everything was working. He was polite, thorough, and friendly.

Tech was very attentive and professional. He went out his way to explain everything to me as he was doing it. I appreciated him keeping me informed.
The service technician was awesome! He spent the extra time necessary to ensure the leak in our system was fixed, the system fully recharged and everything was functioning as it should. He was extremely thorough and very professional. We are extremely pleased with the result!