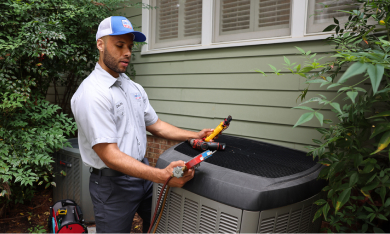 Geothermal Heating in Northern VA, DC & Baltimore Metro Areas
For homeowners in Northern Virginia who are serious about living in an environmentally friendly manner, geothermal HVAC systems are the right choice.
They're the most eco-friendly options for heating and cooling your home, tapping into the heat energy below the earth's surface. Geothermal heating requires little fuel to keep your home at the right temperature all year long.
If you are considering a geothermal system installation or need geothermal heating repair or maintenance, United Air Temp offers comprehensive services.
Start enjoying the benefits of a geothermal system. Reach out to United Air Temp for a consultation today.
What Are the Benefits of a Geothermal Heating System?
A geothermal system is a type of heat pump that taps the energy found under the ground.
Under the frost line, temperatures stay relatively constant, and a geothermal system has a series of pipes that run below that line to absorb the heat energy stored in the ground. That heat energy is sent into your home using a heat pump, transferring the warmth to your home.
When it's time to cool your home in the summer, the system moves the heat energy inside your home to the cooler underground area. As a result, you'll enjoy several benefits for your home, including:
Minimal operational cost
A long potential life span for the system
More dependable than other heating and cooling options
Sustainable, eco-friendly heating and cooling source
Are you ready to enjoy these benefits in your Northern VA home? Reach out to United Air Temp to learn more.
Geothermal Heating Repair Throughout DC, MD & VA
If you need repair for your geothermal system, you want to know the technician is well-versed in these systems. You will get that when you call United Air Temp.
We Proudly Serve NOVA, DC & BALT Areas
Get started by filling out a service request form.
Geothermal Heating Installation & Replacement for DC, BALT & NOVA Homes
Geothermal heating systems should last for decades, but you will eventually need to replace your system. For both installation and replacement help, count on United Air Temp.
Geothermal Heating Maintenance in DC, BALT & NOVA
Your system should last many years, but it will require proper care. A geothermal heating contractor from United Air Temp can help increase that life span with proper maintenance.
Choose United Air Temp for Geothermal System Help
When it comes to home comfort systems, geothermal heating systems are unique. When you need repair, maintenance, or replacement help, you want to work with a trained geothermal heating contractor on these systems.
United Air Temp has a team of HVAC professionals who have the experience and knowledge to manage your geothermal systems. We have over 90 years of experience and a passion for helping you maximize your home comfort.
Schedule a consultation to discuss geothermal heating systems with United Air Temp today.
Frequently Asked Questions About Geothermal Systems
bc_card title="How long do geothermal systems last?"]
With proper maintenance, geothermal systems last 20 to 25 years.
[/bc_card]bc_card title="How deep do geothermal systems go?"]
The trenches that hold geothermal heat systems are at least 4 feet deep.
[/bc_card]

Why Choose Us
Discover the United Difference
Environmental Health & Safety
Environmental Health & Safety
Save on Your Service
Our Goal Is to Keep Your Home Comfortable
FREE

second opinion – HVAC or Plumbing replacement
Expires 11/30/22
$25 OFF

for referrer and friend
Expires 11/30/22
$50

diagnostic for first- time plumbing customer
Expires 11/30/22
What Our Clients Are Saying

The tech was at my home less than 10 minutes and gone within 20 minutes due to having my A/C up and running. I really appreciate his response to my home and working with my son due to me being out of town, but we spoke on the phone.

The technician arrived promptly, wore a mask, was very courteous and professional. I am generally very satisfied with service by United Air Temp. In addition to good service (they repair well), it is easy to speak to a person, and promptly. Thank you.

Great service! I called because I was under the impression the AC was not working upstairs. Someone came on the same day, checked out the system, and ensured everything was working. He was polite, thorough, and friendly.

Tech was very attentive and professional. He went out his way to explain everything to me as he was doing it. I appreciated him keeping me informed.
The service technician was awesome! He spent the extra time necessary to ensure the leak in our system was fixed, the system fully recharged and everything was functioning as it should. He was extremely thorough and very professional. We are extremely pleased with the result!