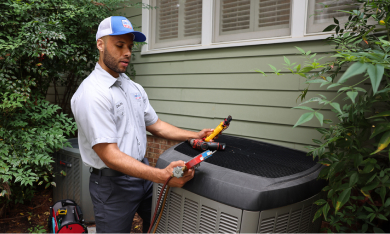 24/7 Emergency Heating Repair in Northern VA, DC & Baltimore Metro Areas
You suddenly realize your entire home is cold and that there's no heat. The thermostat looks right, but nothing you do can get the heat back on. Now what?
Make United Air Temp your first call when you're facing a home heating emergency in DC, Northern Virginia, or the Baltimore metro area and need it solved fast. We offer 24/7 emergency heating repairs to homeowners who need assistance quickly.
Our trained technicians and well-stocked service vehicles allow us to quickly assess your equipment, diagnose the problem, and implement a solution.
Call us at (877) 552-8919 to request emergency heating repair for your home.
Heating Systems We Service
Our customers rely on a wide variety of heating systems to stay warm through the colder months of the year. Fortunately, our team of expert technicians knows these systems in and out:
Gas and electric furnaces
Signs You Need Emergency Heating Repair
When your heating system gives you trouble and you need repairs, you can't always afford to wait for service. Here are a few of the signs that you're facing a heating emergency:
No heat
Burning smells or other concerning odors from your system
Oil, gas, refrigerant, or water leaks
Evidence of electrical problems, such as flipped breakers and buzzing noises
Do you need emergency heating repair? Don't hesitate to call (877) 552-8919 and request same-day heating service in the DMV.
Common Causes of Heating System Breakdowns
At United Air Temp, we've seen a lot of heating system problems across countless homes and systems — but most of them fall into a few familiar patterns:
Clogged air filters and other air obstructions
Thermostat issues
Electrical problems
Fuel supply problems
Malfunction of startup mechanisms
Motor failure
Of course, no matter how simple or complex your particular heating system breakdown may be, you can count on the technicians at United Air Temp to get to the bottom of it.
We Proudly Serve NOVA, DC & BALT Areas
Get started by filling out a service request form.
Heating Repair vs. Replacement
Heating repairs aren't always the best option. Sometimes, we need to consider a replacement. This happens most commonly because your system is nearing the end of its life span. If your system breaks down because a key component needs repair, it could cost a substantial portion of what a new unit would cost.
Routine maintenance helps, as it lets you avoid major damage and reduce the risk of needing emergency heating repair and premature heating replacement.
Want to discuss whether heating repair or replacement is a better option for your home? Call (877) 552-8919 or contact our team online to request service.
Choose United Air Temp for Heating Repairs in Northern VA, DC & the Baltimore Metro
You can't afford to waste time when your heat goes out on a cold day. You need an HVAC service team that can resolve your heating issues quickly.
At United Air Temp, we're committed to serving our clients with quality craftsmanship, honest customer service, and great attention to detail.
Contact us online or call (877) 552-8919 to request heating repairs for your DMV home.

Why Choose Us
Discover the United Difference
Environmental Health & Safety
Environmental Health & Safety
Save on Your Service
Our Goal Is to Keep Your Home Comfortable
FREE

second opinion – HVAC or Plumbing replacement
Expires 02/28/23
$25 OFF

for referrer and friend
Expires 02/28/23
$50

diagnostic for first- time plumbing customer
Expires 02/28/23
What Our Clients Are Saying

The tech was at my home less than 10 minutes and gone within 20 minutes due to having my A/C up and running. I really appreciate his response to my home and working with my son due to me being out of town, but we spoke on the phone.

The technician arrived promptly, wore a mask, was very courteous and professional. I am generally very satisfied with service by United Air Temp. In addition to good service (they repair well), it is easy to speak to a person, and promptly. Thank you.

Great service! I called because I was under the impression the AC was not working upstairs. Someone came on the same day, checked out the system, and ensured everything was working. He was polite, thorough, and friendly.

Tech was very attentive and professional. He went out his way to explain everything to me as he was doing it. I appreciated him keeping me informed.
The service technician was awesome! He spent the extra time necessary to ensure the leak in our system was fixed, the system fully recharged and everything was functioning as it should. He was extremely thorough and very professional. We are extremely pleased with the result!