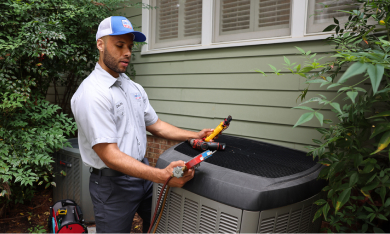 Referral Program
We'd like to give you $25.00!
And we'll give $25.00 to any friend or relative you send us!
United Air Temp has been named the third largest residential heating and air conditioning company in the United States! United Air Temp has expanded operations into Atlanta Georgia with two new branches and an all new Heating and Air Conditioning installation facility. We'll be in more than 80,000+ homes this year providing quality heating, air conditioning, and plumbing services in the Washington, Baltimore, and Atlanta metropolitan areas.
In fact, we are so sure that your friends and relatives will benefit from our services that we will give you and anyone you send us a $25.00 value certificate! It is our way of saying thanks for your business and for every new customer you send us!
You can call our number (877) 552-8919 and give us your friend's or relative's name and number at extension or submit the simple form below. We will even follow up with your referral on your behalf!
Yes, for every new United Air Temp customer who purchases United Air Temp products or servers, we give you a $25.00 value certificate good for any United Air Temp product or service! Your new customer will receive a $25.00 certificate too! Everybody wins!
This promotion is for customers you refer who have not used United Air Temp previously—and ONLY for geographical areas that we serve: Washington DC metropolitan area (includes Northern Virginia suburbs), Baltimore, and Atlanta. Certificates with a value of $25.00 toward any United Air Temp product or service will be mailed to you for each one of your referrals once they make their first purchase with us. Certificates are not redeemable for cash.
There is no limit to how many customers you can refer!
United Air Temp Referral Program

Why Choose Us
Discover the United Difference
Environmental Health & Safety
Environmental Health & Safety
Save on Your Service
Our Goal Is to Keep Your Home Comfortable
BOGO! $99 Buy This Year's Tune Up, Get Next Year's Free.
Expires 12/31/23
Plus, up to 2 lbs of refrigerant if needed. *Cannot be combined with any other offer. Call for details.
Save Up To $2,000

When You Buy a Complete HVAC System with A/C and Furnace!
Expires 12/31/23
*Cannot be combined with any other offer. Not applicable for a heat pump system.
What Our Clients Are Saying

The tech was at my home less than 10 minutes and gone within 20 minutes due to having my A/C up and running. I really appreciate his response to my home and working with my son due to me being out of town, but we spoke on the phone.

The technician arrived promptly, wore a mask, was very courteous and professional. I am generally very satisfied with service by United Air Temp. In addition to good service (they repair well), it is easy to speak to a person, and promptly. Thank you.

Great service! I called because I was under the impression the AC was not working upstairs. Someone came on the same day, checked out the system, and ensured everything was working. He was polite, thorough, and friendly.

Tech was very attentive and professional. He went out his way to explain everything to me as he was doing it. I appreciated him keeping me informed.
The service technician was awesome! He spent the extra time necessary to ensure the leak in our system was fixed, the system fully recharged and everything was functioning as it should. He was extremely thorough and very professional. We are extremely pleased with the result!