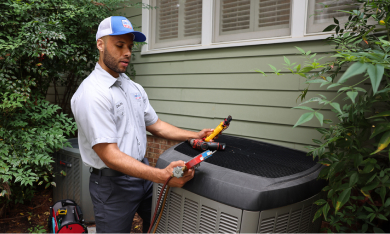 Water Treatment in Northern Virginia and Washington D.C.
You expect cold, clear water to flow out when you turn on the tap. While you can trust your municipal water supplier to provide the community with safe water (or alert you of hazards as they arise), not all tap water is created equal.
Everything from lead contamination to high mineral content to bad-tasting water may have you considering a household water treatment system. United Air Temp can help you weigh your options and install the best one for your needs.
Contact us for more information about water treatment in the DC metro area.
Water Purifiers vs. Water Softeners
Water treatment comes in many different forms. The system you choose for your home depends on what contaminants you want to remove. For instance, if safer, better-tasting water is your goal, consider a reverse osmosis water purifier. This process removes impurities and minerals to make your tap water taste more like store-bought bottled water.
On the other hand, a water softener may be best if you're concerned about hard water buildup on your plumbing fixtures, appliances, dishware, clothes, skin, and hair. Water softeners remove excess calcium and magnesium, "softening" the water and making unsightly hard water stains a thing of the past.
A knowledgeable plumber at United Air Temp is the best resource for helping you find the right system—or combination of systems—to meet your needs.
Contact us to request a free installation estimate today.
Request Service
Get started by filling out a service request form or by giving us a call.
Benefits of Water Treatment & Purification
More homeowners in the DC metro area are choosing to install water treatment systems these days. Here are the benefits you can expect from this investment:
Safer water with fewer particles and contaminants
Better-tasting water
Better protection against health complications caused by drinking contaminated water
Fewer hard water spots and limescale buildup
More efficient, longer-lasting plumbing appliances and pipes
Monetary savings and reduced waste compared to buying bottled water
Choose United Air Temp for Household Water Treatment Services in NOVA, DC & MD
If you're interested in installing a top-of-the-line water treatment system in your DC metro area home, turn to United Air Temp. We have provided exceptional plumbing services since 1931, with a commitment to creating lifelong relationships with our customers.
When you choose us to install or service your water treatment system, you can rest assured that only a qualified, background-checked technician will knock on your door. Our team goes the extra mile to ensure your complete satisfaction, no matter what solution you choose!
Contact us for more information about selecting and installing a household water treatment system.
Frequently Asked Questions About Water Treatment
Why does tap water need to be treated?
Community water treatment makes your water safe to drink by meeting the minimum standards set by the Environmental Protection Agency (EPA). But if minimum standards aren't sufficient for you and your family, you can install a water treatment system to further enhance the quality, safety, and taste of your tap water.
What contaminants are in tap water?
The water that flows through your pipes may contain these contaminants:
Chemicals (bleach, pesticides, nitrogen, lead, salts, metals, pharmaceuticals)
Physical pollutants (algae, sediment, other suspended materials)
Microorganisms (bacteria, protozoan, parasites, viruses)
Radiological contaminants (plutonium, uranium, cesium)
Is whole-house water filtration worthwhile?
Countertop pitchers and faucet filtration systems may clean your tap water for drinking and cooking, but a whole-house system also improves the water quality for showering, laundering clothes, and washing dishes. A whole-house system is the only way to clean your household water at the source.

Why Choose Us
Discover the United Difference
Environmental Health & Safety
Environmental Health & Safety
Save on Your Service
Our Goal Is to Keep Your Home Comfortable
BOGO! $99 Buy This Year's Tune Up, Get Next Year's Free.
Expires 12/31/23
Plus, up to 2 lbs of refrigerant if needed. *Cannot be combined with any other offer. Call for details.
Save Up To $2,000

When You Buy a Complete HVAC System with A/C and Furnace!
Expires 12/31/23
*Cannot be combined with any other offer. Not applicable for a heat pump system.
What Our Clients Are Saying

The tech was at my home less than 10 minutes and gone within 20 minutes due to having my A/C up and running. I really appreciate his response to my home and working with my son due to me being out of town, but we spoke on the phone.

The technician arrived promptly, wore a mask, was very courteous and professional. I am generally very satisfied with service by United Air Temp. In addition to good service (they repair well), it is easy to speak to a person, and promptly. Thank you.

Great service! I called because I was under the impression the AC was not working upstairs. Someone came on the same day, checked out the system, and ensured everything was working. He was polite, thorough, and friendly.

Tech was very attentive and professional. He went out his way to explain everything to me as he was doing it. I appreciated him keeping me informed.
The service technician was awesome! He spent the extra time necessary to ensure the leak in our system was fixed, the system fully recharged and everything was functioning as it should. He was extremely thorough and very professional. We are extremely pleased with the result!