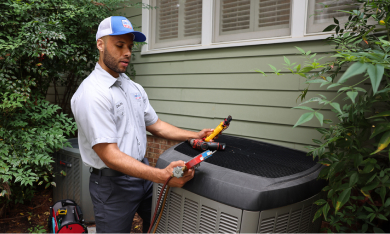 Sump Pump Services in Northern Virginia & Washington, DC
Planning for severe weather means preparing your home to withstand the storm. With an average of 30 tornados yearly, homeowners in the DC metro area see a lot of use out of their sump pump during heavy thunderstorms and floods.
At United Air Temp, we provide comprehensive sump pump repair, installation, and replacement to ensure that DC metro homes are well-protected against flood water and foundation damage.
As a leader in home comfort since 1931, you can trust our honest, reliable, and experienced technicians to provide plumbing services that will help you have peace of mind.
Call (877) 552-8919 or contact UAT online to request sump pump services in DC or Northern Virginia.
Request Service
Get started by filling out a service request form or by giving us a call.
What Is a Sump Pump?
A sump pump system consists of a constructed pit that is dug below the level of your basement surface. The hole is then fitted with the electric sump pump that detects increasing water levels or pressures.
If there's a flood and water levels rise, the sump pump automatically begins to collect and move water outside and away from your home using a discharge line.
There are two different kinds of sump pumps:
Submersible sump pumps: These systems take up less square footage because they sit underwater in a sump pit. They work quickly and quietly to remove water and minor debris from spaces such as basements, yards, crawl spaces, and other areas during a flood.
Pedestal sump pumps: These sump pumps are located on the floor inside of your home. They are easy to install and maintain and are a more affordable option.
Water-Powered vs. Battery Backup Sump Pumps
There are two types of backup systems that can keep your sump pump working during an electrical outage:
Sump pump battery backup: A large battery can power your system when electricity is lost.
Water-powered sump pump backup: This backup option uses your home's water supply to power your sump pump without electricity.
Call (877) 552-8919 or contact us online to request a free estimate for sump pump services!
Sump Pump Installation & Replacement in Washington, DC, & Northern Virginia
If you need to install or replace your sump pump, look no further than United Air Temp. Homes that need sump pumps include:
Homes in flood zones
Homes with poor drainage systems
Homes with basements, crawl spaces, and patios
Homes where the ground slopes toward your property rather than away
Your sump pump can provide up to 10 years of service with routine maintenance and testing. Invest in your home's protection with professional sump pump installation.
Call (877) 552-8919 or contact UAT online to request a free estimate for sump pump installation or replacement!
Request Service
Get started by filling out a service request form or by giving us a call.
Emergency Sump Pump Repair in DC & Northern VA
Having minor repairs completed on your sump pump ensures its reliability and effectiveness in removing flood water from your home. If your sump pump is displaying symptoms of malfunction, it's important to get it inspected and repaired for flood preparedness.
Signs your sump pump needs repairs:
Failure to automatically activate
Strange sounds
Continuous system operation
Rust on the exterior
No water in the pit
Call (877) 552-8919 or contact UAT online to request sump pump repair in DC or Northern VA.
Choose United Air Temp for Sump Pump Services
At United Air Temp, our plumbers complete ongoing training to ensure we provide plumbing services you can rely on.
With upfront pricing and quality services, our team members are constantly working to guarantee your satisfaction.
We are committed to serving the DC metro community and our customers with the highest level of care with every job we perform.
Call (877) 552-8919 or contact us online to schedule sump pump installation, replacement, or repair today!
Frequently Asked Questions About Sump Pumps
Should a sump pump run continuously?
A sump pump should only run when the float is triggered. If it's constantly running, it's likely a malfunction that a professional plumber should inspect.

Why Choose Us
Discover the United Difference
Environmental Health & Safety
Environmental Health & Safety
Save on Your Service
Our Goal Is to Keep Your Home Comfortable
BOGO! $99 Buy This Year's Tune Up, Get Next Year's Free.
Expires 12/31/23
Plus, up to 2 lbs of refrigerant if needed. *Cannot be combined with any other offer. Call for details.
Save Up To $2,000

When You Buy a Complete HVAC System with A/C and Furnace!
Expires 12/31/23
*Cannot be combined with any other offer. Not applicable for a heat pump system.
What Our Clients Are Saying

The tech was at my home less than 10 minutes and gone within 20 minutes due to having my A/C up and running. I really appreciate his response to my home and working with my son due to me being out of town, but we spoke on the phone.

The technician arrived promptly, wore a mask, was very courteous and professional. I am generally very satisfied with service by United Air Temp. In addition to good service (they repair well), it is easy to speak to a person, and promptly. Thank you.

Great service! I called because I was under the impression the AC was not working upstairs. Someone came on the same day, checked out the system, and ensured everything was working. He was polite, thorough, and friendly.

Tech was very attentive and professional. He went out his way to explain everything to me as he was doing it. I appreciated him keeping me informed.
The service technician was awesome! He spent the extra time necessary to ensure the leak in our system was fixed, the system fully recharged and everything was functioning as it should. He was extremely thorough and very professional. We are extremely pleased with the result!