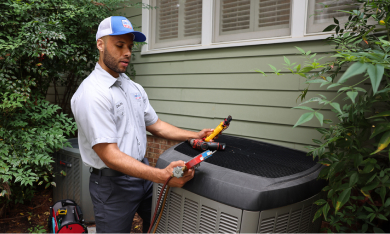 Heating Repair in Northern VA, DC & Baltimore Metro Areas
At United Air Temp, we provide heating services with upfront pricing and quality craftsmanship backed by guaranteed satisfaction.
With trained technicians committed to serving the local community in Washington, DC, Maryland, and Northern Virginia, our core values and ethics remain the same: Treat people the way you would like to be treated.
Our expert technicians are willing to go the extra mile to make you a customer for life with fast, friendly service for all your heating service needs. We can help with a variety of systems, including:
Gas and electric furnaces
For quality customer service from an environmentally conscious company, enlist the help of a United Air Temp expert by calling (877) 552-8919 or contacting us online today!  
Signs You Need Heating Repairs Now
Heating repairs are inevitable. Knowing when to call for a heating repair specialist is the most important part of preventing permanent damage to your heating system.  
If you notice any of the following signs, give us a call:
Difficulty starting the unit
System short-cycling (turning on and off erratically)
Unpleasant odors emitting from unit
Strange, persistent noises
A yellow furnace pilot light
Increased utility bills
Reduced or no airflow
We also offer 24/7 emergency heating service so you can have the heating repair solutions you need as soon as possible.
Are you seeing signs that your heating system needs repairs? Call (877) 552-8919 or contact us online to request heating repairs in DC, Maryland, or Northern Virginia
Why You Need To Hire a Professional for Furnace Repairs
There are simple DIY maintenance tasks that will improve the heating performance of your furnace for higher efficiency. You can replace dirty air filters and clear the surrounding area of debris and dirt. However, most furnace repairs are best left to the professionals.
At United Air Temp, our expert technicians undergo routine training to ensure that we're equipped with the education, tools, and experience to handle all your furnace repairs, from small malfunctions to complete system breakdowns. With fully stocked vehicles, we're confident that we'll restore home comfort when you need it most.
We Proudly Serve NOVA, DC & BALT Areas
Get started by filling out a service request form.
Preventative Heating Maintenance in DC, MD & Northern VA
Preventative heating maintenance is the best way to minimize the risk of premature heating system replacement and costly repairs.
Routine tune-ups include cleaning, inspecting, repairing, and replacing system components. United Air Temp also offers HVAC maintenance plans to make annual heating maintenance even easier. Not only does it help to extend your furnace life, but it also decreases your home's utility bills by providing increased energy efficiency.
Keep your heating system in top condition with fast repair and routine maintenance. Call (877) 552-8919 or contact us online today to request service.
Why Choose United Air Temp for Your Heating Needs in Washington, DC, Maryland & Northern Virginia?
Finding a company that provides emergency services from top-rated technicians committed to the community they service sounds like a pipedream, but we're the real deal.
At United Air Temp, our industry-leading services are built on respect, honesty, and quality. We consider it our professional responsibility to provide work we can stand behind. That's why we employ technicians of high integrity to service your home because we take pride in our profession and our work.
Call (877) 552-8919 or contact UAT online for quality service with upfront, honest pricing.

Why Choose Us
Discover the United Difference
Environmental Health & Safety
Environmental Health & Safety
Save on Your Service
Our Goal Is to Keep Your Home Comfortable
FREE

second opinion – HVAC or Plumbing replacement
Expires 03/31/23
$25 OFF

for referrer and friend
Expires 03/31/23
$50

diagnostic for first- time plumbing customer
Expires 03/31/23
What Our Clients Are Saying

The tech was at my home less than 10 minutes and gone within 20 minutes due to having my A/C up and running. I really appreciate his response to my home and working with my son due to me being out of town, but we spoke on the phone.

The technician arrived promptly, wore a mask, was very courteous and professional. I am generally very satisfied with service by United Air Temp. In addition to good service (they repair well), it is easy to speak to a person, and promptly. Thank you.

Great service! I called because I was under the impression the AC was not working upstairs. Someone came on the same day, checked out the system, and ensured everything was working. He was polite, thorough, and friendly.

Tech was very attentive and professional. He went out his way to explain everything to me as he was doing it. I appreciated him keeping me informed.
The service technician was awesome! He spent the extra time necessary to ensure the leak in our system was fixed, the system fully recharged and everything was functioning as it should. He was extremely thorough and very professional. We are extremely pleased with the result!