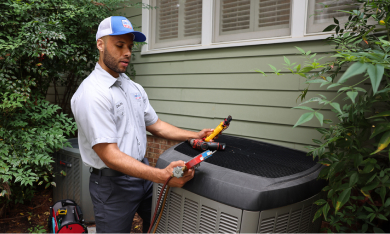 Toilet Repair in Northern VA, DC & Baltimore Metro Areas
Contact United Air Temp for toilet repair services you can trust in the DC metro area. Our experienced team has served customers since 1931, so when you choose United Air Temp for toilet repairs, you can rest assured that our plumbers can quickly solve your toilet and plumbing problems.
The licensed plumber we'll send to your home has the expertise and tools to repair any clogged toilet and solve underlying issues hidden in the pipes that surround it. We're proud to be known as the DC metro plumber that homeowners and business owners can rely on for clogged toilet repairs.
Contact us online to schedule an appointment. Our representatives reply quickly.
24/7 Emergency Toilet Repair in MD, DC & NOVA
We understand that dealing with a clogged toilet is stressful, especially if a clog is threatening major water damage to your home. That's why our plumbers are available at all hours for emergency toilet repairs. Even if your toilet starts overflowing at midnight on Sunday, we have a plumber with a fully stocked truck ready to head to your DC metro area home to fix it.
Keeping highly experienced plumbers on call at all hours is simply part of our 90-year tradition of excellent customer care.
No matter what time it is, United Air Temp always has a licensed plumber in the DC metro area available to repair your toilet. Request 24/7 emergency repair services now.
We Proudly Serve NOVA, DC & BALT Areas
Get started by filling out a service request form.
Home Toilet Installation
Toilets are sturdy plumbing fixtures, so it's unlikely we'll recommend replacement over toilet repairs in response to your issue. However, if one of our licensed plumbers finds that your toilet is beyond repair, it might cost less to replace it. In that case, we'll provide a written report of our findings and a free estimate for recommended replacements and toilet installation services.
We'll answer any questions you have and explain all available options so you can make an informed decision and get your toilet and plumbing system restored as soon as possible.
United Air Temp's licensed plumbers are encyclopedias of knowledge, quick at repairs, and available 24/7 for emergencies.
Schedule an emergency toilet repair service now.
Preventative Maintenance for Toilets
Toilet problems tend to feel random, like the result of some unfortunate circumstances. However, if you know a few signs to look out for, you can typically hear or see that your toilet will need repairs soon. Here are some preventative maintenance tips you can take to avoid a clogged toilet:
Don't use chemical drain cleaners on clogged toilets.
Open the lid and inspect your toilet twice a year.
Fix running toilets soon after noticing (hearing) the problem.
Avoid flushing trash or toys—only flush toilet paper and waste.
A clogged toilet might be a symptom of a bigger plumbing issue. United Air Temp's team of licensed plumbers can run a thorough inspection.
Contact us today to make an appointment.
Trust United Air Temp for Reliable Toilet Repairs in BALT, NOVA & DC
Trust United Air Temp to provide excellent plumbing system solutions when you need fast, dependable toilet repair services. Our licensed plumbers can solve any toilet repair issue you're experiencing, and we'll treat you and your home with the utmost respect.
For over 90 years, DC metro area homeowners and business owners have trusted us to restore systems. Our team is honored to continue that legacy as part of our present-day toilet repair services.
Contact us to schedule 24/7 emergency toilet repair in the DC metro area.
Frequently Asked Questions
Why does my toilet run continuously?
A constantly running toilet is usually the result of a warped flapper, a device that pauses water flow from the tank into the bowl. Flappers are inexpensive and available at any home improvement store. To replace the flapper, we will turn off your water supply, drain your tank, remove the current flapper, and install the new one.
What do I do if there's no tension when I press the handle to flush?
The lift chain likely has too much slack. Open the lid and check if the chain attached to the inner handle is taut or loose. If it's loose, reduce the slack on the chain. If you're still having issues, our licensed plumbers can take a look and readjust your toilet's lift chain to the appropriate length.
Why does my toilet take so long to fill up?
There are three common reasons that a toilet takes a long time to refill, and each of them might require an inspection by a licensed plumber to diagnose the underlying cause. Here are the parts to look at when you open your tank:
Water supply valve (might be blocked by mineral buildup)
Float ball malfunction (if it's sunk, you'll need to replace it)
Fill valve tube issue (might be clogged, worn down, or shifted out of alignment)

Why Choose Us
Discover the United Difference
Environmental Health & Safety
Environmental Health & Safety
Save on Your Service
Our Goal Is to Keep Your Home Comfortable
FREE

second opinion – HVAC or Plumbing replacement
Expires 03/31/23
$25 OFF

for referrer and friend
Expires 03/31/23
$50

diagnostic for first- time plumbing customer
Expires 03/31/23
What Our Clients Are Saying

The tech was at my home less than 10 minutes and gone within 20 minutes due to having my A/C up and running. I really appreciate his response to my home and working with my son due to me being out of town, but we spoke on the phone.

The technician arrived promptly, wore a mask, was very courteous and professional. I am generally very satisfied with service by United Air Temp. In addition to good service (they repair well), it is easy to speak to a person, and promptly. Thank you.

Great service! I called because I was under the impression the AC was not working upstairs. Someone came on the same day, checked out the system, and ensured everything was working. He was polite, thorough, and friendly.

Tech was very attentive and professional. He went out his way to explain everything to me as he was doing it. I appreciated him keeping me informed.
The service technician was awesome! He spent the extra time necessary to ensure the leak in our system was fixed, the system fully recharged and everything was functioning as it should. He was extremely thorough and very professional. We are extremely pleased with the result!